Domestic Shipping Tailgate Trailer Services with Heavy Haulers
Sometimes, organizing the transportation of a tailgate trailer to an event venue or a specific vending destination is not an ordinary job. You need to get the transport permits, especially if you're transporting multiple trailers. You can skip the hassle by partnering with Heavy Haulers. We're an authoritative hauling company that works closely with the DOT. We know what to do to ensure the load meets all the requirements.
Heavy Haulers is a nationally recognized hauling company. Established over a decade ago, we've opened up branches in over 50 states in the United States, Canada, and Mexico. You can leverage our shipping solutions by visiting or calling your local HH offices and getting your tailgate trailer hauled to any destination within the country. Get your tailgate trailer transport quote now! (800) 908-6206
Contact Our Expert Shipping Specialist's
(800) 908-6206
Insured Tailgate Trailer Transport Services
Tailgate trailers are compact trailers primarily used for outings for entertainment, food vending, and cooking. It's a valuable investment, and you should only task an insured company to move it. With Heavy Haulers, every shipment is covered. It means you'll receive adequate compensation in case of damage, loss, or theft (which rarely happens). We have contingency insurance, and we only work with insured drivers. That shows our dedication to ensuring that your cargo reaches your delivery point safely.
One concern that many people have when transporting heavy equipment is safety. Our logistics solutions are highly focused on safety and communications protocols. Before loading the trailer, we'll assess our safety measures to keep the cargo and our employees safe. Our transport crew will ensure that everything is in order before and during the journey. Call for a tailgate trailer shipping estimate! (800) 908-6206
How to Transport a Tailgate Trailer with Heavy Haulers
Tailgate trailers come in a wide range of sizes and dimensions. Typically, they weigh less than 48,000 lbs. and measure a maximum of 8.5 ft. in width and height. For that reason, we transport them on standard flatbed trailers. We have capable cranes and securing straps to ensure w position and secure the load properly. A learned, trained, and experienced driver will take over the transportation and deliver it safely to your desired location. Let's get your tailgate trailer shipping quote now! (800) 908-6206
Looking For Transport
With a Specific Trailer?

Max Weight: 150,000+ lbs. | Main Deck Length 29 ft.
| Well Width 8.5 ft. | Legal Height Limit 11.6 ft.

Max Weight: 48,000 lbs. | Max Length 53 ft.
| Max Width 8.5 ft. | Max Height 8.5 ft.
Max Weight: 48,000 lbs. Max Length 53 ft. |
Max Width 8.5 ft. | Max Height 11 ft.
Max Weight: 45,000 lbs. | Max Length 29 ft.
| Max Width 8.5 ft. | Max Height 11.5 ft.
HEAVYHAULERS.COM
START YOUR SHIPMENT TODAY!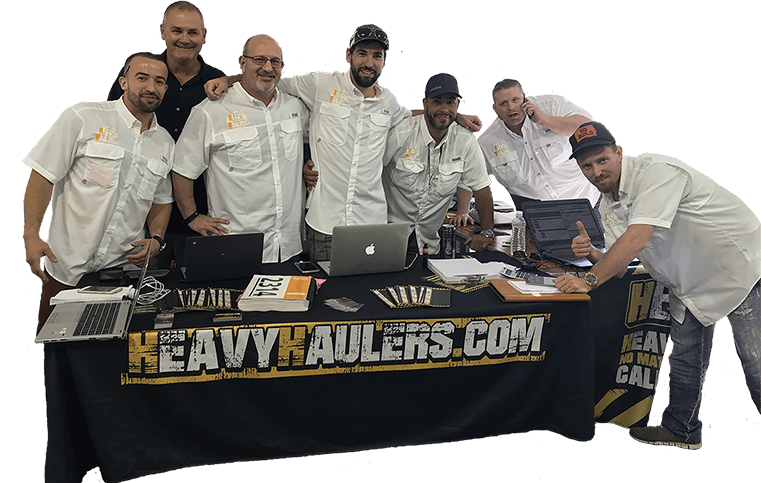 We Are Ready To Help You Haul Your Equipment!
Common Mobile Home and Office Manufacturers We Transport
Abtech - American Homestar - Art Gallery Trailer Transport - Blue Homes - Champion Home Builders - Clayton Homes - Custom Modular Direct - Design Space - Express Modular - FCP - Icon Legacy - Method Homes - Nationwide Homes - Par-Kut International - Starrco
Common Equipment Heavy Haulers Transports
Trust Heavy Haulers to transport any brand of equipment you own. Most of our drivers are experienced heavy-machinery operators who can safely maneuver your loads aboard our trailers. Some of the brands we have shipped include:
See what you need?
Call us for a FREE Shipping Estimate at (800) 908-6206