Let Heavy Haulers Transport Your Modular Building Where it Needs to Be!
Modular buildings have become common in current society. They are cost and time effective. When in need of transporting your modular building from the off-site construction company to the on-site construction area, choose Heavy Haulers to deliver your modular building on time. We are experts in the transportation of any size, weight, and width of a modular building. With more than a decade of experience in the transportation industry, we guarantee our customers on-time and damage free delivery. We will ship your modular building across the 50 states of the United States, Canada, and Mexico. Let the logistics specialists at Heavy Haulers deliver your modular building to your on-site construction area. Give us a call today and enjoy the exemplary services offered by our customer care team at (800) 908-6206.
Using Heavy Haulers to Move Your Modular Building Saves You Time
Contact Our Expert Shipping Specialist's
(800) 908-6206
The individual modules that are combined to form the modular building are built in a controlled factory setting or rather of the construction site. Modular building construction includes the interior and the exterior finishes. On completion, the modules are then delivered to the site where they are pieced together to form a finished building. 90% of the construction of a modular building is completed off the site. While the off-site process is taking place, the ground preparation of the building on-site is usually taking place as well. What saves time in the construction of a modular building is the overlap of the on-site preparations and off-site building.
Using the traditional method of constructing a building, the entire construction has to take place step by step starting by the site preparation and later begin the building construction. The on-site activities carried out during modular building construction include excavation, site drainage, grading, construction of the foundation, and utility installation.
Let Heavy Haulers Teach You How to Move your Modular Building Before We Transport it!
Since modular buildings can either be permanent or temporary, it is advisable to be aware of the different foundations available. The on-grade foundation is specifically designed for the permanent modular buildings while the raised foundations can fit well for both the permanent and temporary modular buildings. Whether it is for commercial or personal use, modular buildings have proved to be efficient as well as money and time-saving.
After the transportation of the modules to the on-site building, a crane is used to place the modules on the prepared foundation. The modules are placed based on the design of the final project. After stacking the modules, the individual building components are seamed together including the exterior additions.
See what you need?
Call us for a FREE Shipping Estimate at (800) 908-6206
Common Mobile Home and Office Manufacturers We Transport
Abtech - American Homestar - Art Gallery Trailer Transport - Blue Homes - Champion Home Builders - Clayton Homes - Custom Modular Direct - Design Space - Express Modular - FCP - Icon Legacy - Method Homes - Nationwide Homes - Par-Kut International - Starrco
Looking For Transport
With a Specific Trailer?

Max Weight: 150,000+ lbs. | Main Deck Length 29 ft.
| Well Width 8.5 ft. | Legal Height Limit 11.6 ft.

Max Weight: 48,000 lbs. | Max Length 53 ft.
| Max Width 8.5 ft. | Max Height 8.5 ft.
Max Weight: 48,000 lbs. Max Length 53 ft. |
Max Width 8.5 ft. | Max Height 11 ft.
Max Weight: 45,000 lbs. | Max Length 29 ft.
| Max Width 8.5 ft. | Max Height 11.5 ft.
We Can Ship Your Equipment Anywhere in the
US, Canada, and Mexico
Heavy Haulers Pilot Car Services
Are you looking for a reliable pilot car
for your transport?
Get Started
HEAVYHAULERS.COM
START YOUR SHIPMENT TODAY!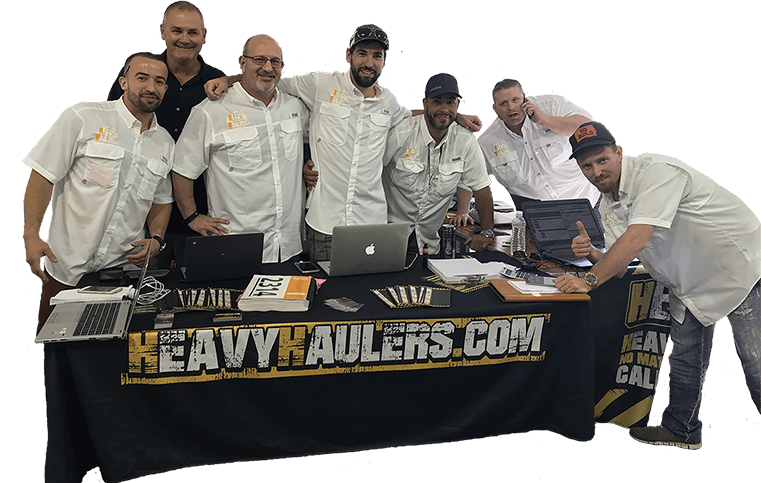 We Are Ready To Help You Haul Your Equipment!
See what you need?
Call us for a FREE Shipping Estimate at (800) 908-6206