DOT-Compliant Kentucky Trailer Shipping Solutions
If you have a Kentucky trailer but don't have a power cab, you'll need the services of a hauling company. Heavy Haulers was established over a decade ago in a home office but is today recognized as a nationwide shipping company with branches in over 50 states, Canada, and Mexico. That means we're a capable and reliable heavy hauling company.
Furthermore, we always operate within the confines of DOT rules and compliance standards. We often upgrade our rigs and equipment in a bid to meet the heavy trucking laws in each state. We work together with DOT officials in every state to acquire the necessary permits to carry your load.
Contact Our Expert Shipping Specialist's
(800) 908-6206
Seamless Transportation of Kentucky Trailer with Heavy Haulers
When you hire our specialized transport services, we assign a dedicated and knowledgeable agent who can assist mitigate any mishap whenever necessary. Having a contingency plan to counter any unforeseen circumstances alleviates the need to call an emergency transport service, which, in turn, saves you money.
Heavy Haulers is a licensed and insured heavy-cargo shipper. Our policy is worth over 200M, and it covers the load in case of theft, dents, or loss. Besides that, we also have a contingency liability cover in case the primary policy's insufficient. To further guarantee your load's safety, we ensure that every driver we work with holds insurance. In short, Heavy Haulers is dedicated to keeping your cargo safe at all costs.
How to Ship a Kentucky Trailer with Heavy Haulers
Kentucky trailers are typically longer, measuring about 65 ft. in length, 9.6 ft. (width), and 13.6 ft. (height).To ensure load stability and legal load height, we transport the Kentucky trailer on a step-deck trailer. The trailer's lower platform gives the load enough clearance for seamless shipping, especially when moving under obstacles like bridges.
Looking For Transport
With a Specific Trailer?

Max Weight: 150,000+ lbs. | Main Deck Length 29 ft.
| Well Width 8.5 ft. | Legal Height Limit 11.6 ft.

Max Weight: 48,000 lbs. | Max Length 53 ft.
| Max Width 8.5 ft. | Max Height 8.5 ft.
Max Weight: 48,000 lbs. Max Length 53 ft. |
Max Width 8.5 ft. | Max Height 11 ft.
Max Weight: 45,000 lbs. | Max Length 29 ft.
| Max Width 8.5 ft. | Max Height 11.5 ft.
HEAVYHAULERS.COM
START YOUR SHIPMENT TODAY!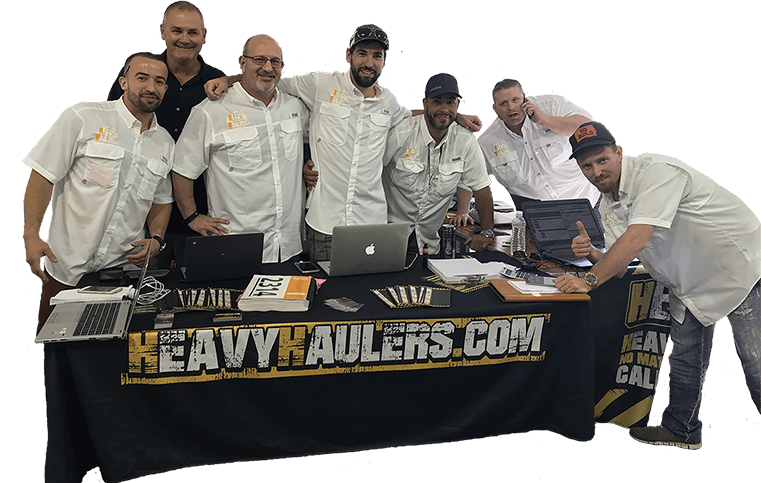 We Are Ready To Help You Haul Your Equipment!
Common Mobile Home and Office Manufacturers We Transport
Abtech - American Homestar - Art Gallery Trailer Transport - Blue Homes - Champion Home Builders - Clayton Homes - Custom Modular Direct - Design Space - Express Modular - FCP - Icon Legacy - Method Homes - Nationwide Homes - Par-Kut International - Starrco
Common Equipment Heavy Haulers Transports
Trust Heavy Haulers to transport any brand of equipment you own. Most of our drivers are experienced heavy-machinery operators who can safely maneuver your loads aboard our trailers. Some of the brands we have shipped include:
See what you need?
Call us for a FREE Shipping Estimate at (800) 908-6206