Transporting Mobile Fitness Centers With Top Quality Services
Fitness Centers are continuously gaining popularity among many to stay in shape. However, the business world keeps on changing and the demand for Mobile Fitness Centers is growing. If you are looking to ship Mobile Fitness Centers to different places, then Heavy Haulers is one of the best transporters with hauling of the unit. We provide country wide, and we can also ship internationally. Also, we are famous for giving reliable and seamless hauling service for transporting mobile fitness centers swiftly.
The thing that makes us the number one option for many clients seeking hauling service is our commitment towards delivering quality services within the promised timeframe. Right from the front-desk to the backroom, Heavy Haulers has dedicated employees that work round the clock to ensure the best mobile fitness shipping services are provided to clients. Get your transport quote now! (800) 908-6206
Contact Our Expert Shipping Specialist's
(800) 908-6206
Efficient Mobile Fitness Centers Shipping Services
In the transport and logistic industry, you need to partner with a top-notch trucking and shipping company that offers efficient mobile fitness center delivery services that you can always depend on. What makes Heavy Haulers your go-to hauling company for Mobile Fitness Centers shipping service is our passion, professionalism, transparency, and efficiency with which we serve our clients. Shipping with Heavy Haulers will give you an appreciation of the service. We will deliver all your fitness equipment in time, safely, and in the same physical conditions we picked them. To guarantee efficiency and timeliness, our logistics department has a team that not only oversees every step of the shipping process, but also devises means that guarantee maximum customer satisfaction.
As a result, our clients always end up meeting their schedule in erecting their Mobile Fitness Center at the destination on time. We also have competent drivers that adhere to well laid down safety protocols during the loading, while the mobile fitness centers are on transits, and during unloading, thus ensuring that your mobile fitness center gets your desired destination in the same condition we picked it. Get your mobile fitness center shipping rate now! (800) 908-6206
Common Types of Mobile Fitness Centers Heavy Haulers Ship
● Fitness Unit on Pickup Trucks
● The Mobile Fitness Unit (MFU) for Outdoor Activities
● Trailer-Based Mobile Gym Platforms
● Hitch Fit Fitness Units (The Travel Rack)
● Customized Personal and Group Mobile Fitness Training Centers
How to Transport Mobile Fitness Centers with Heavy Haulers
Our representatives are ready to assist you make informed decisions in matters transporting Mobile Fitness Centers with Heavy Haulers. All you need to do is call us, and have a customized quotation for hauling your trailer. You can also ask for clarification, on issues relating to delivery of the services, from our world-class representatives. Get your mobile fitness center hauling rate now! (800) 908-6206
Looking For Transport
With a Specific Trailer?

Max Weight: 150,000+ lbs. | Main Deck Length 29 ft.
| Well Width 8.5 ft. | Legal Height Limit 11.6 ft.

Max Weight: 48,000 lbs. | Max Length 53 ft.
| Max Width 8.5 ft. | Max Height 8.5 ft.
Max Weight: 48,000 lbs. Max Length 53 ft. |
Max Width 8.5 ft. | Max Height 11 ft.
Max Weight: 45,000 lbs. | Max Length 29 ft.
| Max Width 8.5 ft. | Max Height 11.5 ft.
HEAVYHAULERS.COM
START YOUR SHIPMENT TODAY!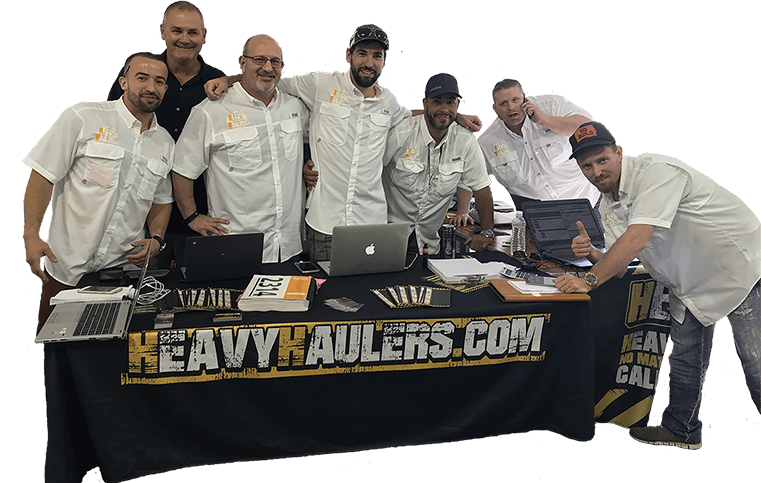 We Are Ready To Help You Haul Your Equipment!
Common Mobile Home and Office Manufacturers We Transport
Abtech - American Homestar - Art Gallery Trailer Transport - Blue Homes - Champion Home Builders - Clayton Homes - Custom Modular Direct - Design Space - Express Modular - FCP - Icon Legacy - Method Homes - Nationwide Homes - Par-Kut International - Starrco
Common Equipment Heavy Haulers Transports
Trust Heavy Haulers to transport any brand of equipment you own. Most of our drivers are experienced heavy-machinery operators who can safely maneuver your loads aboard our trailers. Some of the brands we have shipped include:
See what you need?
Call us for a FREE Shipping Estimate at (800) 908-6206