Complete Precast Building Shipping Logistics by Heavy Haulers
The competitive heavy bulk transport industry all over the North American continent is a Heavy Haulers vestige of domination. Our construction and building material haulage department is backed by state of the art logistics systems that assist a savvy shipping team and dispatch managers. Precast building transport services rely on a 24/7 available fleet of multi-axle mega trailers for satisfactory project deliveries.
Heavy Haulers experienced haulage staff underpins our excellent logistics and dependable fleet to minimize downtime. Safety features on our versatile custom-framed lowboys, flatbed and hotshot trailers for precast transport include chains, tie-downs and lifting slings. Our transport rigs are fitted with GPS vehicle monitoring and tracking, which supports the seamless communication systems that keep you informed during the haulage of your precast buildings. The Heavy Haulers service assurance offers the ability to meet any demand spike for precast buildings, with instantly deployable fleet capabilities for super large consignments.
Contact Our Expert Shipping Specialist's
(800) 908-6206
What Are The Precast Buildings Heavy Haulers Transports?
To provide a more durable modular building application option, precast buildings can be made of metal, concrete, masonry, or wood. These prefabricated and manufactured structures are delivered and installed with a focus on time, cost, and quality efficiency. A concrete precast building is loaded, unloaded, transported, and installed in one piece to instantiate productivity.
Precast buildings come pre-engineered with drawings, and PE stamped calculations which make them cost less than a comparable built-in-place construction. They undergo quality factory manufacturing; and are not affected by weather, trades coordination, or labor issues. Prefab or precast buildings can be installed in just hours, not the weeks or months that constructing in place involves.
A precast building offers maintenance-free, secure, and durable shelter that comes with specialized designs and custom outfitting options. When in need of expandability features for commercial or residential buildings, a precast extension will maintain integrity and compatibility.
See what you need?
Call us for a FREE Shipping Estimate at (800) 908-6206
Transport Precast with The Professionals - Heavy Haulers!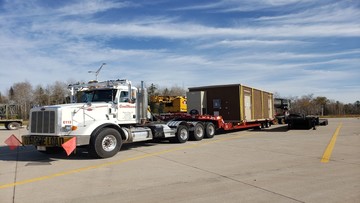 1 landoll load of communication materials
Origin: Ashland, WI 54806
Destination: Bayfield, WI 54814
Specs: 55000LBS x 30L x 11.5W x 8.5H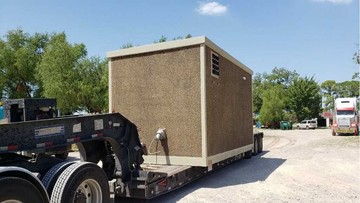 Shipping a Precast Building
Origin: Lewisville, TX 75057
Destination: Garden City, TX 79739
Specs: 53000LBS x 20L x 12W x 10H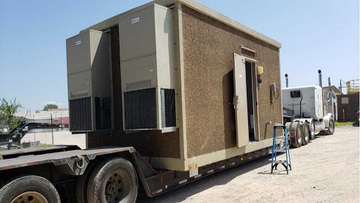 Moving a Precast Building in TX Insured Precast Building Shipping
See what you need?
Call us for a FREE Shipping Estimate at (800) 908-6206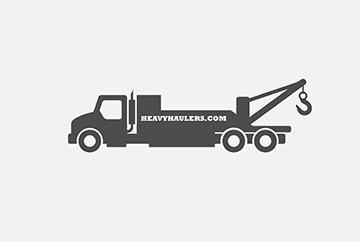 Shipping a Telecom Shelter
A telecom shelter is a precast building used to protect electronic and data equipment from outside elements. They build these structures to withstand harsh weather and survive for a long period. At Heavy Haulers we provide reliable telecom shelter transport services at affordable prices. When you speak with our professional logistics agent, they'll find the best driver, truck, and trailer to transport your telecom shelter. We provide reliable and affordable telecom shelter, so you can focus on what really matters. Find out more about our telecom shelter shipping services and get a free quote now! (800) 908-6206

Shipping Precast Bunker Silos and Bunker Walls
Precast bunker silos are trenches, often with concrete walls. Built to withstand harsh environments, precast bunker silos are used for storing anything from hay, to soil, and much more. Heavy Haulers transport precast bunker silos, and precast bunker walls with ease. We haul all precast buildings anywhere in the United States and overseas. Shipping precast bunker silos and bunker walls is done with precision and care at Heavy Haulers. We move all precast buildings with the utmost professionalism. Call now and get your precast bunker silo shipping estimate! (800) 908-6206
Heavy Haulers offers:
Door-to-door transport
24/7 Customer Service
Free Cancellations
Contingency Insurance
Common Mobile Home and Office Manufacturers We Transport
Abtech - American Homestar - Art Gallery Trailer Transport - Blue Homes - Champion Home Builders - Clayton Homes - Custom Modular Direct - Design Space - Express Modular - FCP - Icon Legacy - Method Homes - Nationwide Homes - Par-Kut International - Starrco
Looking For Transport
With a Specific Trailer?

Max Weight: 150,000+ lbs. | Main Deck Length 29 ft.
| Well Width 8.5 ft. | Legal Height Limit 11.6 ft.

Max Weight: 48,000 lbs. | Max Length 53 ft.
| Max Width 8.5 ft. | Max Height 8.5 ft.
Max Weight: 48,000 lbs. Max Length 53 ft. |
Max Width 8.5 ft. | Max Height 11 ft.
Max Weight: 45,000 lbs. | Max Length 29 ft.
| Max Width 8.5 ft. | Max Height 11.5 ft.
We Can Ship Your Equipment Anywhere in the
US, Canada, and Mexico
Heavy Haulers Pilot Car Services
Are you looking for a reliable pilot car
for your transport?
Get Started
HEAVYHAULERS.COM
START YOUR SHIPMENT TODAY!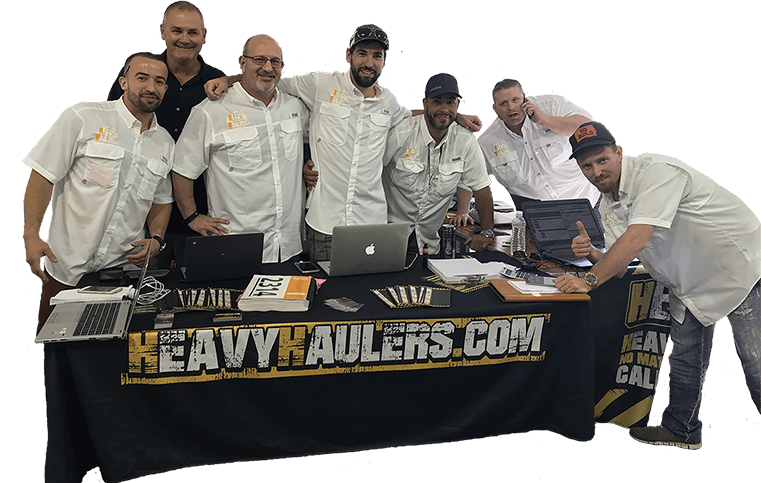 We Are Ready To Help You Haul Your Equipment!
See what you need?
Call us for a FREE Shipping Estimate at (800) 908-6206