Let Us Transport Your Mobile Office Anywhere in North America - Trust Heavy Haulers!
Heavy Haulers is a fully licensed shipping company with over a decade in the transportation business with a niche in the transportation of heavy equipment, machinery, and mobile homes an mobile offices. We transport oversized and heavy loads and We're equipped to transport any mobile office regardless of the size across North America including Canada and Mexico. We are reliable, and you can trust as to deliver your mobile home as shown by our A+ Rating with the Better Business Bureau.

We have skilled licensed, and bonded drivers that will work tirelessly to ensure that your mobile office is delivered to your doorstep safely. Our experts and experienced trip planners will provide the best affordable route to transport your mobile office. We also ensure that we follow the regulations of each state regarding wide loads. Moreover, we also adhere to local highways laws, thus, making your mobile/modular office transportation to any state quick.
We'll Handle the Paperwork, Contracting, Loading/Unloading, and All Other Elements Involved When Moving Large Mobile & Modular Offices
Heavy Haulers also procure the necessary paperwork for your transportation from weigh station to custom piloting papers. You need not worry as your loads will be delivered to you safely at your new destination. Our logistics specialists ensure smooth transit of your cargo by determining lane widths, dodging road constructions, avoiding any traffic congestion and following the traffic rules.
Heavy Haulers cares about the safety of your cargo, and we insure your mobile & modular office during your move to it's new destination destination in case of accidents. Our insurance fullly covers the entire mobile office while in transit. We offer door to door services as well as a port to port transportation. We accept any form of payment such as credit card, PayPal, wire transfers personal checks, and even cash. At Heavy Haulers, we fast track your mobile office transportation.
Additionally, we offer to track your shipment during the transportation period. We also transport modular buildings no matter how large they are. We offer same day booking, loading, and dispatch for your modular office. We assure our customers of effective and efficient transportation services. Call us at (800) 908-6206 today to compare our quotes.
Some of the Mobile Homes, Offices, and Buidings We Move Often Include:

Recent Mobile Office Shipments of Heavy Haulers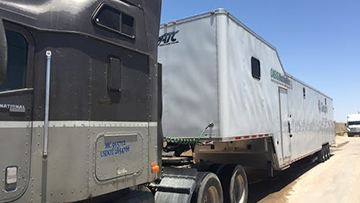 5th Wheel Trailer Using Our Power-Only Service
Origin: Midland, TX 79706

Destination: Pecos, TX 79772

Specs: 5th Wheel Trailer;
53L 8.6W 13.2H; 35,000lbs

Transport Specialist: Hal Foster
(561) 229-0689
Mobile Office Shipped on a Stepdeck Trailer
Origin: Saint Joseph, LA 71366

Destination: Mcleansboro, IL 62859

Specs: Office Trailer Mobile Office;
46L X 24W X 12H; 15,000lbs

Transport Specialist: Brian Hatfield
(954) 495-8089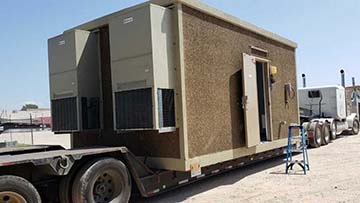 Mobile Office Transported on an RGN Trailer
Origin: Lewisville, TX 75057

Destination: Garden City, TX 79739

Specs: Mobile Office;
20L X 12W X 10H; 53,000lbs

Transport Specialist: Jay Hays
(561) 214-4984
HEAVYHAULERS.COM
START YOUR SHIPMENT TODAY!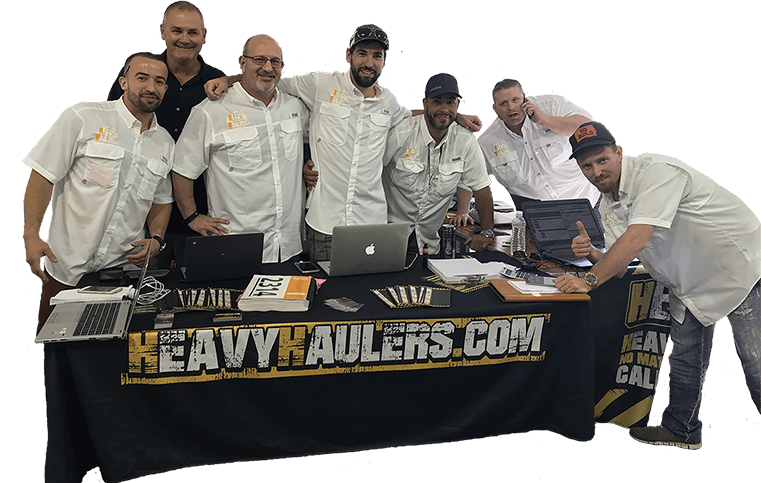 Let Heavy Haulers Move Your Mobile Offices, Homes, and Trailers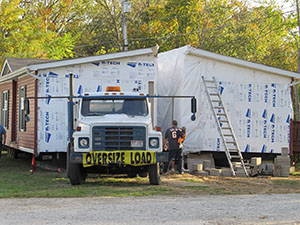 Your mobile trailer transport be hauled just power only if need be as we have drivers with just the power source and the right trailer hitches for all types of mobile trailers. We can move your trailer like this for short distances less than 100 miles. Moreover, the other option is to trailer your mobile office using any of our trailers, we have all types of trailers from flatbeds, drop decks, RGN'S and more+.
Heavy Haulers has more than ten years of experience in mobile office & home transport, and thats not including transportation of heavy construction equipment, machinery and large oversize and heavy loads. With a professional and experienced team, Heavy Haulers has made it a priority to ensure that your mobile office or home gets to your preferred destination on time and in the same condition it departed in. We are reliable and trustworthy logistic experts that handle your loads with utmost care, we are fully licensed, insured and bonded for effective and efficient shipping services. With a permit, we haul all types of mobile homes and offices of different sizes including those that are oversize/overweight. Call our trained and qualified agents today at (800) 908-6206.
Plan your Next Mobile Home or Mobile Office Shipment with Professionals
Heavy Haulers specialists plan and schedule the best route to transport your mobile office or home while considering your pocket. All our services are pocket-friendly and time-saving. We offer free quotations to our clients. Our agents are always available to meet the demands of our clients, and when requested for trucking services, we do so without hesitation. We understand that you have more work to do. Hence we relive you some baggage by handling all the customs paperwork for you. We also make sure that your carrier is licensed for interstate shipping in all the states your route will cover and obtain the moving permits.
Common Types of Mobile/Modular Offices & Homes Shipped By Heavy Haulers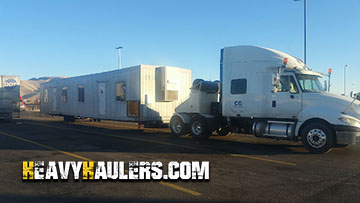 Mobile Home Transport Services
Heavy Haulers is the best option to transport your double-wide mobile homes or single wide mobile home. We have all the resources needed including efficient machinery for loading and unloading your equipment. Besides, our drivers are highly experienced and insured to ship your load to any states in Mexico, America and Canada.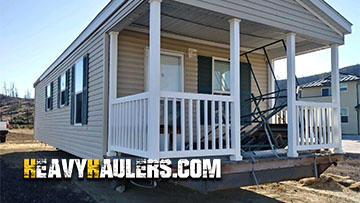 Tiny Houses Hauling
Trust our experienced logistic specialist at Heavy Haulers to move your Tiny Houses to your preferred location. We are very flexible to transport your load to Canada as well as the cross the United States and Mexico. Call us now at (800) 908-6206, and you will be surprised by our reliability, professionalism and efficiency that will exceed your expectation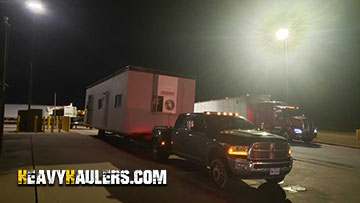 Mobile Office Shipping
With more than 10 years of experience in this industry, Heavy Haulers have the ability to transport your Mobile office to your desired location professionally and effectively. The mobile office is a building above the ground. The building is fitted on a sturdy I-beam structure and has a ramp or stairs. The setup is very easy. Besides, these offices have vinyl and T-grid ceilings. Call us at (800) 908-6206, and we will help you your Mobile office.
Container Office Transport
These offices provide an essence of Eco-consciousness and do not have the feeling of permanency as their exteriors and interiors can be changed anytime and relocation from one area to another is easy since they are portable. For safe transportation of container offices, trust Heavy Haulers.
Office Trailer Shipping
Almost all businesses require a temporary office at one point or another, more so the construction businesses. The office trailers are portable, easy to deliver, and they offer a short-term office solution. Heavy Haulers offers transportation services for all office trailers across the US, Canada, and Mexico.
Modular Building Transportation
The individual modules that are combined to form the modular building are built in a controlled factory setting. After transportating one to your on-site destination, a crane is used to place the modules on the prepared foundation. We can arrange crane loading and unloading services if needed as well. Save time by choosing Heavy Haulers as your trusted transporter.
Container Homes Transportation
Trust Heavy Haulers to transport your container homes/house to any of the fifty states in the United States, Mexico or Canada. We transport various types of container homes such as 10 foot, 20 foot, 40 foot, and 45-foot container homes. Our logistic specialists will move your container homes to any preferred destination you choose whether be your guest house, clinics, public libraries or at police post to mention a few.
Hauling Modular Homes
We do understand the value of your modular home as it helps you speed up the construction process. For this reason, Heavy Haulers handles it with the utmost care during transits. We have effective and efficient equipment and trailers to transport your modular home to its destination safely. Call us now (800) 908-6206 and our logistic experts will respond promptly.
Portable Office Trailer Transport
It is crystal clear that portable office trailer has multipurpose. That's why Heavy Haulers offer effective and efficient shipping services so that you receive it in time. No load is too big for us, we're always a call away, and our team of experts is just waiting for you. Come to us, and we will help you move your portable office trailer to any location you desire in any of the 50 states in America, Mexico or Canada.
We Can Haul Your Mobile/Modular Buildings Anywhere in the US, Canada, and Mexico
Common Trailer Types Available from Heavy Haulers
Heavy Haulers specializes in hauling heavy loads such as construction equipment, oil field rigging and Super Loads. Although we're established wideload experts, we offer an extensive range of transport services on all kinds of trailers including:
Max Weight: 48,000 lbs. | Max Length 53 ft. | Max Width 8.5 ft. | Max Height 11 ft.




Max Weight: 45,000 lbs. | Max Length 29 ft. | Max Width 8.5 ft. | Max Height 11.5 ft.
Max Weight: 150,000+ lbs. | Main Deck Length 29 ft. | Well Width 8.5 ft. | Legal Height Limit 11.6 ft.




Max Weight: 48,000 lbs. | Max Length 53 ft. | Max Width 8.5 ft. | Max Height 8.5 ft.
Common Trailers We Use to Haul Your Equipment Properly: