Let Us Transport Your Mobile Office Anywhere in North America - Trust Heavy Haulers!
Heavy Haulers is a fully licensed shipping company with over a decade in the transportation business with a niche in the transportation of heavy equipment, machinery, and mobile homes an mobile offices. We transport oversized and heavy loads and We're equipped to transport any mobile office regardless of the size across North America including Canada and Mexico. We are reliable, and you can trust as to deliver your mobile home as shown by our A+ Rating with the Better Business Bureau.

We have skilled licensed, and bonded drivers that will work tirelessly to ensure that your mobile office is delivered to your doorstep safely. Our experts and experienced trip planners will provide the best affordable route to transport your mobile office. We also ensure that we follow the regulations of each state regarding wide loads. Moreover, we also adhere to local highways laws, thus, making your mobile/modular office transportation to any state quick.
We'll Handle the Paperwork, Contracting, Loading/Unloading, and All Other Elements Involved When Moving Large Mobile & Modular Offices
Heavy Haulers also procure the necessary paperwork for your transportation from weigh station to custom piloting papers. You need not worry as your loads will be delivered to you safely at your new destination. Our logistics specialists ensure smooth transit of your cargo by determining lane widths, dodging road constructions, avoiding any traffic congestion and following the traffic rules.
Heavy Haulers cares about the safety of your cargo, and we insure your mobile & modular office during your move to it's new destination destination in case of accidents. Our insurance fullly covers the entire mobile office while in transit. We offer door to door services as well as a port to port transportation. We accept any form of payment such as credit card, PayPal, wire transfers personal checks, and even cash. At Heavy Haulers, we fast track your mobile office transportation.
Additionally, we offer to track your shipment during the transportation period. We also transport modular buildings no matter how large they are. We offer same day booking, loading, and dispatch for your modular office. We assure our customers of effective and efficient transportation services. Call us at (800) 908-6206 today to compare our quotes.
Some of the Mobile Homes, Offices, and Buidings We Move Often Include:

Recent Mobile Office Shipments of Heavy Haulers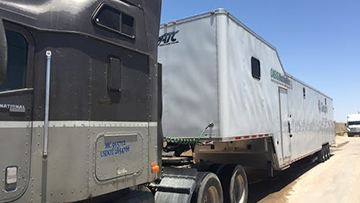 5th Wheel Trailer Hauled Using Our Power-Only Service
Origin: Midland, TX 79706

Destination: Pecos, TX 79772

Specs: 5th Wheel Trailer;
53L 8.6W 13.2H; 35,000lbs

Transport Specialist: Hal Foster
(772) 227-1564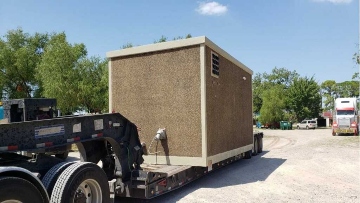 Mobile Office Shipped from LA to IL on an RGN Trailer
Origin: Saint Joseph, LA 71366

Destination: Mcleansboro, IL 62859

Specs: Office Trailer Mobile Office;
46L X 24W X 12H; 15,000lbs

Transport Specialist: Brian Hatfield
(754) 203-8979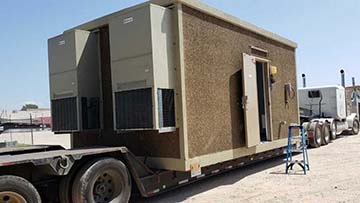 53,000lb Mobile Office Transported to TX on an RGN Trailer
Origin: Lewisville, TX 75057

Destination: Garden City, TX 79739

Specs: Mobile Office;
20L X 12W X 10H; 53,000lbs

Transport Specialist: Jay Hays
(561) 562-4968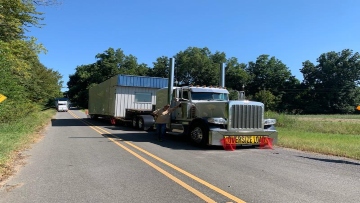 15,000lb Mobile Office Shipped to Illinois on an RGN Trailer
Origin: Saint Joseph, LA 71366

Destination: Mcleansboro, IL 62859

Specs: Office Trailer Mobile Office;
46L X 24W X 12H; 15,000lbs

Transport Specialist: Brian Hatfield
(754) 203-8979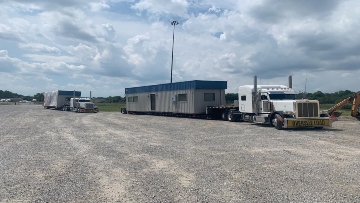 Mobile Office Transported on an RGN Trailer
Origin: Saint Joseph, LA 71366

Destination: Mcleansboro, IL 62859

Specs: Office Trailer Mobile Office;
46L X 24W X 12H; 15,000lbs

Transport Specialist: Brian Hatfield
(754) 203-8979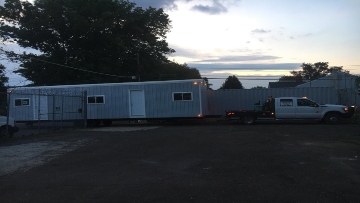 Mobile Office Hauled using power only services
Origin: Philadelphia, PA

Destination: Rio Linda, CA 95673

Specs: Office Trailer (2 Axles);
40L X 10W X 12H; 14,000lbs

Transport Specialist: Hal Foster
(772) 227-1564