Use Our Heavy Hauling Calculator To Discover Your Heavy Hauling Cost | Heavy Haulers
Contact Our Expert Shipping Specialist's
At (800) 908-6206
At Heavy Haulers, we offer trustworthy, affordable, and transparent heavy haul cost to all our clients. We provide custom prices for whatever equipment you need to move. Finding the best price to ship your machinery is what we do best. We work with you to find the best pricing available. Calculating costs for heavy equipment is done by a transport specialist. We always work to find a solution based on your budget.
Furthermore, for transparency purposes, we give our customers a chance to use the heavy haul cost calculator so they can calculate the amount they need to pay for their shipping services. Our once you put the details of your shipment on our calculator, it will give you an accurate heavy hauling cost estimate of your shipment from the pick up to delivery.
Heavy Haulers Can Help You Reduce Heavy Haul Transportation Cost | (800) 908-6206
Some of the equipment features such as height, weight, length, and width, contribute to the high heavy haul prices. At Heavy Haulers, we help our customers cut down the cost of transportation by maintaining legal loads. For oversize loads with broader width, we split them into two units, thus cutting down the size of trucks needed to transport them, thus transporting them as legal loads.
We also use loading methods that are less costly and use the shortest routes between the pick-up and drop points thus reducing the mileage and amount of fuel consumption used during transit. This helps our clients in cutting down the transportation cost. We are always willing to negotiate on prices, we offer custom prices, and we work within your budget, which leads to major saving for you and your company. Choose Heavy Haulers for affordable and superb heavy haul prices (800) 908-6206.
The Cost of Heavy Equipment Shipping
The cost of heavy equipment transport varies on the type of equipment or machinery being shipped. There are several factors to take into consideration, including height, weight, width and more. Different types of trailers are needed for different transports. Flatbed and step deck trailers are about $2.00 a mile. An RGN is usually more because it tends to carry a heavier load. The distanced traveled is also a cost factor.
Because so much goes into finding the right heavy equipment transport costs, the best way to get the most affordable rate is to give us a call. Speaking to one of our top logistics specialists is the best way to get the best prices for heavy equipment transport. We provide the best prices available, and we also make sure to seek out a driver and rig that is perfect for your shipping solution. At Heavy Haulers we provide more than just a shipping service. We provide a quality transport service that you can have confidence in. Call now and let's get started! (800) 908-6206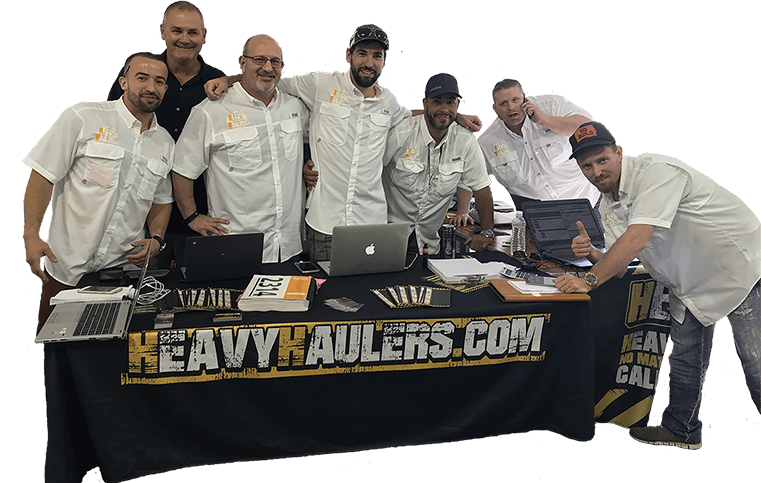 Common Trailer Types Available from Heavy Haulers
Heavy Haulers specializes in hauling heavy loads such as construction equipment, oil field rigging and Super Loads. We are wideload experts! We offer an extensive range of trailer choices, including:
Max Weight: 48,000 lbs. | Max Length 53 ft. | Max Width 8.5 ft. | Max Height 11 ft.




Max Weight: 45,000 lbs. | Max Length 29 ft. | Max Width 8.5 ft. | Max Height 11.5 ft.
Max Weight: 150,000+ lbs. | Main Deck Length 29 ft. | Well Width 8.5 ft. | Legal Height Limit 11.6 ft.




Max Weight: 48,000 lbs. | Max Length 53 ft. | Max Width 8.5 ft. | Max Height 8.5 ft.