Customized Wide Load Transport Solutions - We Handle All The Details!
Shipping a wide load can be a complex task especially when you do not have the right vehicles. When looking for transportation services for your over width loads, it is vital to consider a company that has a sterling reputation for safe and timely hauling, and with excellent vehicles, capable of shipping your loads regardless if size, shape and height.
Over-width loads are all types of oversize loads that exceed the maximum legal length, weight, and height as stipulated by each state or province in the United States. Any, load that is more than 8.5 feet wide and other exceptional loads require special permits to travel on public highways. It is vital to ensure the company you choose for shipping of your wide load can obtain permits and other requirements such as escorts and pilots cars if required in the transportation. If in need of shipping services for your oversize load, Heavy Haulers are the company you should think put in mind.
Contact Our Expert Shipping Specialist's
(800) 908-6206
Your Wide Load Shipping Company Requires Skills Like No Other
Before jumping into any conclusion concerning transportation of your over-width load, it is crucial to understand that flatbed shipping can be tricky especially when it comes to shipping over dimensional loads such as bulldozers, tractors, combines, cranes steel beams, and even prefabricated homes. It is vital to understand the exact weight and dimensions of your shipment to plan for the correct type of equipment and choose the right company that is capable of hauling your cargo. Some considerations that all shippers need to put into their minds before they prepare for transportation of their over-width loads include:
• Understanding the legal limits for flatbed loads
• Know how to find out if your load is oversize
• Understand the rules for and when you require travel escorts for your oversized loads
• Understand all the factors that may impact your oversize load transportation schedules
• Know the requirements and all meanings for individual marketing
With understanding and considerations above, then you are in a better position to make the best choices of the equipment and company for transportation of your wide load. However, once you set your considerations right, Heavy Haulers have met all the standards, and we have all you need for shipping your load.
Transporting a Wide Load Overseas
Heavy Haulers transports all wide loads locally and internationally. Whether it's construction equipment or emergency relief, we have the tools to get your over-width machinery wherever you need it to be. Shipping a wide load overseas requires specialty permits and tractor trailers to get it to port. Depending on the shipment a roll on/roll off (RORO) transport service may be ideal. Or, a flatbed and the use of cranes. When you call one of our experienced logistics agents, they'll let you know what method is best for transporting your wide load overseas. Call now and let's get started! (800) 908-6206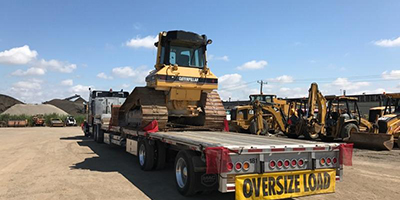 Contact Our Wide Load
Shipping Specialists
(800) 908-6206
What is a Wide Load? Regulations and Dimensions Answered.
A wide load is any load that exceeds the legal dimensions allowed by state, county, or even country regulations. By definition, any load that is wider than 8.5 feet is considered a wide load. A Heavy Haulers logistics agent will help you determine what type of trailer and precautions are best when shipping a wide load. This ensures your cargo--and the people transporting it--arrive safely.
● Generally, a maximum legal load is 8.5 feet for both height and width. Anything over that is considered an oversize load.

● Most wide loads require an escort or pilot car for safe travel.

● Specialized permits are required for wide load freight to make sure shipping is done within regulations.

● Permitted travel times for wide loads vary by state. Depending on the state, shipping a wide load during holidays and weekends may be restricted. Other requirements may be restricting travel during certain times of the day.

● Wide load transport costs vary based on the freight, the permits required, and the driving routes planned for hauling.

● Heavy Haulers logistics team will do our best to provide you with the most affordable wide load shipping estimate.
Recent Wide Loads Transported By Heavy Haulers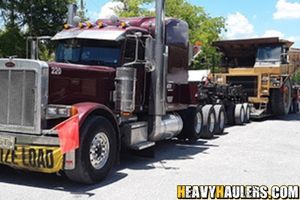 Caterpillar 773D Rock Truck Wide Load Shipped on an RGN Trailer
Shipping From: Davenport, FL 33897

Transporting To: Clinton, SC 29325

Specs: 28.6L X 14W X 14H; 83,400lbs

Transport Specialist: Travis Selochan
(813) 492-8263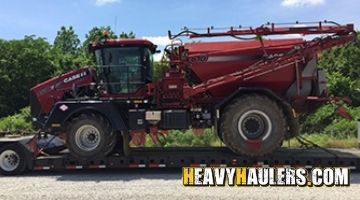 CASE IH FLX4530 Wide Load Shipped on an RGN Trailer
Shipping From: Byhalia, MS 38611

Transporting To: Twin Valley, MN 56584

Specs: 29L X 11.6W X 12H; 24,000lbs

Transport Specialist: Sam Duncan
(561) 931-6741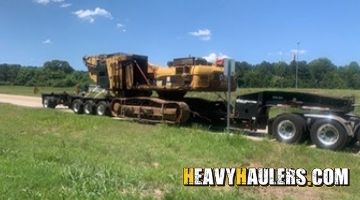 Caterpillar 330 Material Handler Wide Load Transport
Shipping From: Birmingham, AL 35207

Transporting To: Tampa, FL 33619

Specs: 40L X 13.9 W X 12H; 91,000lbs

Transport Specialist: Milos Visnjic
(754) 203-9257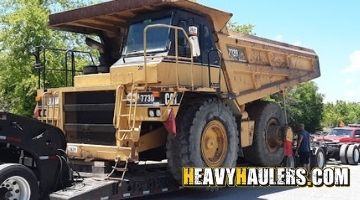 Caterpillar 773D Rock Truck Transported on an RGN Trailer
Shipping From: Davenport, FL 33897

Transporting To: Clinton, SC 29325

Specs: 28.6L X 14W X 14H; 83,400lbs

Transport Specialist: Travis Selochan
(813) 492-8263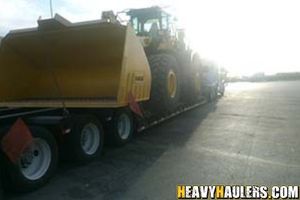 Komatsu Wheel Loader Wide Load Shipment on an RGN Trailer
Shipping From: Abilene, TX 79601

Transporting To: Sioux Falls, SD 57104

Specs: 28L X 11.2W X 12.5H; 78,000lbs

Transport Specialist: Mike Phillips
(754) 203-8914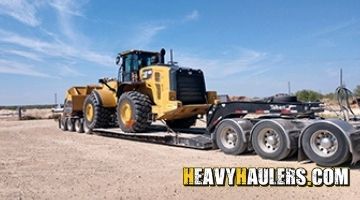 Caterpillar 982M Wheel Loader Wide Load Transport on an RGN Trailer
Shipping From: Poteet, TX 78065

Transporting To: Carrizo Springs, TX 78834

Specs: 36L X 12W X 13H; 80,000lbs

Transport Specialist: Nick H.
(772) 238-2766
HEAVYHAULERS.COM
START YOUR SHIPMENT TODAY!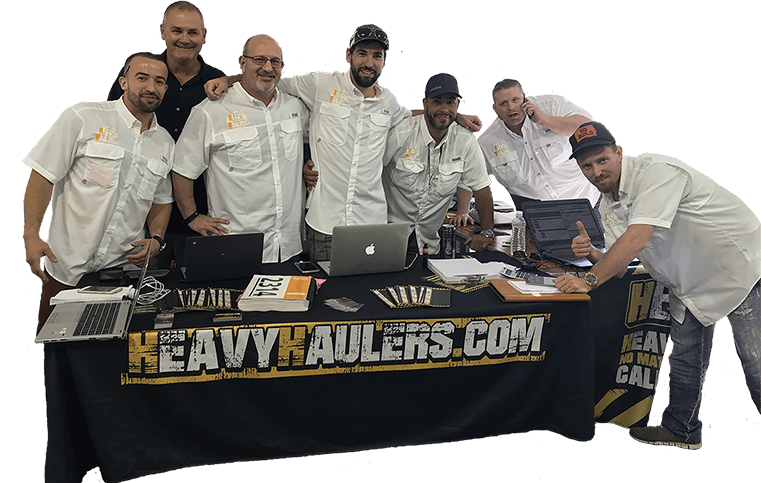 We Are Ready To Help You Haul Your Equipment!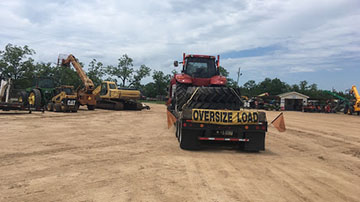 Contact Our Wide Load
Shipping Specialists
(800) 908-6206
We are an A+ Rated Wide Load Transport Company Moving Cargo Across the Country
Wide loads and oversize loads that contain freight or other large items that exceed the maximum size limit set for trailers have special requirements, and their transportation can prove to be complicated compared to other types of shipments. That means you need an experienced wide load transport company. However, with the Heavy Hauler's transportation company, no load is too big to handle.
We have specialized trailers like RGNs, double extended RGNs, and flatbeds all which helps us in making your extensive load transportation seamless, smooth and quick. Our experienced staff and rivers ensure you load is well adjusted and complies with all requirement and arrives at its destination in the same condition that it left. Ready to transport your wide load? We're ready to get started! Call now for a free shipping estimate! (800) 908-6206
See what you need?
Call us for a FREE Shipping Estimate at (800) 908-6206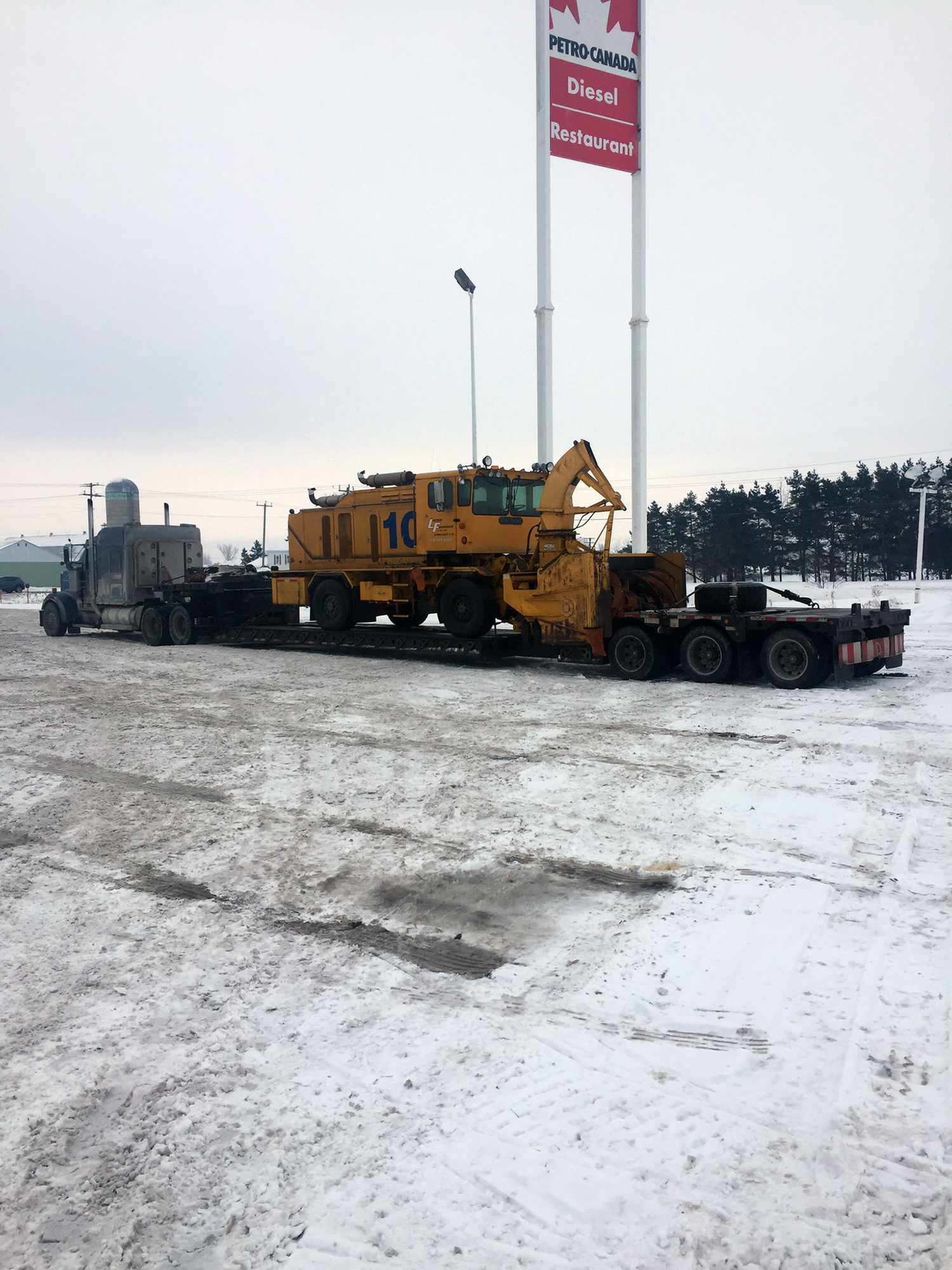 Contact Our Wide Load
Shipping Specialists
(800) 908-6206
Learn About Our Wide Load Shipping Services
Heavy Haulers transport all types of wide loads regardless of the place where you need them to go. From aircraft transport to multi-million-tonne excavators and spool of cables, Heavy Haulers move them all. We have the different types of permits required for transportation of oversize loads as well as special rated trailers and rigs designed to ensure they accommodate all types of oversize loads and transport them to their destinations safely and securely.
Apart from obtaining permits and having the right trucks for hauling wide loads, we offer special escort vehicle services designed for safety which may be necessary for many areas. To overcome height and weight issues when dealing with transportation of overwidth loads, we used RGNs and extended RGNs which offers versatility and ensures all loads can fit into the trailers for shipment.
Since different states and cities have different types of regulation concerning transportation of over-width loads, Our logistic specialists from Heavy Haulers work hard to understand the various state regulations for local, state and international travel to ensure your load complies with all the rules and national standards of each country. From weigh stations to customs, we compile all the permits and paperwork making sure the drivers can have more natural passages while transporting your wide loads to facilitate quicker and safer transportation.
We take pride in saving your money and time through securing your loads, balancing and protecting your investment. We offer both loading and offloading services, and we pay specific attention to your wide load. Additionally, we can ship your machinery as part of the convoy of your entire fleet, or we can send it alone. Call our wide load shipping specialists for a free estimate! (800) 908-6206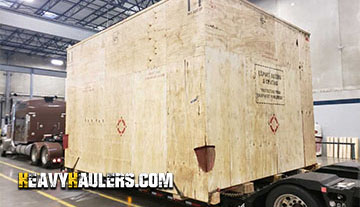 Wide Load Transport of a Massive Water Pump
This 40,000 pound water pump was recently moved on a short but intense 300 miles journey from Charleroi to Pennsylvania within the state of Philadelphia. For extra protection, the pump was placed on a wooden enclosure measuring 20' long, 14'.8" wide, and 12'.7" high making for an oversized load. A lowboy trailer was needed for the massive pump. Do you have heavy machinery or parts to ship? Give us a call at (800) 908-6206.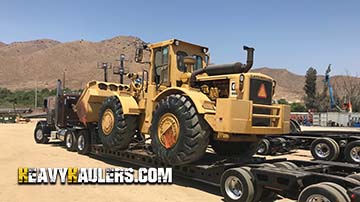 Hauling a Wide Load 1973 Caterpillar 988A Wheel Loader
Jamie at Heavy Haulers transported this classic 1973 Caterpillar 988A Wheel Loader from Perris, CA to El Paso, TX. This big bird measures 29 feet 7 inches in length and is 10 feet 6 inches wide and 12 feet 4 inches tall and weighed 82,000 pounds. Jamie secured this load to be picked-up and safely delivered within four days time! If you need your Cat wheel loader hauled call Jamie at Heavy Haulers today: (754) 203-8738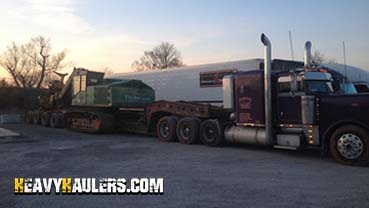 Shipping a Wide Load 1988 Timberjack 850 Feller Buncher
Heavy Haulers recently transported this classic 1988 Timberjack 850 Feller Buncher from Atoka, OK to Yemassee, SC. Over 1,000 miles of road which included hundreds of on-lookers as we hauled this real life transformer. Weighing over 66,000 lbs and measured 28 ft 5 in in length with a width of 10 ft 5 in, this big boy toy was a massive shipment. Schedule your next feller buncher transport, or any other heavy equipment, with Stephen Ladd at Heavy Haulers and find out why we're top rated with the BBB: (754) 203-9230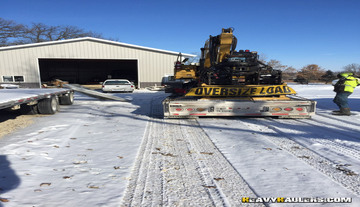 Transporting a Wide Load Caterpillar 312-D-L Bulldozer
Heavy Haulers transports TL and LTL loads along with all other heavy machinery loads even if inoperable. We specialize in oversized loads and everything in between. We can transport your equipment to and from all 50 states in the US as well as Mexico and even Canada. Call Stephen Ladd at Heavy Haulers to schedule your next shipment today: (754) 203-9230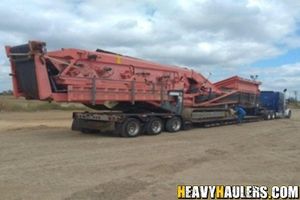 2000 Link-Belt
RTC 8040
The 2000 Link-Belt RTC 8040 rough terrain crane was simply loaded by detaching the front of the RGN and then it was driven onto the lowered platform. Expert oversize machinery handlers that Hal personally selected undertook the intricate loading and weight balancing that this project required.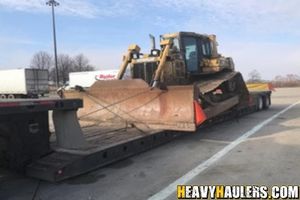 Caterpillar D7R
Bulldozer
Brian Goncharsky from Heavy Haulers recently undertook the shipping of this 56,097 pound Caterpillar D7R Bulldozer from Eau Claire, Wisconsin, to Jasonville, Indiana. Equipment shipping projects for over-width cargos are our specialty, and load specialists like Brian Goncharsky utilize years of professional experience during their execution. We pride ourselves in being able to handle any size of construction equipment with the same flexibility for oversize and undersize loads.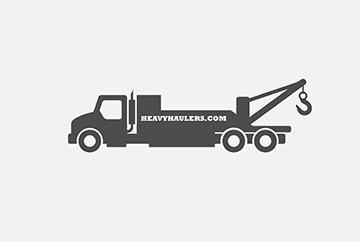 Heavy Haulers Wide Load Towing Services - (800) 908-6206
Need a wide load towing service? At Heavy Haulers, we understand that towing of wide loads requires specially trained personnel to make the process as comfortable as possible. We have all the logistics knowledge within our team to make things work out well, even beyond our client's expectations. When you need any quotation from our company about any towing exercise from any location in North America, you can be sure to receive it accurately and free from our well-trained customer service.
How to Transport A Wide Load with Heavy Haulers
Transportation of over-dimensional cargo is critical, and there are many rules and regulations involved in their shipments. In most cases, to carry wide loads you need to obtain special permits and pilot cars which means additional costs for delivery on the roadways. The special permits must be obtained from the department of transportation (DOT) or a permit company from each state before the driver loads the over-width equipment for transport.
When in need of knowing the arrival date and time of the wide load, the driver must always abide by the rules set by the department of transportation. It is vital to understand that truck drivers from oversized loads are limited to hours in a day they are supposed to drive, must stop at each station in each state for verification of paperwork and are only allowed to transport the over-dimensional loads only on roads approved by the DOT. Each country and state have various regulations and different variations concerning legal dimensions and weight and therefore essential to keep that in mind.
When it comes to transportation of wide loads, it does not have to weigh you down. Heavy haulers are experts. We have the right equipment, specialized drivers with experience in transportation of over-dimensional loads and we have all the legal permits needed for shipment of your load. We always keep our promise and ensure your freight is delivered to its destination safely and securely with no damages. For qualified and experienced wide load shipping, call us now! (800) 908-6206
Common Equipment Heavy Haulers Transports
Trust Heavy Haulers to transport any brand of equipment you own. Most of our drivers are experienced heavy-machinery operators who can safely maneuver your loads aboard our trailers. Some of the brands we have shipped include:
Heavy Haulers Ships Across All 50 States
Alabama - Alaska - Arizona - Arkansas - California - Colorado - Connecticut - Delaware - Florida - Georgia - Hawaii - Idaho - Illinois - Indiana - Iowa - Kansas - Kentucky - Louisiana - Maine - Maryland - Massachusetts - Michigan - Minnesota - Mississippi - Missouri - Montana - Nebraska - Nevada - New Hampshire - New Jersey - New Mexico - New York - North Carolina - North Dakota - Ohio - Oklahoma - Oregon - Pennsylvania - Rhode Island - South Carolina - South Dakota - Tennessee - Texas - Utah - Vermont - Virginia - Washington - West Virginia - Wisconsin - Wyoming
Looking For Transport
With a Specific Trailer?

Max Weight: 150,000+ lbs. | Main Deck Length 29 ft.
| Well Width 8.5 ft. | Legal Height Limit 11.6 ft.

Max Weight: 48,000 lbs. | Max Length 53 ft.
| Max Width 8.5 ft. | Max Height 8.5 ft.
Max Weight: 48,000 lbs. Max Length 53 ft. |
Max Width 8.5 ft. | Max Height 11 ft.
Max Weight: 45,000 lbs. | Max Length 29 ft.
| Max Width 8.5 ft. | Max Height 11.5 ft.
Heavy Haulers Pilot Car Services
Are you looking for a reliable pilot car
for your transport?
Get Started
HEAVY HAULERS WIDE LOAD SERVICES
● Shipping wide loads

● Over-width equipment transport

● How to ship a wide load

● Wide load freight towing services

● Wide load transport

● International wide load and over-width freight shipping

● Hauling wide load equipment with various trailers

● How to move a over-width equipment and machinery

● Wide load regulations and details