Nationwide and International Material Transportation
The building and construction industry is highly reliant on shipping companies to deliver the necessary materials. At Heavy Haulers, we understand the importance of timely shipping. We know time is money and we don't want to waste yours. Trust our company representatives to deliver any material, whether plastic, foam, stone, wood, or clay. We promise to be on the delivery site on time.
Many people depend on rail and oceanic carriers to transport these types of materials. Still, Heavy Hauler promises to provide unmatched long-distance transportation of any oversized, overweight, and bulky materials, whether you are operating a manufacturing plant in Illinois or Florida. We are branched out in all 50 states in the US, including other locations in Canada and Mexico. Our representatives in your locality are experienced and know the legal requirements of transporting heavy metals and beams. Let's get started! (800) 908-6206
Contact Our Expert Shipping Specialist's
(800) 908-6206
Unparalleled Material Shipping from Qualified Professionals
Heavy Haulers provides top quality materials shipping. Whether you're hauling roofing shingles or decking materials. We make sure to plan ahead, get the route ready, and have your materials delivered on time. Heavy Haulers has over a decade of experience transporting hauling materials and more. We can ship one type or multiple types of materials at once.
We transport materials for individuals, small businesses, and large industries. No matter who is transporting, we give our all. Each materials transport is planned based on the client's needs. We know that it's important for the materials to be delivered on time, so you can get your project underway. Heavy Haulers pays meticulous attention to detail, so your materials get where you need them to be with ease. Call now! (800) 908-6206
Common Types of Materials Heavy Haulers Ships
● Textile
● Plastic
● Foam
● Plaster
● Rubber
● Bricks
See what you need?
Call us for a FREE Shipping Estimate at (800) 908-6206
Recent Materials Transported by Heavy Haulers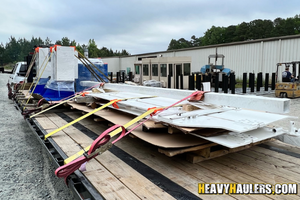 Buttresses and Pallets, Wedge Barriers, Crash Beams Loaded on a Trailer
Origin:Fuquay Varina, NC 27526
Destination: Clearwater, FL 33756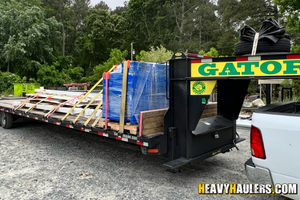 Transporting Buttresses and Pallets, Wedge Barriers, and Crash Beams Materials
Origin:Fuquay Varina, NC 27526
Destination: Clearwater, FL 33756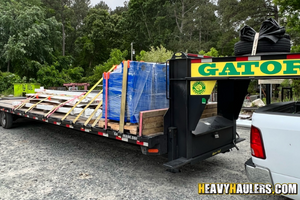 Shipping Buttresses and Pallets, Wedge Barriers, and Crash Beams Materials
Origin:Fuquay Varina, NC 27526
Destination: Clearwater, FL 33756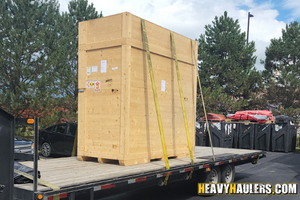 Crated Display Material Loaded on a Flatbed Trailer
Origin:Macedon, NY 14502
Destination: Bridgehampton, NY 11932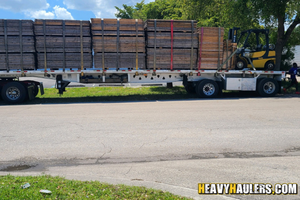 Full Flatbed Load of Materials
Origin:West Palm Beach, FL 33409
Destination: West Wareham, MA 02576
Specs: L48 W8.5 H8; 44000lbs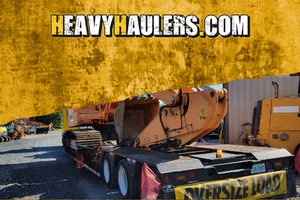 Get a Transport Quote
New
Materialsu Transports With Heavy Haulers
How to Transport Materials with Heavy Haulers
Heavy Haulers provides a straightforward "Contact Us" process, allowing you to get in touch with our professional logistics representatives. Depending on the freight type, we will use a trailer loaded from the top using bucket arm trailers. Other processed materials like bricks and rubber are palletized and packed in containers for transportation. We provide the best transport services for your materials. Let's get started! (800) 908-6206
Textile
A flexible material comprising natural and human-made fibers, such as thread and yarn. The latter is produced from a process called spinning. Hemp, wool, and cotton are examples of spun materials used to make textile applied in the tailoring and dress-making sectors.
Plastics
Plastic is a general term used to describe different types of synthetic and semi-synthetic materials. They are made from hydrocarbons (petrochemicals), salt, natural gas, coal, and cellulose. Therefore, they are malleable and can be used to construct plumbing, vinyl sidings, medical equipment.
Foam
Foam is a material made from many air bubbles that stick together using another flexible material. It can also be an artificial product used in woodworking to make furniture more comfortable. Foam can also be the white material used to cushion other fragile equipment, such as electrical appliances.
Clay
An earthy material made of fine grains that develops plasticity when wet and hardness when heated. It is composed of clay minerals (hydrous aluminum silicates). Clay is used in a wide range of manufacturing processes like brick- and tile-making. It is also one of the primary raw materials used in pottery.
Wood
The porous and fibrous tissue found in trees and plant roots. It is the part that offers structural strength and transport nutrients to the plant. Wood can also refer to plant materials with varied properties, such as wood chips, fibers, and materials made from wood. It's used as fuel and in construction, weapons, and furniture.
Stone
A naturally occurring hard substance mined from the ground. It may also mean hard boulders, quarried, and processed into specific shapes and sizes used in different applications. Disintegrated stones and chips offer excellent materials used for flooring, roofing, railway ballast, and walls. Moreover, stone is used as an aggregate for concrete works.
Plaster
A material used to decorate the interior of building structures. It is used to offer a protective layer or casting for stone walls. "Render" refers to plaster used on the exterior walls of a building. Stucco is a common material used as plaster to give walls a textured rather than flat surface.
Rubber
Also known as latex, rubber is an elastic material made of polymers of isoprene, an organic chemical substance with traces of water and other impurities. Rubber can be made soft or hard, making it ideal for manufacturing pencil rubber, latex gloves and condoms, PVA adhesives, paints, and birthday balloons.
Bricks
A type of hard rock generally used in masonry construction to build walls and paving structures. Although clay has, for years, been used in brick-making, other chemical substances can be used to make brick, so long as they undergo a form of the treatment process to form construction blocks.
Common Materials We Transport Include:
HEAVYHAULERS.COM
START YOUR SHIPMENT TODAY!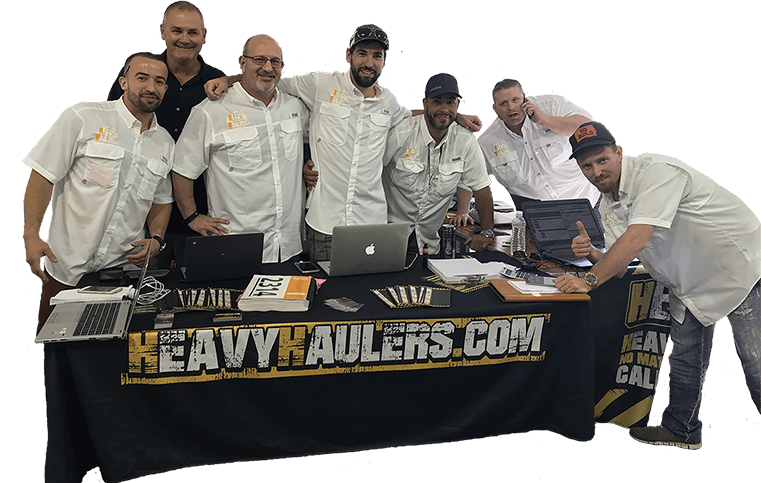 We Are Ready To Help You Haul Your Equipment!
Common Equipment Heavy Haulers Transports
Trust Heavy Haulers to transport any brand of equipment you own. Most of our drivers are experienced heavy-machinery operators who can safely maneuver your loads aboard our trailers. Some of the brands we have shipped include:
Heavy Haulers Ships Across All 50 States
Alabama - Alaska - Arizona - Arkansas - California - Colorado - Connecticut - Delaware - Florida - Georgia - Hawaii - Idaho - Illinois - Indiana - Iowa - Kansas - Kentucky - Louisiana - Maine - Maryland - Massachusetts - Michigan - Minnesota - Mississippi - Missouri - Montana - Nebraska - Nevada - New Hampshire - New Jersey - New Mexico - New York - North Carolina - North Dakota - Ohio - Oklahoma - Oregon - Pennsylvania - Rhode Island - South Carolina - South Dakota - Tennessee - Texas - Utah - Vermont - Virginia - Washington - West Virginia - Wisconsin - Wyoming
Looking For Transport
With a Specific Trailer?

Max Weight: 150,000+ lbs. | Main Deck Length 29 ft.
| Well Width 8.5 ft. | Legal Height Limit 11.6 ft.

Max Weight: 48,000 lbs. | Max Length 53 ft.
| Max Width 8.5 ft. | Max Height 8.5 ft.
Max Weight: 48,000 lbs. Max Length 53 ft. |
Max Width 8.5 ft. | Max Height 11 ft.
Max Weight: 45,000 lbs. | Max Length 29 ft.
| Max Width 8.5 ft. | Max Height 11.5 ft.
Heavy Haulers Pilot Car Services
Are you looking for a reliable pilot car
for your transport?
Get Started
See what you need?
Call us for a FREE Shipping Estimate at (800) 908-6206