Shipping a Cold Planer with the Experts
Traveling around the country for asphalt jobs can be a great business—but if your equipment isn't there when you need it, you can't get to work. Heavy Haulers specializes in shipping cold planer equipment across the US, Canada, and Mexico. Our certified, licensed drivers are experienced moving all types of cold planers, including asphalt grinders and spreaders. When your business depends on getting your equipment delivered safely, Heavy Haulers is the first name in equipment transport. Call us now and let's transport your cold planer! (800) 908-6206
Contact Our Expert Shipping Specialist's
(800) 908-6206
Transporting Cold Planer Equipment with Heavy Haulers
Choosing Heavy Haulers is a choice for professional heavy equipment service. We use trailers rated for any size equipment, from cold planer milling machines to spreaders and dump trucks. Our drivers can go anywhere, from new roads being constructed in rural areas to busy urban streets for repairs. Your equipment will be secured and loaded, door-to-door style. Professional bonded loaders understand just how to secure your cold planer to ensure it arrives at your job site undamaged. When service and safety matter, choose Heavy Haulers.
A Quality Cold Planer Shipping Experience
Booking cold planer transport with Heavy Haulers begins with a consultation with one of our logistics specialists. We'll plan your route, determining which roads are rated for your cold planer–and any other equipment you need to be transported. We move asphalt spreading equipment anywhere in North America, from Canada or Alaska all the way to Mexico. Paperwork, including weigh station forms and customs papers, are taken care of so that your equipment travels quickly. Once your equipment arrives, we can even unload it for you. Our drivers focus on the safety of your team and ours. Give us a call today for a FREE, no-obligation shipping quote! (800) 908-6206
Cold Planers Recently Transported by Heavy Haulers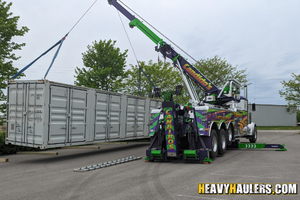 Loading a 20ft Storage Container
Origin: Lewiston, MN 55952
Destination: Prudhoe Bay, AK 99734
Specs: 40' Shipping Container 42,000lbs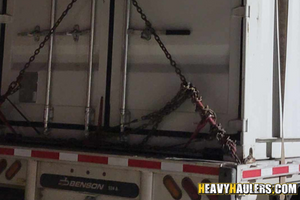 Loaded 40' Shipping Container
Origin: Lewiston, MN 55952
Destination: Prudhoe Bay, AK 99734
Specs: 40' Shipping Container 42,000lbs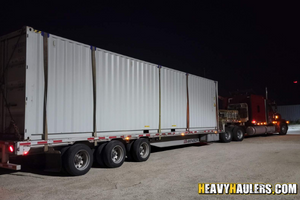 Transporting a 40' Shipping Container
Origin: Lewiston, MN 55952
Destination: Prudhoe Bay, AK 99734
Specs: 40' Shipping Container 42,000lbs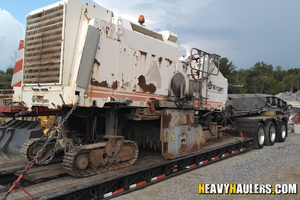 Wirtgen, 2000DC Cold Planer Transported to Ohio
Origin: Manheim, PA 17545
Destination: Akron, OH 44312
Specs: Wirtgen, 2000DC; 46L 9W 10H; 64,000lbs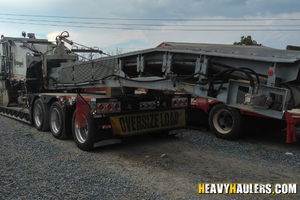 Wirtgen, 2000DC Cold Planer Shipped to Ohio
Origin: Manheim, PA 17545
Destination: Akron, OH 44312
Specs: Wirtgen, 2000DC; 46L 9W 10H; 64,000lbs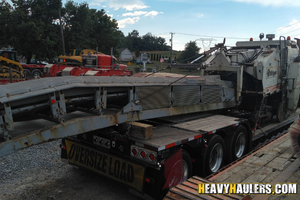 Oversize Wirtgen 2000DC Cold Planer Tramsport
Origin: Manheim, PA 17545
Destination: Akron, OH 44312
Specs: Wirtgen, 2000DC; 46L 9W 10H; 64,000lbs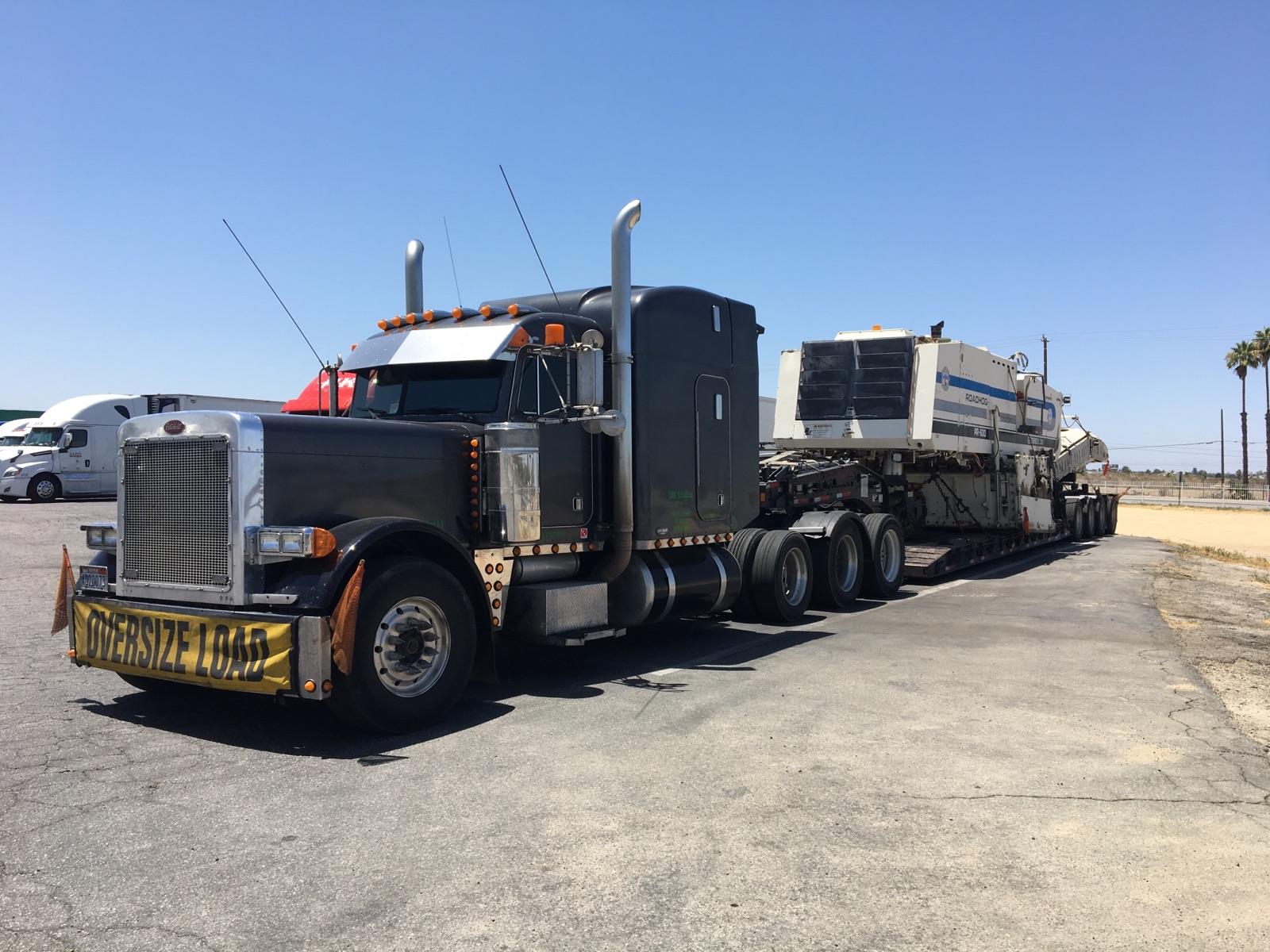 Heavy Haulers Ships Cold Planers
Your cold planer is a large piece of equipment, and very few transportation companies can ship it properly, even if it's just across town. Heavy Haulers is a reputable equipment transportation company with experience shipping cold planers safely and securely to each job site. We are bonded, insured, and guarantee on-time delivery of your heavy construction gear. We understand that your cold planer needs to be carefully secured, including the moving drum. Every piece is triple-checked for security, and our transport drivers understand how to carefully drive to your destination in order to safely transport your cold planer.
How To Ship a Cold Planer
Shipping a cold planer, and any other excavating and paving equipment, is a job for a large machinery transit specialist like Heavy Haulers. These larger pieces of equipment require an RGN trailer, rated for their weight, and plenty of secure cables to keep them firmly in place.
Heavy Haulers has the trained, bonded drivers to ship a cold planer, and all of your paving equipment. We also have expert route planners, making sure that your cold planer arrives quickly and safely.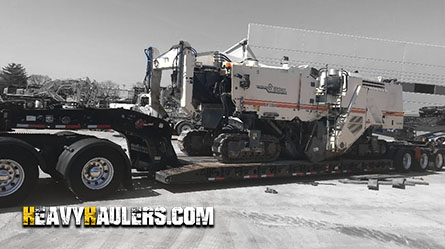 Cold Planer Transportation Services
Asphalt milling has gotten to be a tough business in the last several years. Your ability to stay ahead of the competition isn't just about service and prices – it's also about the jobs you can take. Let Heavy Haulers help you reach out to more clients across the nation, helping move your equipment where you need it most. Heavy Haulers uses the open-air transport method to move your cold planer, using ground transportation. We may be able to accommodate an enclosed form of transport, on a case-by-case basis, so we encourage you to give us a call at (800) 908-6206 to arrange a custom quote. We work with only the best shippers in the business, arranging door-to-door transport of your cold planer.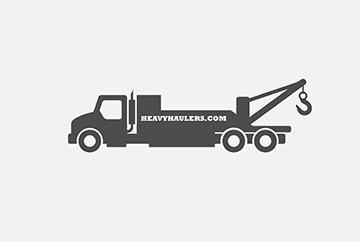 Heavy Haulers Excels at Cold Planer Towing (800) 908-6206
Need cold planner towing service? Heavy Haulers boast of the most advanced towing equipment in the entire industry. We have utilized modern technology and come up with the most reliable equipment in the towing industry across the United States. Upon engaging us in the towing of your heavy machinery, our team of experts will arrange for the planning and picking of your machine at affordable prices depending on your budget. We offer escort services and you can be sure that your cargo will be safe and secure all the way. Call today! (800) 908-6206
Common Equipment Heavy Haulers Transports
Trust Heavy Haulers to transport any brand of equipment you own. Most of our drivers are experienced heavy-machinery operators who can safely maneuver your loads aboard our trailers. Some of the brands we have shipped include:
Heavy Haulers Ships Across All 50 States
Alabama - Alaska - Arizona - Arkansas - California - Colorado - Connecticut - Delaware - Florida - Georgia - Hawaii - Idaho - Illinois - Indiana - Iowa - Kansas - Kentucky - Louisiana - Maine - Maryland - Massachusetts - Michigan - Minnesota - Mississippi - Missouri - Montana - Nebraska - Nevada - New Hampshire - New Jersey - New Mexico - New York - North Carolina - North Dakota - Ohio - Oklahoma - Oregon - Pennsylvania - Rhode Island - South Carolina - South Dakota - Tennessee - Texas - Utah - Vermont - Virginia - Washington - West Virginia - Wisconsin - Wyoming
Looking For Transport
With a Specific Trailer?

Max Weight: 150,000+ lbs. | Main Deck Length 29 ft.
| Well Width 8.5 ft. | Legal Height Limit 11.6 ft.

Max Weight: 48,000 lbs. | Max Length 53 ft.
| Max Width 8.5 ft. | Max Height 8.5 ft.
Max Weight: 48,000 lbs. Max Length 53 ft. |
Max Width 8.5 ft. | Max Height 11 ft.
Max Weight: 45,000 lbs. | Max Length 29 ft.
| Max Width 8.5 ft. | Max Height 11.5 ft.
Heavy Haulers Pilot Car Services
Are you looking for a reliable pilot car
for your transport?
Get Started
HEAVYHAULERS.COM
START YOUR SHIPMENT TODAY!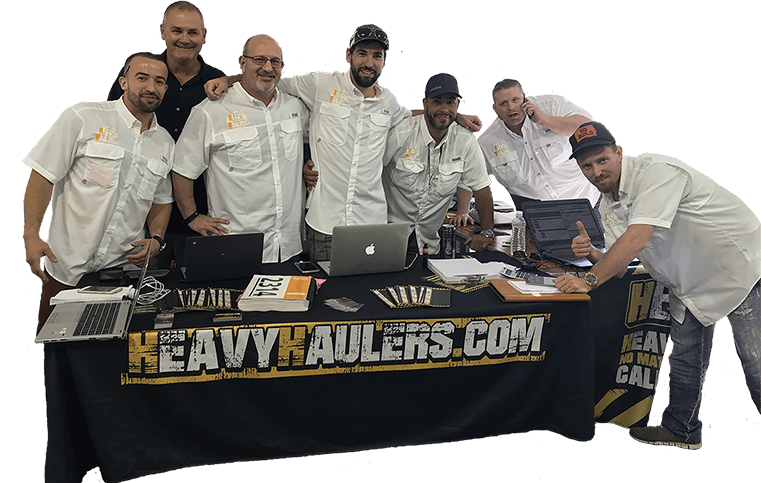 We Are Ready To Help You Haul Your Equipment!
See More of Our Recent Cold Planer Moves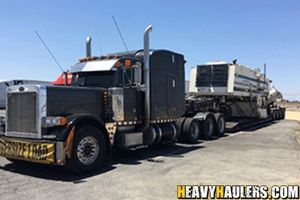 Hauling a Terex PR600 Cold Planer on an rgn trailer
This is a Terex PR600 Cold Planer our specialist, Mike, transported for a client. This Terex was picked up in Colton, CA and delivered nearly 1,500 miles away in Mission, TX. This big boy Terex PR600 Cold Planer weighed 90,000 pounds and did require permits, which Mike planned for ahead of time to avoid any unnecessary delays. The Terex measured 51 feet in length, was 8 feet 5 inches wide and was 11 feet tall. Heavy Haulers arranged this oversized load with ease. Call Mike at Heavy Haulers to schedule your next shipment: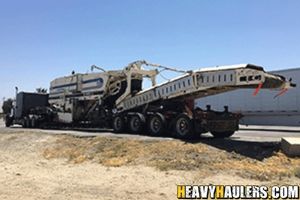 Transporting Terex PR600 Cold Planer
Mike, a Heavy Haulers transportation specialist, recently received a new order with a tight pickup and delivery window due to other deliveries at the jobsite. After speaking to the client, Mike at Heavy Haulers, secured the most qualified driver and rig to deliver this Terex PR600 Cold Planer. Another satisfied customer tended to ...just another day at Heavy Haulers! Call Mike for all of your equipment transportation: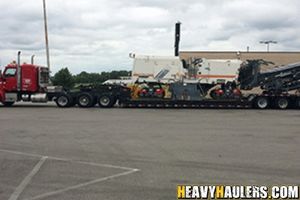 Shipping Wirtgen W2100 Cold Planer Milling Machine
Heavy Haulers recently shipped this 2009 Wirtgen W2100 Cold Planer from Lakeville, Minnesota, to Wilmington, California. The journey was more than 1,960 miles through seven states. Weight: 80,000 pounds. Length: 28 feet. Width: 8 feet 10 inches. Height: 9 feet 11 inches. To ship your oversize paving equipment anywhere in the US, Canada or Mexico, call Mike at Heavy Haulers directly at:
What Heavy Haulers Can Do For You
● We will transport your cold planer to all 50 states, including overseas and Alaska

● Your load always travels insured–we are a professionally bonded company

● We will provide all paperwork for weigh stations, destination, and permits

● Friendly drivers available to speak with during shipping, and we will update you on the status of a long-distance haul

● Free Fast equipment shipping & transport quotes available. Call now! (800) 908-6206
Come see the difference that experienced professionals can make with YOUR cold planer shipping needs. Heavy Haulers as the right sized equipment, carefully inspected and calibrated to safely move your expensive equipment.