Need a 5 Axle Trailer For Cargo Transport? Talk to Heavy Haulers!
We are the most dependable and versatile heavy machinery hauling company for the US, Mexico and Canada bound oversize cargoes. Our five-axle flat and drop deck trailers are aimed at making heavy equipment hauling a breeze which we have been successful at for the last ten plus years. Single fluid transportation of your farm, construction or plant machinery will not only save costs but also provide the fastest and safest means of haulage.
An alternative to the standard four axle trailer is available at heavy haulers for your oversize cargo transportation. Our lowboy five-axle RGN trailers present a lower gravity center which allows seamless rollover and stability to the loads being hauled. A marked reduction in fuel consumption is also evident with our fleet of five-axle trailers when transporting those wider load cargoes. Six percent payload increases in control and braking also provide straighter operating alignments for our drivers.

5-Axle Trailer Transport 101: Use Heavy Haulers
With Heavy Haulers five-axle trailers, we can haul heavy machinery such as excavators, bulldozers, backhoe shovel, and other construction equipment. Our low bed trailers that utilize five axles have a 90-ton capacity and can comfortably haul cargo from 40 tons due to their robust structures. Heavy Haulers offers a free quotation where the logistics managers decide on the type of axle configuration suits your shipment best.
Heavy haulers fleets include the five-axle low bed and flat deck versions of trailers with a 3 – 2 or 2 – 3 configuration.
Recent Sprinter Vans Transported by Heavy Haulers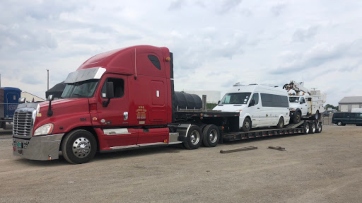 Shipping a Mercedes-Benz 3500 Sprinter Van
Origin:Fort Wayne, IN
Destination: Hallandale Beach, FL
Specs: 2011 Mercedes-Benz 3500 sprinter van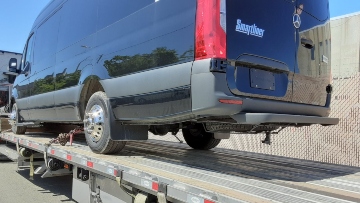 Hauling a Mercedes LWB Sprinter Van from Massachusetts to South Carolina
Origin: Somerville, MA
Destination: Charleston, SC
Specs: 2019 Mercedes-Benz Sprinter LWB Van Extd. Length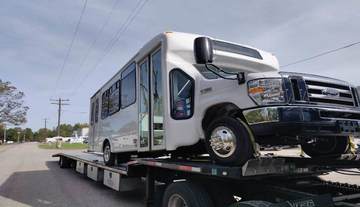 Transporting 2 5,800 pound Mercedes-Benz Sprinter Vans
Origin: Sanford, FL
Destination: Fort Lauderdale, FL
Specs: 2 Mercedes-Benz Sprinter Van 8500# 24L 7W 9.7H
See what you need?
Call us for a FREE Shipping Estimate at (800) 908-6206
Trailer Specifications for the Heavy Haulers 5 Axle Flatbed Transports
The five-axle variety of trailers that Heavy Haulers employ is low profile removable gooseneck flatbeds. We manage payloads that exceed 55 tons or up to 120,000 pounds with an overall load distribution of 16 feet. The total five-axle trailer length is 59 feet and 8 inches with a deck length and width of 45 and 8 feet six inches respectively. The deck height of 41 inches allows high loads to be transported within the legal preserves.
Our ton 5 axle Heavy Haulers flat deck trailers contain a deck camber that is 2 feet of neck to tail nominal length. Its kingpin settings are at 34 and 16 feet while allowances for swing clearance are at 8 to 6 feet or 102 inches and 10 feet to zero inches. The frame is a four-beam design that is made from high tensile steel fabrications webs and flanges. At maximum payload, the stress is equally distributed with a 2 – 1 safety factor at the minimum.
Features of the Heavy Haulers Five Axle 130 Ton Low-bed Trailer: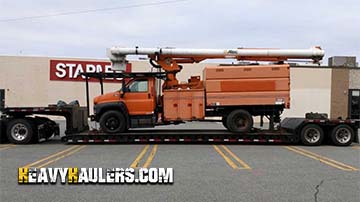 5 Axle Trailer Shipment
• Oversize Load carrying capacity due to the high tensile steel structure
• Hydraulic or spring ramp that mechanically simplifies unloading and loading
• Lower height for platform tall load handling and working at 85 to 120 cm
• Mechanically robust suspension springs for the substantial load handling needs
• Customizable length and width of the five-axle trailer to your load requirements.
• A suspension that uses air or bogie hydraulic springs
• Steering and self-adjusting axles
• Low beds with side extension brackets for more full loads
• Detachable reverse gooseneck to simplify backing up and loading or unloading
Our Heavy Haulers engineers are ready with solutions to meet the seamless integration of your transportation and state, county or federal regulations for heavy cargo hauling. Our dispatch teams are available all over the nation on (800) 908-6206 to meet your load specifications with a free no obligations valuation. Our five-axle transport equipment is of modern standards and employs state of the art logistics to deliver your wide, bulky or high cargo safely.
See what you need?
Call us for a FREE Shipping Estimate at (800) 908-6206
Common Trailer Types Available from Heavy Haulers
Heavy Haulers specializes in hauling heavy loads such as construction equipment, oil field rigging and Super Loads. We are wideload experts! We offer an extensive range of trailer choices, including:
Max Weight: 48,000 lbs. | Max Length 53 ft. | Max Width 8.5 ft. | Max Height 11 ft.




Max Weight: 45,000 lbs. | Max Length 29 ft. | Max Width 8.5 ft. | Max Height 11.5 ft.
Max Weight: 150,000+ lbs. | Main Deck Length 29 ft. | Well Width 8.5 ft. | Legal Height Limit 11.6 ft.




Max Weight: 48,000 lbs. | Max Length 53 ft. | Max Width 8.5 ft. | Max Height 8.5 ft.
HEAVYHAULERS.COM
START YOUR SHIPMENT TODAY!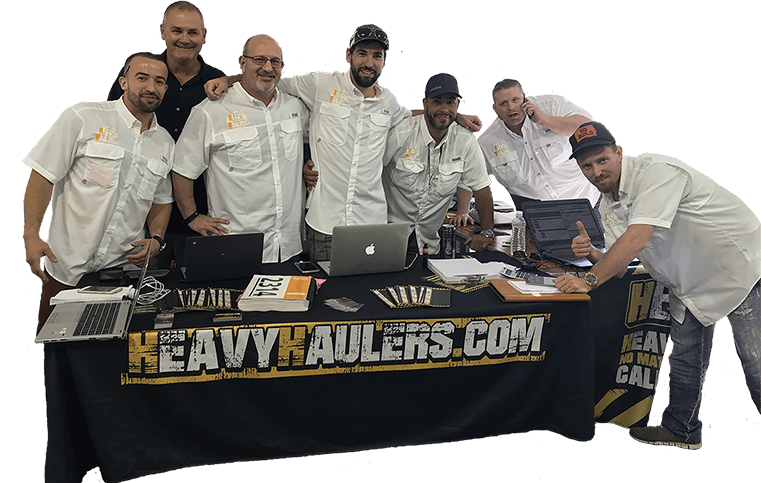 We Are Ready To Help You Haul Your Equipment!
Types of Equipment Heavy Haulers has Experience Transporting
Trust Heavy Haulers to transport any brand of equipment you own. Most of our drivers are experienced heavy-machinery operators who can safely maneuver your loads aboard our trailers. Some of the brands we have shipped include:
Start Your 5 Axle Trailer Transport with Heavy Haulers
At heavy haulers, we have over ten years' experience, and our crews are experts at transporting oversize loads. Call toll free now on (800) 908-6206 and have your consignment on our five-axle transport within the hour. A logistics specialist will organize your load permits, delivery schedules and route plans that take into account any distances where escort car or pilot services may be required. Detailed and exhaustive information is also available while real-time load tracking or seamless communication with haulage team is a reality at heavy haulers.