Shipping Doosan Construction Equipment
Call Our company Heavy Haulers for all Doosan equipment shipping services locally or cross country at (800) 908-6206! Trust Heavy Haulers to ship your Doosan construction equipment. Doosan manufactures a full line of heavy construction machinery for the U.S. market. The company was founded in South Korea in 1962. It builds power plants and desalination stations throughout the world. With its acquisition of compact construction equipment producer Doosan in 2007, Doosan became one of the ten largest construction equipment manufacturers in the world.


The construction equipment division was created in 1977. In 1978, Doosan began producing excavators in 1978. The company added wheel loaders to the product line in 1992. By 2004 Doosan was exporting more than $500 million of construction equipment. The company employs nearly 7,000 people.
Common Doosan Equipment We Transport Frequently:
See More of Our Recent Doosan Shipments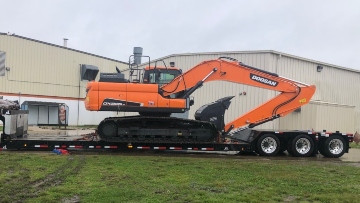 Transporting a Doosan DX225LC-5 Crawler Excavator
Shipping From: Terre Haute, IN

Transporting To: Lompoc, CA

Specs: 2019 Doosan DX225LC-5 crawler excavator

Transport Specialist: Daniel J.
(754) 704-9202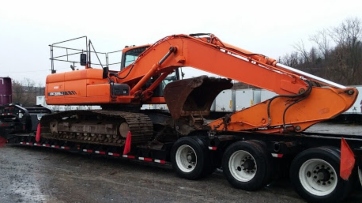 Shipping a Doosan DX225 Excavator from Altoona, PA to North East, MD
Shipping From: Altoona, PA

Transporting To: North East, MD

Specs: 1 Doosan DX225 excavator; 31L x 10W x 10.2H; 47,400lbs

Transport Specialist: Milos V.
(754) 203-9257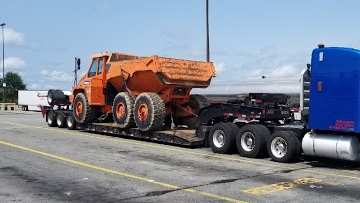 Transporting a Doosan DA30 Articulated Dump Truck on an RGN Trailer
This is a Doosan DA30 Articulated Dump Truck that was picked up in Garner, NC and delivered to Hopkinton, MA. This Doosan DA30 Articulated Dump Truck was 34 feet long, 10 feet wide, 12 feet high and weighed approximately 52,000 pounds. This shipment was oversize and did require permits for height, width and weight to be shipped. JT was able to handle all of the paperwork for this haul. Call JT at Heavy Haulers to get your oversize shipment on the road!
Transport Specialist: J.T.
(754) 254-5444
Common Doosan Wheel Loader We Transport!
Doosan wheel loaders are best known for their increased production. This is due to their high lift capacity. Enough strength to comfortably penetrate through materials and their outstanding lift height. They are versatile in terms of use. They can be used for loading and transportation in construction sites as well as mining and quarrying operations. Doosan wheel loaders come in different sizes and power ratings. Their DL550-5 for example, is designed for heavy duty tasks and has increased uptime and more power which gives you additional weight lift. Heavy Haulers ships all the Doosan wheel loader models.
Heavy Haulers Can Transport all Types of Doosan Wheel Loader, Including:
Common Doosan Forklift We Transport!
Doosan produces more than 100 models of forklifts of which we all ship. All Doosan forklifts are known for their reliability, powerful performance, convenience and comfort. Doosan was established in 2005 following the acquisition of Daewoo Heavy Industries. They recently launched the powerful 9-series forklifts that offer unbeatable fuel efficiency, performance and durability. They are unique for their design and electronic powertrain control which helps the driver to be precise while controlling heavy loads as well as reducing fatigue. This also ensures accuracy when handling fragile loads such as glass. The new GC 18 model for example, has been made to offer a powerful performance in addition to having driving comfort, excellent fuel efficiency and durability. The G 25 which is also in the new 9-series models is known for having a fully redesigned drive axle, reduced width and powerful turning radius which makes it suitable in small areas. All the 9-series models have an advantage of functioning well in tight space due to their reduced width. For safety measures, they are equipped with a backup alarm, 20 percent more visibility, an emergency button which is large and convenient as well as a horn button at the rare grab bar.
Heavy Haulers Can Transport all Types of Doosan Forklift, Including:
Common Doosan Hydraulic Excavator | Crawler Excavator, and Doosan Integrated Tool Carrier We Transport!
Doosan crawler excavators are made for almost any lifting, digging or loading. They come in a variety of sizes and models. Most models optimize performance in either heavy digging or lifting due to their long carriage design. Some models have a more than average reach which is advantageous in handling more than a regular crawler excavator. The DX140LC-5 crawler excavator, for example, is suitable for any type of job due to it's unbeatable performance and productivity. It's low maintenance and has an extended life due to it's durable x-chassis among other features. It offers maximum visibility and comfort in addition to having more control. Heavy Haulers, we ship every model of Doosan crawler excavator.
HEAVY HAULERS CAN TRANSPORT ALL TYPES OF DOOSAN Hydraulic Excavator | Crawler Excavator, INCLUDING: