Transport Gradall Construction Equipment
Call Our company Heavy Haulers for all Gradall equipment shipping services locally or cross country at (800) 908-6206! Gradall produces heavy equipment for grading, excavation, and road building. They have specialty niche equipment to handle different types of terrain, including rough work. With a series of excavators, graders, and long-reach equipment, Gradall equipment is used to create pathways through some of the most challenging terrains on the planet. Responding to the economic climate of 2007-2009, Gradall expanded its offerings. At the beginning of 2015, Gradall introduced its new Discovery Series excavators, featuring an excavator upper structure integrated into a Freightliner truck chassis. Designed to meet the common needs of states, counties, and cities, the first model – D 152 was carefully priced to meet conservative government budgets and it received a warm reception.

Gradall company began in 1925 as the Ferwerda Brothers Construction Co., involved in the building of roads and bridges, installing water and sewer lines, and building site preparation. In the late 1930s factories, were hiring men for military armament production, leading to fewer men available to work in construction and especially to perform roadside finish grading work.
Common Gradall Equipment We Transport Frequently:
• Steel mill maintenance equipment
• Aluminum mill maintenance equipment
• Railway maintenance equipment
• Mine scalers
Recent Gradall Equipment Transported by Heavy Haulers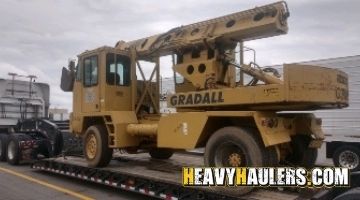 Transporting a Gradall G3WD Hydraulic Excavator in Alabama
Origin: Gurley, AL
Destination: Jachin, AL
Specs: 1 Gradall G3WD hydraulic excavator; 23L x 8.6W x 11H; 32,500lbs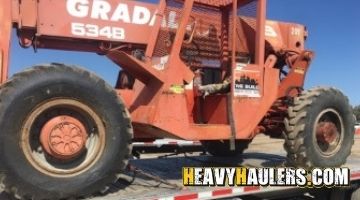 Shipping a Gradall 534B6 Telescopic Forklift from TX to GA
Origin: Fort Worth, TX
Destination: Jesup, GA
Specs: 1990 Gradall 534B6 Telescopic Forklift; 6L x 4H x 4W; 6,000lbs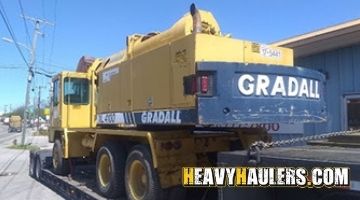 Gradall XL4100 Wheeled Excavator Transported on an RGN Trailer from Northeast, TN
Brian G. shipped this 47,000-pound Gradall XL4100 Wheeled Excavator, loading it on an RGN Trailer that took care of height restrictions for the cross-state shipment. Once loaded by Heavy Haulers Gradall equipment handlers, the 11.6 ft. high and 8 ft. wide excavator was tied down with chains that took care of its securing. Delivery for the 27 ft. long 1996 Gradall XL4100 Wheeled Excavator was made within the estimated time frames.
Common Gradall Telescopic Forklifts We Transport!
Gradall history starts with two brothers from the 1920s. They were involved in road and sewer construction but at the time employed less efficient tools like shovels. However, from 1941 there has been remarkable mechanization in Gradall telescopic forklifts. They are a one man one machine operation. Gradall forklifts exhibit great superior strength and movements making them efficient. They also carry an exceptional range of undercarriages.
Heavy Haulers Can Transport all Types of Gradall Telescopic Forklifts Including: