Transport Genie Construction Equipment
Call Our company Heavy Haulers for all Genie equipment shipping services locally or cross country at (800) 908-6206! As a leading, global manufacturer of aerial lift equipment, Genie is dedicated to minimizing waste, improving quality, listening to customers and providing outstanding support long after the sale. They are a Telex brand, operating with strategies to make Genie a trusted brand for every type of motorized construction lifts. Genie equipment is used in a variety of industries and applications worldwide, including rental, aviation, construction, entertainment, government, and military, industrial, as well as warehouse and retail.

Genie Industries was founded in 1966 to create a material lift that operated on compressed air. Customers seemed to be impressed with the "magic in the bottle" that was used to raise and lower the hoist — and, the "Genie" name was born. With growing demand for material lifts and aerial work platforms, products such as man-lifts, stick booms, articulated booms, light towers and telehandlers have been added to the Genie® product line.
Common Genie Equipment We Transport Frequently:
• Trailer Mounted Boom Lifts
• Aerial Work Platforms

• Vertical Mast Lifts
• Material Lifts
Speak with a Member of Our Logistics Team Now!
(800) 908-6206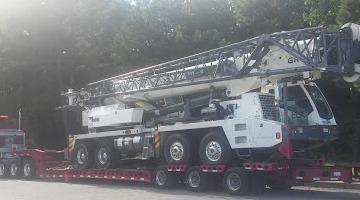 Hauling a Genie GS-1930 Scissor Lift on a Step Deck Trailer
The shipment of a 2,700 pound Genie GS-1930 Slab Scissor Lift was done by Sam Duncan from Heavy Haulers, using a capacity handling step deck trailer. After pick up in Saugus, California, the 2.5 ft. wide and 6 ft. high scissor lift was hauled 1,060 miles to Milliken, Colorado. Sam and his heavy hauler driver made delivery of the 5 ft. long Genie GS-1930 Slab Scissor Lift with time on the estimated schedule to spare.
Transport Specialist: Sam Duncan
(561) 931-6741
Common Genie Boom Lifts We Transport!
Genie boom lifts have been in the market since 1978. These efficient boom lifts come in three major categories, the articulating booms either engine, electric or hybrid powered, the telescopic booms and the trailer-mounted booms. All the three have multiple advantages. The articulating boom lifts for instance are endowed with the ability to smoothly guide obstacles at various heights. Their precision in the up and over navigation is commendable thanks to the ease they bring along in almost inaccessible places. The Genie telescopic boom lifts on the other hand present a great horizontal outreach while the Genie trailer-mounted boom lifts strength lie on their operating envelope. The S60X Genie boom lift is a perfect example. It has a virtual pivot primary boom which provides lower machine weight as it aligns its center of gravity. The S60X Genie boom lift also has better control and a smooth boom function as a direct result of its ramped boom control system. Finally, it has fixed-width axles and positive traction drive which enhance faster setup and keeps equal power among the drive wheels respectively. Heavy Haulers have the unmatched know how on the shipment of all the Genie boom lift models cutting across the various categories.
Heavy Haulers Can Transport all Types of Genie Boom Lifts, Including:
Speak with a Member of our Logistics Team Now!
(800) 908-6206
Common Genie Scissor Lift We Transport!
The low noise Genie scissor lifts are split between the rough terrain scissor lifts and the Electric and engine-powered scissor lifts. Over the two decades that Genie scissor lifts have been in production, they have experienced reforms in various sectors making them highly desired as they are maintainable. We have in-depth understanding of all the Genie scissor lift models thus offering effortless shipment.
Heavy Haulers Can Transport all Types of Genie Scissor Lift, Including:
Speak with a Member of our Logistics Team Now!
(800) 908-6206
Common Genie Telescopic Forklift We Transport!
Genie telescopic forklifts are an essential tool for construction as their feature of forward and upward movement eases the maneuver. The Genie telescopic forklift, GTH-1256 for example incorporates both a light height of 55 ft and a large weight capacity. Heavy Haulers ships all Genie telescopic forklift models with ease.
Heavy Haulers Can Transport all Types of Genie Telescopic Forklift, Including: