Transport Genie Construction Equipment
Call Our company Heavy Haulers for all Genie equipment shipping services locally or cross country at (800) 908-6206! As a leading, global manufacturer of aerial lift equipment, Genie is dedicated to minimizing waste, improving quality, listening to customers and providing outstanding support long after the sale. They are a Telex brand, operating with strategies to make Genie a trusted brand for every type of motorized construction lifts. Genie equipment is used in a variety of industries and applications worldwide, including rental, aviation, construction, entertainment, government, and military, industrial, as well as warehouse and retail.

Genie Industries was founded in 1966 to create a material lift that operated on compressed air. Customers seemed to be impressed with the "magic in the bottle" that was used to raise and lower the hoist — and, the "Genie" name was born. With growing demand for material lifts and aerial work platforms, products such as man-lifts, stick booms, articulated booms, light towers and telehandlers have been added to the Genie® product line.
Common Genie Equipment We Transport Frequently:
• Trailer Mounted Boom Lifts
• Aerial Work Platforms

• Vertical Mast Lifts
• Material Lifts
Speak with a Member of Our Logistics Team Now!
(800) 908-6206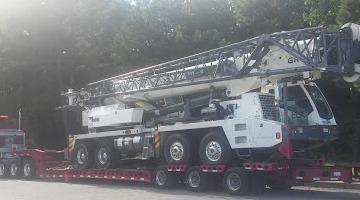 Hauling a Genie GS-1930 Scissor Lift on a Step Deck Trailer
The shipment of a 2,700 pound Genie GS-1930 Slab Scissor Lift was done by Sam Duncan from Heavy Haulers, using a capacity handling step deck trailer. After pick up in Saugus, California, the 2.5 ft. wide and 6 ft. high scissor lift was hauled 1,060 miles to Milliken, Colorado. Sam and his heavy hauler driver made delivery of the 5 ft. long Genie GS-1930 Slab Scissor Lift with time on the estimated schedule to spare.
Transport Specialist: Sam Duncan
(561) 931-6741