Shipping Liebherr Construction Equipment
Call Our company Heavy Haulers for all Liebherr equipment shipping services locally or cross country at (800) 908-6206! Trust Heavy Haulers to ship your Liebherr construction equipment. Liebherr Group is one of the five largest construction equipment manufacturers in the world. Founded in Germany by Han Liebherr in 1949, the company got its start by producing the world's first mobile tower cranes. Liebherr debuted its first excavator in 1954.


The group today manufactures some of the world's largest mining equipment, including loaders, diggers and off-road dump trucks. Now based in Switzerland, the company remains entirely owned by the Liebherr family. In addition to construction equipment and cranes, the construction side of the company manufactures drilling rigs and concrete mixers. Liebherr Group employs more than 40,000 people.
Common Liebherr Equipment We Transport Frequently:
See More of Our Recent Liebherr Equipment Transports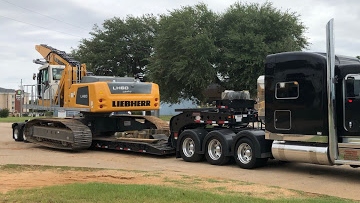 Shipping a Liebherr LH60 Industry Litronic
Shipping From: Shreveport, LA

Transporting To: Deridder, LA

Specs: 2020 Liebherr LH60 Industry Litronic; 13L x 16W x 13H; 120,000lbs

Transport Specialist: Sam D.
(561) 931-6741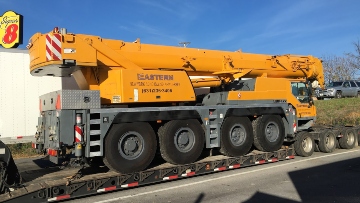 Liebherr LTM 1070-41 Mobile Crane Transport
Shipping From: Brooklyn, NY

Transporting To: Jacksonville, FL

Specs: 2005 Liebherr LTM 1070-41 mobile crane; 40.6L x 8.1W x 12.6H; 105,000lbs

Transport Specialist: Milos V.
(754) 203-9257
Liebherr 960 R VHHD Demolition Excavator Moved from Florida to Ohio
Permits were sourced for this 132,000 pound Liebherr 960 R VHHD Demolition Excavator by Milos Visnjic from Heavy Haulers way before it was picked up. He loaded the 27 ft. long and 13.3 ft. wide demolition excavator onto a graded extended RGN trailer after which the load was secured and flagged. The 11.1 ft. high Liebherr 960 R VHHD Demolition Excavator was shipped successfully from Jacksonville, Florida to Addyston, Ohio.
Transport Specialist: Milos Visnjic
(754) 203-9257
Liebherr Wheel Loader, and Crawler Crane
Liebherr Crawler Tractor,and Crawler Loader
Liebherr All Terrain Crane, and Rock Truck