Transporting Komatsu Construction Equipment
Call Our company Heavy Haulers for all Komatsu equipment shipping services locally or cross country at (800) 908-6206! Trust Heavy Haulers to ship your Komatsu construction equipment. Komatsu is the second largest construction equipment manufacturer in the world. Founded in Komatsu, Japan, in 1921, the company produced its first agricultural tractor in 1931. Komatsu entered the U.S. market in 1967, and established its U.S. division in 1970.

Komatsu produced the largest bulldozer in the world, the 290,000-pound D525, from 1989 until 2012. Today, the company includes subsidiaries that produce compaction equipment, street sweepers, equipment attachments, forestry tractors, mining equipment and more. Komatsu employs more than 45,000 people.
Common Komatsu Equipment We Transport Frequently:
• Mulching tractors
• Track loaders
See More of Our Recent Komatsu Equipment Transport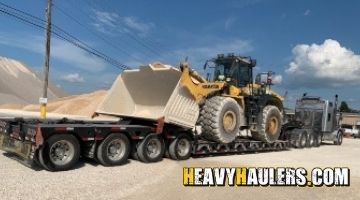 Transporting a Komatsu WA500-7 Wheel Loader in Texas
Origin: Freeport, TX
Destination: Houston, TX
Specs: Komatsu WA500-7 wheel loader; 33L x 11W x 12.4H; 78000lbs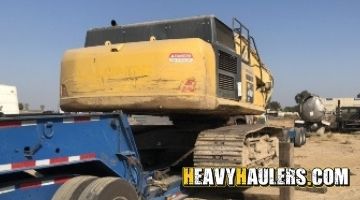 Komatsu PC490LC-10 excator transport
Origin: Fresno, CO
Destination: Chandler, NC
Specs: Komatsu PC490LC-10 excavator; 40L x 11.1W x 11H; 109000lbs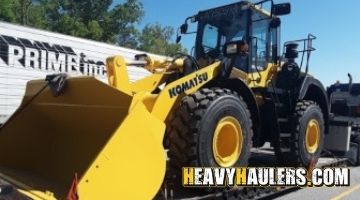 Hauling a Komatsu WA320-8 Wheel Loader on an RGN Trailer
Origin: Newberry, SC
Destination: Sioux Falls, SD
Specs: Komatsu WA320-8 wheel loader; 23L x 8.6W x 10.6H; 32000lbs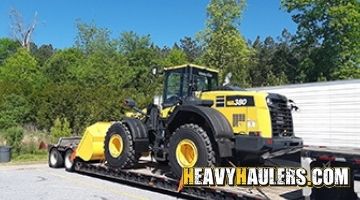 Komatsu WA320-8 Wheel Loader Transported On an RGN Trailer
Mike Phillips from Heavy Haulers picked up this 32,000 pound Komatsu WA320-8 Wheel Loader and transported it on an RGN Trailer from Newberry, South Carolina to Sioux Falls, South Dakota. The 8.6 ft. wide wheel loader required flagging after being loaded in difficult terrain and its 23 ft. length was secured with chain tie-downs. Mike and his Heavy Haulers shipping consigners are expert Komatsu construction equipment specialists, delivering the 10.6 ft. highWA320-8 Wheel Loader within conclusive time frames.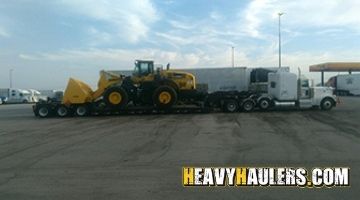 Komatsu Wheel Loader Shipped On a Flatbed Trailer from Utica, MI to Dickens, IA
This 55,000 pound Komatsu wheel loader was shipped on a flatbed trailer since it didn't have the shovel attachment to complicate carriage, and Heavy Haulers own Sam Duncan oversaw the logistics and dispatch. A modular ramp was used to load the 10.5 ft. wide by 31 ft. long wheel loader onto a flatbed trailer for expedited shipping, which was initiated soon after chain tie-down securing was complete. Sam Duncan kept in touch with this client through the 765-mile journey and delivered the 11.6 ft. tall Komatsu WA470-7 wheel loader within the estimated schedule.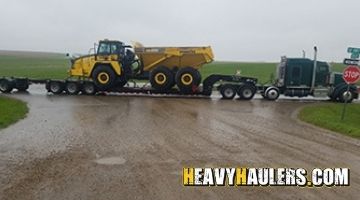 Komatsu HM 400-5 Articulated Dump Truck Shipped On an RGN Trailer
Despite lousy weather, Mike Phillips from Heavy Haulers picked up this Komatsu HM 400-5 Articulated Dump Truck and shipped on an RGN Trailer to Salt Lake City, Utah from Aberdeen in South Dakota. The 77,644 pounds and 9 ft. wide dump truck required permits which mike Phillips seemed to acquire almost instantly. Mike Phillips prepped the 11.8 ft. tall and 41.5 ft. long Komatsu HM 400-5 Dump Truck load with flagging and secured before hauling it 946 miles via the I-80 W. Escort vehicles were used to manage traffic before delivery was done successfully and with time to spare.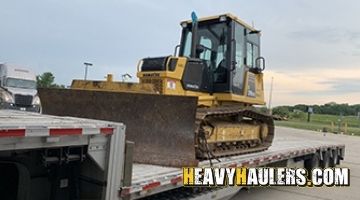 Komatsu D39 Dozer Hauled On a Step Deck Trailer from Muncie, IN, to Duck River, TN
This 19,000 pound and 14 ft. long Komatsu D39 dozer was shipped on a step-deck trailer by Milos Visnjic from Heavy Haulers. The 7 ft. wide D39 Dozer was loaded using ramps on which it drove onto the flatbed trailer, and was secured with chain tie-downs. Milos and team drove 402 miles along the I-65 S to deliver the 9 ft. high Komatsu D39 Dozer in less than 8 hours.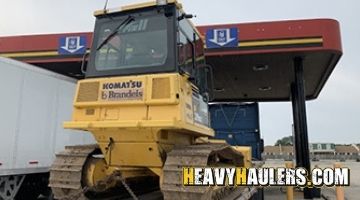 Komatsu D39 Dozer Transported on a Step Deck Trailer
Origin: Muncie, IN 47302
Destination: Duck River, TN 38454
Specs: Komatsu D39 Dozer; 14L X 7W X 9H; 19,000lbs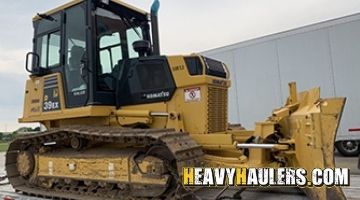 Komatsu D39 Dozer Shipped on a Step Deck Trailer
Origin: Muncie, IN 47302
Destination: Duck River, TN 38454
Specs: Komatsu D39 Dozer; 14L X 7W X 9H; 19,000lbs
See More of Our Recent Komatsu Equipment Transport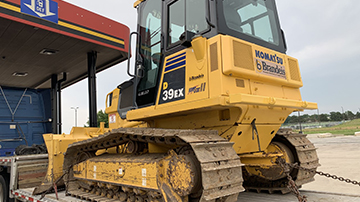 Komatsu D39 Dozer Transported on a Step Deck Trailer
Origin: Muncie, IN 47302
Destination: Duck River, TN 38454
Specs: Komatsu D39 Dozer; 14L X 7W X 9H; 19,000lbs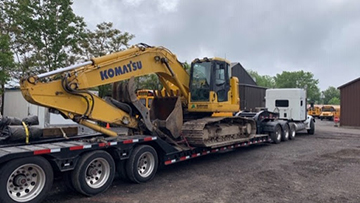 Komatsu PC228 Excavator Shipped on an RGN Trailer
Origin: Tonawanda, NY 14150
Destination: Green Bay, WI 54304
Specs: 2014 Komatsu PC228 Excavator;35.6L X 10.5W X 11.3H; 62,000lbs