Transport Roadtec Construction Equipment
Call Our company Heavy Haulers for all Roadtec equipment shipping services locally or cross country at (800) 908-6206! Roadtec provides cutting-edge, industry-leading asphalt equipment. They are a part of Astec Industries, a corporation known as a world leader in asphalt paving equipment. Founded in 1981, Roadtec began as a manufacturer of asphalt pavers. In 1986, the company merged with Barber-Green and continued innovating asphalt products. With the combined technology of Roadtec and the Barber-Greene Company, the paver line continued, along with the milling machines, and the concept of the material transfer vehicle was born. The first material transfer vehicle was the MTD 3500.

The Barber-Greene paver line was sold to Caterpillar in 1991 and Roadtec reorganized in Chattanooga, Tennessee to manufacture and market the entire line of road building equipment for Astec Industries. This included asphalt pavers and milling machines. It was around this time that the smaller, modern-day Shuttle Buggy® material transfer vehicle evolved from the larger MTD 3500, rounding out the product line.
Common Roadtec Equipment We Transport Frequently:
• Rubber track pavers
• Rubber tire pavers
• Steel track pavers

• Asphalt screeds
• Material transfer vehicles for hot asphalt
• Asphalt spreading brooms

• Cold in-place recycling machines
• Stabilizers and reclaimers
• Guardian telematics
Common Equipment Heavy Haulers Transports
Trust Heavy Haulers to transport any brand of equipment you own. Most of our drivers are experienced heavy-machinery operators who can safely maneuver your loads aboard our trailers. Some of the brands we have shipped include: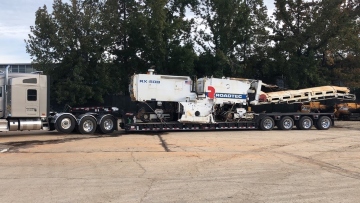 Shipping a Roadtec RX500 Cold Planer
Origin: Mound House, NV
Destination: Midlothian, TX
Specs: 2008 Roadtec RX500 cold planer; 25L x 8W x 8.5H; 50,000lbs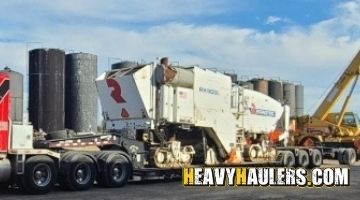 Transporting a Roadtec RX900 Cold Planer from Missouri to Texas
Origin: Overland, MO
Destination: Freeport, TX
Specs: Roadtec RX900 cold planer; 35L x 9W x 10.5H; 76,400lbs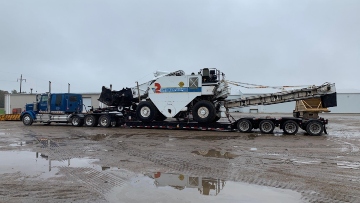 Roadtec SB2500B Hauled On an RGN Trailer Form North Dakota to Texas
This 78,000-pound Roadtec SB2500B was loaded on a Heavy Haulers RGN trailer by Sam, an oversize load specialist. He used the RGN's flexible loading technique for the 55.1 ft. long paver at cavalier in North Dakota for delivery to Colorado City, Texas. The 12n ft. wide and 12 ft. high 1999 Roadtec SB2500B asphalt paving machine had its extension hanging above the rear RGN trailer's axle which we are allowed to do.