Transport Roadtec Construction Equipment
Call Our company Heavy Haulers for all Roadtec equipment shipping services locally or cross country at (800) 908-6206! Roadtec provides cutting-edge, industry-leading asphalt equipment. They are a part of Astec Industries, a corporation known as a world leader in asphalt paving equipment. Founded in 1981, Roadtec began as a manufacturer of asphalt pavers. In 1986, the company merged with Barber-Green and continued innovating asphalt products. With the combined technology of Roadtec and the Barber-Greene Company, the paver line continued, along with the milling machines, and the concept of the material transfer vehicle was born. The first material transfer vehicle was the MTD 3500.

The Barber-Greene paver line was sold to Caterpillar in 1991 and Roadtec reorganized in Chattanooga, Tennessee to manufacture and market the entire line of road building equipment for Astec Industries. This included asphalt pavers and milling machines. It was around this time that the smaller, modern-day Shuttle Buggy® material transfer vehicle evolved from the larger MTD 3500, rounding out the product line.
Common Roadtec Equipment We Transport Frequently:
• Rubber track pavers
• Rubber tire pavers
• Steel track pavers

• Asphalt screeds
• Material transfer vehicles for hot asphalt
• Asphalt spreading brooms

• Cold in-place recycling machines
• Stabilizers and reclaimers
• Guardian telematics
Speak with a Member of Our Logistics Team Now!
(800) 908-6206
Recent Roadtec Shipments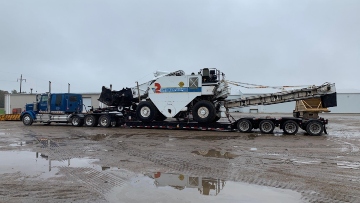 Roadtech SB2500B Loaded On Our Trailer
Shipping From: Cavalier, ND 58220

Transporting To: Colorado City, TX 79512

Specs: 1999 Roadtech SB2500B; 55.1L X 12W X 12H; 78,000 lbs

Transport Specialist: Sam
(561) 931-6741