Shipping Terex Construction Equipment
Call Our company Heavy Haulers for all Terex equipment shipping services locally or cross country at (800) 908-6206! Trust Heavy Haulers to ship your Terex construction equipment. Terex Corporation manufactures material handling and processing equipment, aerial platforms and cranes. Founded in 1968 as a division of General Motors, the company produced the first off-road hauler and the first twin-powered bulldozer. Terex was first listed on the New York Stock Exchange in 1991.


Terex has grown largely through acquisitions. The company purchased Powerscreen, a maker of rock-crushing equipment, in 1999. In 2002, Terex added aerial platforms to its product line with the purchase of industry leader Genie. Terex employs more than 20,000 people.
Common Oshkosh Equipment We Transport Frequently:
• Compactors
• Track loaders
• Mining crushers

• Mining screeners
• Mining scrubbers
• Mining washers
See More of Our Recent Terex Equipment Shipments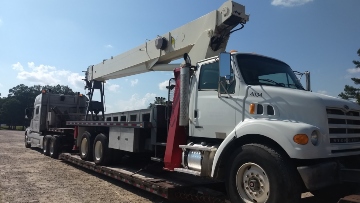 Shipping a Sterling Terex Crane
Shipping From: Spring Horse, NC

Transporting To: Mattawan, MI

Specs: 2006 Sterling Terex Crane; 34L x 8.5W x 13H; 25,000lbs

Transport Specialist: Tye F.
(754) 253-3770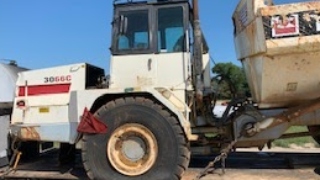 Terex 3066C Articulated Dump Truck Transport
Shipping From: Paragould, AR

Transporting To: Hudson, IA

Specs: Terex 3066C articulated dump truck; 31L x 9.6W x 11.3H; 49000lbs

Transport Specialist: Nick H.
(772) 238-2766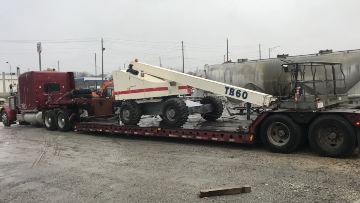 Transporting a Terex TB60 Boom Lift from Alabama to Florida
Shipping From: Birmingham, AL

Transporting To: Orlando, FL

Specs: 2001 Terex TB60 Boom Lift; 24L x 8W x 9H; 23,000lbs

Transport Specialist: Chad C.
(754) 704-0244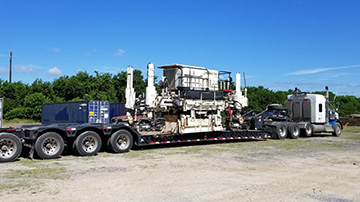 2005 Terex-CMI Asphalt Paver Hauled On An RGN Trailer Within Texas State
Mike Phillips from Heavy Haulers handled the shipping of this 2005 Terex-CMI Asphalt Paver that was moved from Midlothian to Freeport in Texas. Mike loaded the 30,595-pound paver on an RGN Trailer that accommodated its 8.6 ft. height comfortably. The 10.3 ft. wide load was flagged and secured for transport which needed permits for the 19.2 ft. long Terex-CMI 2204 asphalt paver. A time effective delivery was made after a 291-mile haul along the I-45 S.
Transport Specialist: Mike Phillips
(754) 203-8914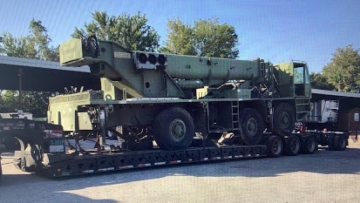 Terex Transport: Terex Demag Mac-50 Crane
Shipping From: Jacksonville, FL

Transporting To: Santa Domingo, DR, OC

Specs: 2007 Terex Demag Mac-50 Crane; 37L x 8.5W x 12H; 70,000lbs

Transport Specialist: Tye F.
(754) 203-8738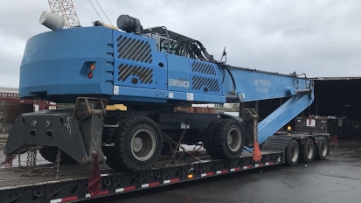 Transporting a Terex Fuchs MHL 350 Material Handler
Shipping From: New Haven, CT

Transporting To: Riviera Beach, FL

Specs: 2013 Fuchs MHL 350 material handler; 41.8L x 9.1W x 12H; 78,000lbs

Transport Specialist: Jamie H.
(754) 203-8738