Shipping Ditch Witch Construction Equipment
Call Our company Heavy Haulers for all Ditch Witch equipment shipping services locally or cross country at (800) 908-6206! Trust Heavy Haulers to ship your Ditch Witch construction equipment. Ditch Witch is an American manufacturer of compact underground construction equipment. The first Ditch Witch compact trencher was produced in 1949. In 1958, the father-and-son team responsible for its development incorporated as Charles Machine Works.


The Super Witch, a truck mounted trencher, was introduced in 1978. Ditch Witch products are available in more than 100 countries. The company remains private today. The company's headquarters are in Perry, Oklahoma, where the product was invented. Ditch Witch employs nearly 1,500 people.
Common Ditch Witch Equipment We Transport Frequently:
• Trenchers
• Directional drills
• Vacuum excavators
See More of Our Recent Ditch Witch Shipments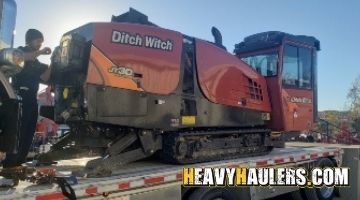 Ditch Witch Transport: JT30 Directional Drill
Origin: Bradenton, FL
Destination: La Vergne, TN
Specs: Ditch Witch JT30 directional drill; 18L x 7W x 9.9H; 23,000lbs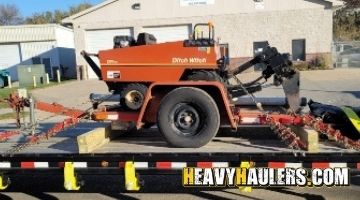 Transporting a Ditch Witch 255SX Vibratory Plow
Origin: Omaha, NE
Destination: Lester, PA
Specs: 1 Ditch Witch 255SX with trailer; 15L x 8.6W x 7H; 4,000lbs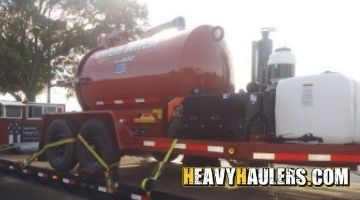 Shipping a Ditch Witch MV800 Vacuum from FL to KS
Origin: Plant City, FL
Destination: Olathe, KS
Specs: Ditch Witch MV800 Vacuum; 18L x 8W x 7.75H; 6,000lbs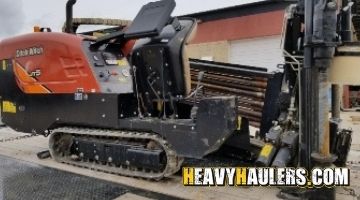 Transporting a Ditch Witch JT5 Directional Drill
Heavy Haulers transported this Ditch Witch JT5 needed a ride to its next jobsite and was hauled from Bourbon, MO to Kenner, LA. It was 10 feet long, 5 feet wide, 6 feet tall and weighed 5,000 pounds. The client needed his directional drill delivered as soon as possible to replace the one that broke down at the jobsite and our transportation specialist, Chris, did just that! Chis at Heavy Haulers had this Witch loaded the same day! Call Chris at Heavy Haulers to schedule your next haul!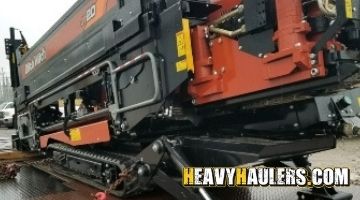 Shipping a Ditch Witch JT20 Directional Drill
Chris Kyle at Heavy Haulers recently assisted a repeat client with transporting their Ditch Witch JT20 from Geismar, LA to Garner, NC. After speaking to the client Chris was able to schedule a driver to pick up this load within 24 hours. Heavy Haulers can get your freight transported anywhere within the United States, Mexico or Canada. Call Chris Kyle at Heavy Haulers today to receive your free estimate on your next freight transport!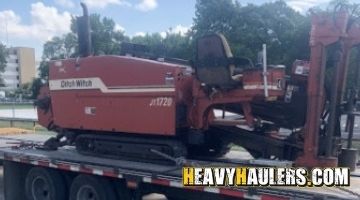 Ditch Witch JT1720 Directional Drill Transport
Willam Thomas at Heavy Haulers can get all of your equipment transported anywhere in the United States, Mexico or Canada. Willam Thomas works with various clients on many loads. This is a Ditch Witch JT1720 Drill that was shipped from Texas to Georgia. This was a partial load that was transported with other equipment as well. Call Willam Thomas at Heavy Haulers to get your LTL (Less than truckload) shipments hauled!