Let Heavy Haulers Transport Your CASE IH Equipment or Vehicle Where it Needs to Be!
How do you know you need towing services? The most appropriate time to use towing services is when you want to relocate or move equipment such as motor graders or skid steer from one place to another. Whether its farm or construction machinery, creating time to tow them is crucial for the project. Luckily, we are here to help with all your towing needs.

When the need for towing a large vehicle or equipment arises, the process of getting the right company to handle the operation can be intimidating. Which company should you entrust with your valuable equipment? The last thing you need is a company delivering the vehicle later than the scheduled time or delivering to the wrong address. It takes a keen, seasoned eye properly allocate resources and get the job done on time.
CASE IH Heavy Agricultural Machinery Shipping Services
Case IH is one of the shot callers in the farm equipment manufacture niche. Their history traces back to 1842 where it was founded in Wisconsin, USA. The innovative thresher by Jerome Case marked the first steps for the then young company. In 1869 Case expanded his portfolio to the manufacture of steam engines and in 1986 became the largest manufacturer of steam engines. Jerome Case passed away in 1891, but his innovative skills were passed down to his company which in 1892 became the first company to build a diesel powered engine.
Amidst the rich Case IH history, the Case IH Company was purchased in 1967 but continued to operate under the Case name. The merger with agricultural the International Harvester manufacturing company in 1984 saw the creation of Case IH. When Tenneco Case took over the International Harvester, they had their name changed from Case International then abbreviated it to Case IH. Before the merger Case was in an economic quandary.
Although they were still the leading manufacturers of agricultural tractors and machinery, the merger brought to the table the best of both worlds. Moreover, the merger saved the companies from absolution due to the 1980s farm recession. Case IH is no, a leading manufacturer of agricultural machinery, delivering a full line of farming equipment.
Safely Shipping Heavy Case IH Agricultural Machinery
Towing farm machinery under any condition requires professional intervention. The danger that comes with pulling heavy equipment behind a motor vehicle is immense. No matter the size or horsepower the tower has, towing agricultural machinery should not be done without the right towing package. For instance, the inertia from the machinery implied on the tower when the brakes are applied can supersede the control ability leading to brake failure or collision of the machinery and the tower. Getting it right requires a careful evaluation of the weight and control ability of the tower. The tower should be able to sustain the loaded, especially on gravel and potholes.
Call us today to follow up on some of the towing practices that make an operation successful. From tire capacity; specialized tires are used to increase traction and stability, to use of proper lighting; taillights, warning lights, and indicators have to be appropriately used, we make sure your towing needs are handled with the effectiveness they require.
Common CASE IH Equipment & Vehicle We Transport Frequently Are:

• Tractors
• Harvesting
• Application Equipment
• Tillage
• Windrowers
• Loaders & Attachments
• Mowers & Conditioners
• Forage Harvesters & Blowers
• Wheel Rakes & Mergers
• Balers
• Skid Steers
Recent Case IH Shipments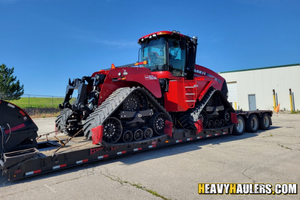 Oversize 2019 Case IH 620 Quadtrac Transport
Origin: Tanganoxie, KS 66086
Destination: Sulphur, LA 70665
Specs: 2019 Case IH 620 Quadtrac; 25L 9.9W 12.7H; 55000lbs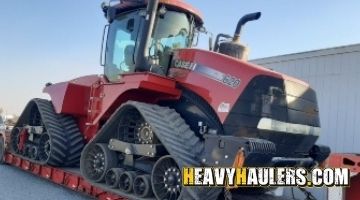 Hauling a 33M Concrete Boom from Alabama
Origin: Tipton, CA
Destination: Rice, MN
Specs: 2015 Case 620 Quadtrac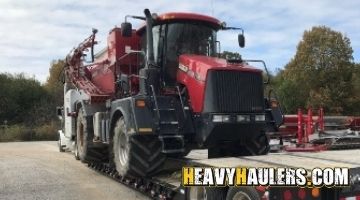 Shipping a Case IH Titan 4530 Floater Spreader
Heavy Haulers also specializes in the transport of agricultural equipment and implements. This is a 2014 Case IH Titan 4530 Floater Spreader. It was loaded in Byhalia, MS to Ada, MN. This particular Case IH Titan Spreader was 24,000 pounds, 26 feet long, 11 feet 5 inches wide and 12 feet high. Sam at Heavy Haulers was able to secure all the proper permits for this shipment. Call Sam Duncan oday to get your estimate on your next transport!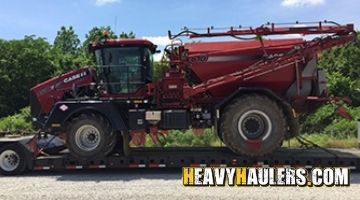 CASE IH FLX4530 Shipped On an RGN Trailer from Byhalia, MS to Twin Valley, MN
Sam Duncan from Heavy Haulers was lead coordinator for the shipping of this 24,000 pound CASE IH FLX4530, which was transported on an RGN Trailer from Byhalia, Mississippi to Twin Valley, Minnesota. The 11.6 ft. wide airflow sprayer was shipped 1,110 miles along the I-55 N, a permit carrying and flagged transport that was secured with chains. Delivery to Minnesota took 25 hours and 16 minutes, with escort vehicles coming for traffic assistance at various points along the cross country haul.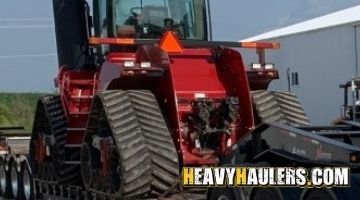 Case IH 550 Quad Trac Heavy Transported from Pittsfield, IL to Aberdeen, SD
This 54,000 pound Case IH 550 Quad Trac was hauled to Aberdeen, South Dakota from Pittsfield, Illinois by Jacob M. from Heavy Haulers. The 27 ft. long and 10 ft. wide excavator required permits which Jacob M. had at the ready within an hour of the load valuation. He loaded the 12.8 ft. high Case IH 550 Quad Trac onto an RGN trailer which delivered the load safely after a 737-mile haul along the US-36 W and I-29 N.
Shipping a Volvo EC460BLC Excavator on an RGN Trailer
Origin: Kent, OH
Destination: South Chicago Heights, IL
Specs: 2005 Volvo EC460BLC Excavator; 40L x 12W x 12.4H; 100,000lbs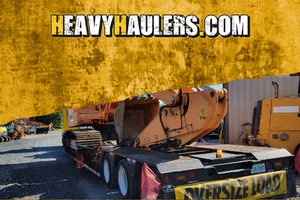 Get a Transport Quote
New
Case IH Equipment Transports With Heavy Haulers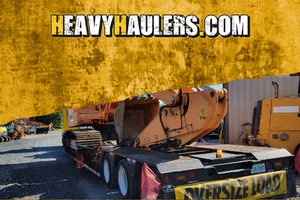 Get a Transport Quote
New
Case IH Equipment Transports With Heavy Haulers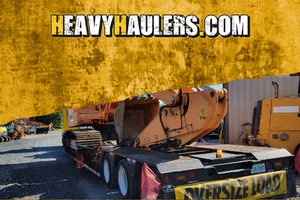 Get a Transport Quote
New
Case IH Equipment Transports With Heavy Haulers
When It Comes To Transport - Heavy Haulers Has What you Need!
5-Star Rating (Transportreviews.com)

A+ Rating from (Better Business Bureau)

Contingency Insurance

Experienced Drivers

24/7 Customer Service

Oversize and Overweight Load Shipping Specialists

Transport Services in All 50 States, Canada, And Mexico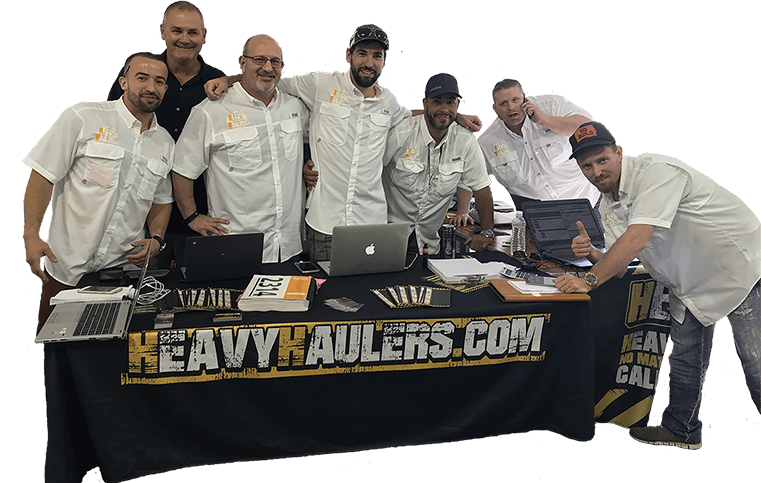 Common Case IH Wheel Loaders We Transport!
CASE IH has been manufacturing construction equipment since 1842. Among the many machinery manufactured by the company includes the CASE IH wheel loaders. These machines were introduced in 1958. The first model to hit the market was the W9, an integrated 4-wheel drive wheel loader. Since then, there has been continued invention and innovation to improve the performance of the CASE IH wheel loaders. CASE IH wheel loaders are manufactured in two categories, the full-size wheel loaders and the compact wheel loaders. Both these equipment offer great performance and efficiency. The full-size wheel loaders otherwise called the CASE G Series wheel loaders for instance are highly improved. They have an optional integrated payload system which increases accuracy and efficiency. The CASE IH wheel loaders engine has increased power, efficiency and productivity. Their fuel consumption is also reduced. The G Series wheel loaders are fitted with comfort features. They have an enlarged cab and some automated features. CASE IH wheel loaders start and finish with high productivity.
Heavy Haulers Transports All Case IH Wheel Loaders, Including:
Common Case IH CRAWLER TRACTORS We Transport!
CASE IH is a globally appreciated household name. CASE IH manufactures diverse and quality construction equipment. Their first crawler tractor was introduced back in 1928. From then on there has been tremendous and consistent improvements on the other models. CASE IH crawler tractors are easy to control and they offer their users maximum productivity. For instance, the 650M model. These model tractors have two track gauges, four different blade sizes and three track configurations. CASE IH crawler tractors have powerful hydrostatic performance. These features are all essential in providing immense power and flexibility. They also exhibit reduced wear-and-tear on the fleet. CASE IH crawler tractors have an intuitive operation interface, better visibility and undivided support from CASE IH and its dealer network. The more advanced model of the CASE IH crawler tractor is the 2050M. Its controllability, strength and precision are in its own class. Its cab is modernized for the operator's comfort. CASE IH crawler tractors are outstanding.
Heavy Haulers Transports All Case IH Crawler Tractors, Including:
Common Case IH 4WD Tractors We Transport!
Case IH has been producing 4WD tractors with more power and fuel efficiency .They are easy to use and can perform under the toughest conditions. They've been advanced with technology that helps cut the fuel consumption and operating costs. Case IH produces 4WD tractors with the customers' needs in mind. Their Magnum series for example, exceed the expectations of the farmers across the world. They're the first choice for the large scale farmers as well as contractors who demand the best. They power through every task and terrain efficiently and fast. They are known to deliver reliable production day after day. Their operator's cab is luxuriously comfortable. It offers a quiet environment and a smooth ride. It has intuitive controls ergonomically laid out. They come with a 360 degree LED lighting which allows you to work at night comfortably. It offers the operator excellent visibility of both front and rear views. Among all the Case IH 4WD tractors produced, we ship each one of them. Their 4 wheel drive helps control slippage as well as ensuring smooth functioning even in the toughest terrains.
Heavy Haulers Transports All Case IH 4WD Tractors, Including:
Heavy Haulers Transports All Case IH Air Drills, Including:
Heavy Haulers Transports All Case IH Balers, Including:
Common Case IH Combines We Transport!
Case IH is known to produce the highest number of combines in the industry. All the Case IH Axial Flow combines for example, are designed to be reliable and preserve the quality of more than 134 grain types. They are made to harvest more of what you grow. The new Axial Flow 150 series combines are made to increase functional performance and they are made to handle a greater capacity on uneven terrain. To the operators, they offer unmatched visibility, comfort and control. Their cabs are large and quiet with the industry's leading glass offering very clear visibility. They're designed to offer maximum comfort and productivity. We transport every model of Case IH combines.
Heavy Haulers Transports All Case IH Combines, Including:
Heavy Haulers Transports All Case IH Skid Steer Loaders, Including:
Common Case IH 2WD Tractors We Transport!
Case IH is known globally for their agricultural equipment. Among them are the 2WD tractors with an example of Maxxum series 2WD tractors. They combine efficient power with improved maneuverability. The Maxxum models are mostly recommended for hay and forage operations, dairy operations, vegetable productions among other uses. We transport every Case IH 2WD tractor.
Heavy Haulers Transports All Case IH 2WD Tractors, Including: