Shipping Bobcat Construction Equipment
Call Our company Heavy Haulers for all Bobcat equipment shipping services locally or cross country at (800) 908-6206! Trust Heavy Haulers to ship your Bobcat construction equipment. Bobcat Company manufactures compact construction equipment for the U.S. market. Melroe Manufacturing introduced the first skid steer in 1962. Two years later, the new product was renamed Bobcat. Clark Equipment purchased the company in 1969, before Ingersoll-Rand bought Clark in 1995.

Bobcat remained a subsidiary of Ingersoll Rand for 12 years. Doosan Group, a South Korean heavy equipment manufacturer, purchased Bobcat in 2007. That same year, Doosan Bobcat was listed as a public company on the South Korean stock exchange. Bobcat is the largest manufacturer in North Dakota. The company employs nearly 3.000 people.
Common Bobcat Equipment We Transport Frequently:
See More of Our Recent Bobcat Shipments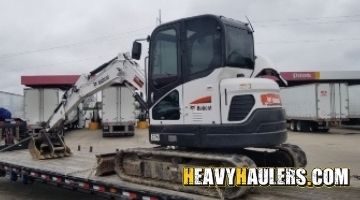 Transporting a Bobcat E63 Mini Excavator from TN to WV
Origin: Lewisburd, TN
Destination: Mount Hope, WV
Specs: 2016 Bobcat E63 mini excavator; 15L x 8W x 8.6H; 14,000lbs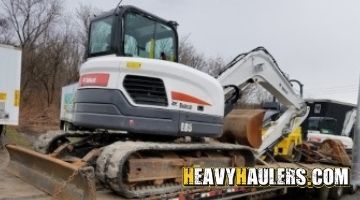 Shipping a Bobcat E85 Excavator
Origin: Altoona, PA
Destination: North East, MD
Specs: 1 Bobcat E85 Excavator; 20.5L x 7.25W x 10H; 11,400lbs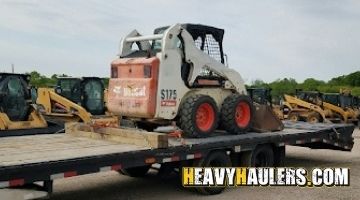 Bobcat S175 Transported Intrastate in Texas
For a lot of big businesses it's usually the smaller things that count and this Bobcat S175 is just one example of that. Whether you're a small business hauling big machinery or a big company transporting small equipment, Heavy Haulers are your friends in the towing industry. From Wylie, TX to Gregory, TX Heavy Haulers were the ones trusted for the job. No shipping job is too big or too small because Heavy Haulers transports it all. Our business is to keep your business going. We can't wait to see what this wild Bobcat S175 grows up to be some day. Call Tye Forte today for your fast and friendly quote.