Trust Heavy Haulers to ship your Takeuchi construction equipment.
Call Our company Heavy Haulers for all Takeuchi equipment shipping services locally or cross country at (800) 908-6206! Takeuchi Manufacturing produces compact construction equipment for the U.S. market. Founded in 1963, the Japanese construction machinery company developed the world's first compact excavator in 1971. Takeuchi opened its American subsidiary in 1979. In the mid'1980's, the company introduced the first compact track loader. The company has nearly 700 employees.
Common Takeuchi Equipment We Transport Frequently:
See More of Our Recent Takeuchi Equipment Shipments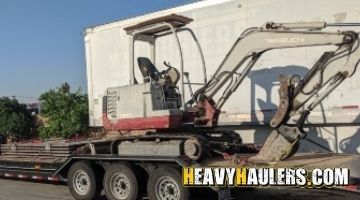 Shipping a Takeuchi TB125 Mini Excavator
Origin: Fontana, CA
Destination: Tulare, CA
Specs: Takeuchi TB125 mini excavator; 15L x 6W x 8H; 6,800lbs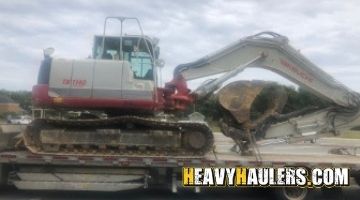 Takeuchi TB1140 Excavator Transport
Origin: Rockville, MD
Destination: Douglasville, GA
Specs: Takeuchi TB1140 Excavator; 30L x 8.5W x 10H; 34,000lbs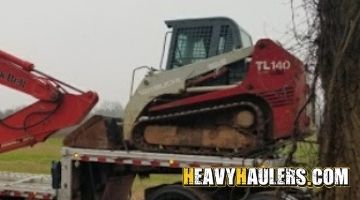 Transporting a Takeuchi TL140 Skid Steer
Origin: Garland City, AR
Destination: Lewellen, NE
Specs: 1 Takeuchi TL140 Skid Steer; 12L x 6W x 7.6H; 9,600lbs
Common Takeuchi Crawler Loaders and Hydraulic Excavators We Transport!
Takeuchi has been producing different crawler loader models for the longest time. With time, they have enhanced their features increasing their productivity and efficiency. Among all the crawler loader models they manufacture, Heavy Haulers ships each one of them. For example, the operator's station has been made spacious and open in their latest models. In addition to that, they are rugged and dependable among other great features.
Heavy Haulers Ships All Takeuchi Crawler Loaders and Hydraulic Excavators, Including:
Common Takeuchi Midi Excavators, Mini Excavators and Mobile Excavators We Transport!
Takeuchi Manufacturing Company was founded in 1963. It was the first company to introduce compact tractors in North America, this was after it began production of excavators in 1971. Takeuchi has since ventured into the production of quality mobile tractors. Takeuchi mobile excavators have superb visibility and mobility. In addition to that, they have excellent stability and comfort features. Their make is equally easily serviceable.
Heavy Haulers Transports All Takeuchi Midi Excavators, Mini Excavators and Mobile Excavators, Including:
Common Takeuchi Multi Terrain Loaders and Wheel Loaders We Transport!
Takeuchi produces several multi terrain loader models which we all ship. They are best when it comes to loading trucks due to their better dump height. They have produced new track loaders which have advanced features for the ones produced before thus the efficiency. The operator's station has also been modernised to offer more comfort and precision.Takeuchi manufactures high performance wheel loaders. Takeuchi wheel loader models are personalized to their job sites. They accommodate various attachments which are easily changeable. For instance, the TW60 Series 2 engine has excellent power and performance. It also has 100% locking differentials manageable at low speed in extreme terrains. Takeuchi wheel loaders are comfortable for users and equally reliable for tasks.
Heavy Haulers Transports All Takeuchi Mobile Excavators, Multi Terrain Loaders and Wheel Loaders, Including: