Shipping Caterpillar Construction Equipment
Call Our company Heavy Haulers for all Caterpillar equipment shipping services locally or cross country at (800) 908-6206! Trust Heavy Haulers to ship your Caterpillar construction equipment. Caterpillar is the largest construction machine manufacturer in the world. In 1906, company founder Benjamin Holt sold the first steam-powered tractor crawler in 1906. Holt supplied the machines to the U.S. Army during World War I. He merged his company with competitor Best Tractor in 1925, renaming the new company Caterpillar.

During World War II, the company's products found fame with the Seabees. Rapid expansion occurred post-war, and the company became a world leader. Caterpillar has sold more than $30 billion of equipment each year since 2004.
Common Caterpillar Equipment We Transport Frequently:
• Feller bunchers
• Track loaders
See Our Recent Caterpillar Shipments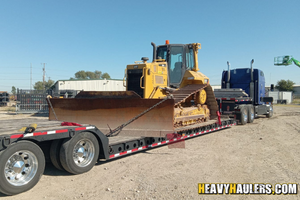 Hauling a CAT D6 NLGP Crawler Dozer
Origin: Fort Worth, TX 76131
Destination:Thompsonville, IL 62890
Specs: 20L 12H 10W; 41000lbs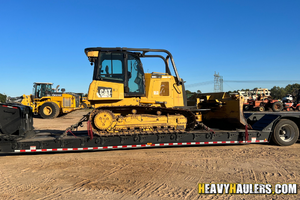 Transporting a 2014 CAT D6 Dozer
Origin: Hazlehurst, GA 31539
Destination: Brighton, TN 38011
Specs: 2014 CAT D6 Dozer; 224L 132W 132H ; 35000lbs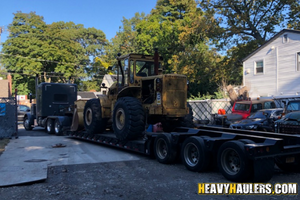 Transporting a 1978 Cat 966C Wheel Loader
Origin: Setauket- East Setauket, NY
Destination: Elizabeth, NJ
Specs: 1978 Cat 966C Wheel Loader; 26L 9.6W 11.7H ; 37000lbs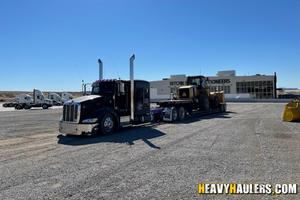 Shipping a 2005 Cat 966G Series II Wheel Loader
Origin: Las Vegas, NV 89191
Destination: Madera, CA 93637
Specs: 2005 Cat 966G Series II Wheel Loader; 29L x 10.6W x 11.8H; 55,000 lbs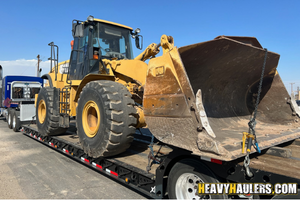 2007 Cat 966H wheel Loader Transport
Origin: Heber, CA 92249
Destination: Madera, CA 93637
Specs: 2007 Cat 966H wheel loader; 29L x 11W x 11.8H; 60,000 lbs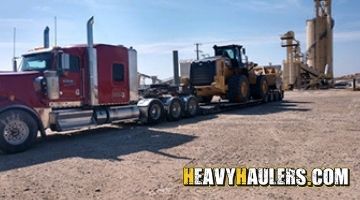 Caterpillar 982M Wheel Loader Shipped On an RGN Trailer to Carrizo Springs, TX
Nick H. handled the entire process of shipping this 80,000 pound Caterpillar 982M Wheel Loader from Poteet to Carrizo springs in Texas on an RGN trailer. After a load valuation, Nick procured permits for the 12 ft. wide and 36 ft. long wheel loader which was loaded and tied down with chains, with the bucket supported by the rear trailer deck axle. The 13 ft. high Caterpillar 982M Wheel Loader was delivered after an interstate haul that involved escort vehicles from Heavy Haulers.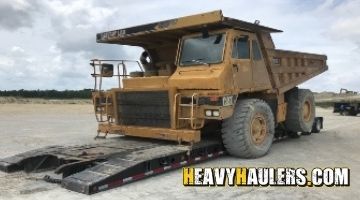 Transporting a Caterpillar 769C Articulated Dump Truck
This Caterpillar 769C Articulated Dump truck measured 27 ft. in length, is 13 ft. wide and is 12 ft. 4 in. tall high and weighed 68,000 lbs. Brian G. at Heavy Haulers had the driver straddle the trailer to make this Caterpillar 769C fit within legal height! The total journey of this oversized transport was 400 miles and she arrived without a scratch and ahead of schedule. Call Brian G. today to get your oversized machinery quoted: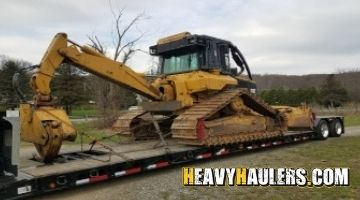 Hauling a Caterpillar Track Dozer on an RGN Trailer
Some transport orders require permits to legally transport the heavy machinery. Our transportation specialists will make sure your next haul is handled legally and with care. Whether your shipment requires over height permits, over width permits, overweight permits or all three, Heavy Haulers will confirm and handle all the details. Call your personal specialist, Brian G., to schedule your next oversized transport today: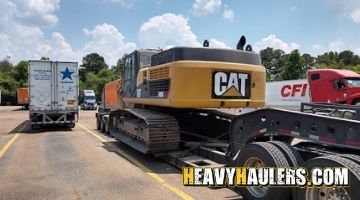 Caterpillar 345D Excavator Shipped on an RGN Trailer
Heavy Haulers recently transported this Caterpillar 345D Excavator for one of our loyal clients. Tale of the Tape: Length: 39 ft. Width:11 ft 4 in. Height: 12 feet 3 in. Weight:110,000 lbs. Make: Caterpillar Model: 345D Origin: Lubbock, TX Destination: Merrillville, IN - 1,180 Mile Journey. This big bird has a value of $200,000! This transport did require permits for surpassing width and weight limits and we take care of the details. Brian G. was able to save his client $800 on this transport. Heavy Haulers serves the United States, Mexico and Canada. Contact Brian G. directly to schedule your next transport: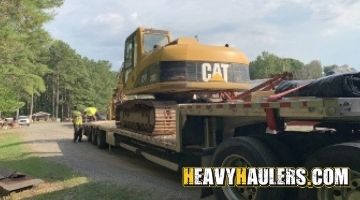 Hauling a Caterpillar 315C Excavator
Origin: Oxford, NC
Destination: Walnut Hill, IL
Specs: Caterpillar 315C excavator; 28L x 8.5W x 9.5H; 36200lbs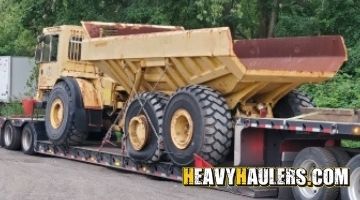 Transporting a Caterpillar D400 Dump Truck
Origin: Point Lookout, NY
Destination: Adams, NY
Specs: 1996 Caterpillar D400 dump vehicle; 35L x 10W x 10.6H; 52000lbs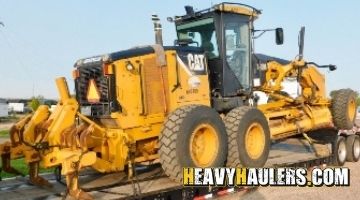 Caterpillar 140M Motor Grader transported from Colorado to Pennsylvania
Origin: Colorado Springs, CO
Destination: Allentown, PA
Specs: 1984 CAT 140M motor grader; 29L x 8.1W x 10.9H; 44000lbs
See More of Our Recent Caterpillar Shipments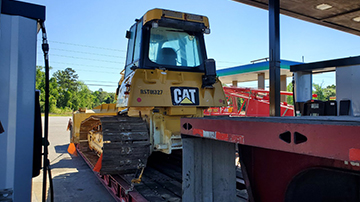 Caterpillar D6K2 Dozer Transported On an RGN Trailer from Hazlehurst, GA
This 30,574 pound Caterpillar D6K2 Dozer was hauled on an RGN Trailer by Jay Hays from Heavy Haulers after he had arranged for the oversize transport permits and insurance. The 9.8 ft. high and 11.4 ft. wide dozer was loaded simplistically due to the detachable gooseneck trailer and the load was secured with chain tie-downs. Jay Hays and the heavy hauler crew made sure the 18 ft. long was flagged and driven to Howell, Michigan at a gradual speed.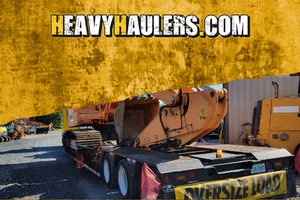 Get a Transport Quote
New
Caterpillar Equipment Transports With Heavy Haulers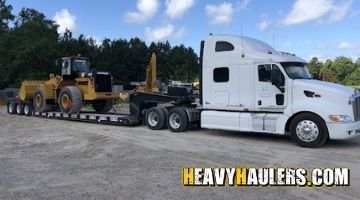 Caterpillar 938F Wheel Loader Transported Intrastate In Texas
Mike Phillips from Heavy Haulers picked up this 30,000 pound Caterpillar 938F Wheel Loader for intrastate shipping from Midlothian to Abilene in Texas. The 9 ft. wide wheel loader needed permits for oversize loads and the flagged load was tied down with chains for the 181-mile haul. Mike and his team took the I-20 for the delivery of the 24 ft. long and 11 ft. high Caterpillar 938F Wheel Loader.
Common CATERPILLAR Crawler Tractors We Transport!
Caterpillar crawler tractors are available in many models. Precision and the thirst for customer satisfaction that is put in when making these machines gives them great performance as well as increased life. The Caterpillar D6 for example has incredible features and qualities. This medium size bulldozer was first introduced to the market in 1941 with the 4R and 5R series. Since then the Caterpillar D6 has been modified over time to improve on its quality. For instance, it's Caterpillar 322 is equipped with varying blades. They range from an S-U combination blade which is shorter with smaller side wings and less curvature. The straight blade on the other hand is short without a lateral curve and side wings. It's viable for fine grading. There is also the universal blade that's tall and immensely curved with large side wings able to carry more material. Lastly there's a power angle tilt blade with a straight blade able to change the blade side to side and hydraulically raise, tilt and angle the blade. Caterpillar crawler tractors are powerful and more preferred as they can work on more job sites, steep slopes, forests and backfilling pipelines securely. All caterpillar crawler tractor models embody such great features. Heavyhaulers.com we have it easy when shipping any caterpillar crawler tractor model.
HEAVY HAULERS Transports All CATERPILLAR Crawler Tractors INCLUDING:
Common CATERPILLAR Wheel Loaders We Transport!
Caterpillar wheel loaders share unmatched qualities across the various job sites they are employed to. Since the start of their production in 1963 they have drastically grown to be a household name. They provide fuel efficiency, operator comfort, versatility, increased productivity and reliability. These machines most importantly maximize on safety. We're committed to transport any of the sophisticated Caterpillar wheel loader models simply on demand. The Caterpillar 906M wheel loader serves right as an example. It has an electronically controlled hydrostatic transmission. This provides adjustable power to the ground and incredible ground speed control enabling fast digging as well as flexibility to perform various tasks simultaneously. The Caterpillar 906M is easy to handle. Its electro-hydraulic system aids by offering simple control, speedy cycle times and low effort. Its responsiveness is adjustable by only a button click which is essential for personalization. In every task the operator's comfort is paramount for productivity. The Caterpillar 906M makes the idea across in action. Its cab is fitted with superb features such as low sound levels, optional air conditioning and excellent visibility to the work tools. The cab is also easily accessible. We easily transport all the Caterpillar wheel loader models. Low effort, responsive joystick includes Forward/Neutral/Reverse switch, optional diff lock, continuous flow triggers
Heavy Haulers Transports All Caterpillar Wheel Loaders Including:
Common CATERPILLAR Rock Trucks We Transport!
Caterpillar began the production of rock trucks in 1963 shortly after they had announced it in 1962. The first Caterpillar rock truck model made was the Caterpillar 769. From then on there has been an introduction of more than fifty other models. Heavyhaulers.com we don't shy away from shipping either of them on our client's demand. Years later in 1998, Caterpillar introduced to their cluster of desired rock trucks the Caterpillar 797. Despite the early introduction this Caterpillar rock truck was globally available in 2001 after marketing it in North America in 2000. Later on, there was the introduction of the Caterpillar 797B in 2002 which was later replaced by a more advanced model, the 797F in 2008. The new two-axle ultra-class mechanical powertrain was easily welcomed internationally. It's since been serving as the lead heavy-duty construction and high production mining machine. Its outstanding features entail a computer controlled rear axle-mounted seven speed planetary transmission with an integral lock-up torque converter. This made it a pace setter as one of the only ultra-class haul trucks to incorporate a hydraulic torque converter. The Caterpillar 797F rock truck along with its counterparts form the most productive rock trucks. We transport all models of Caterpillar rock trucks.
Heavy Haulers Transports All Caterpillar Rock Trucks Including:
Common CATERPILLAR Crawler Loaders We Transport!
Caterpillar crawler loaders have been under a consistent production cycle for years now. These machines have hit historical bars under several circumstances. For instance the Caterpillar 983 crawler loader is the second largest crawler loader ever built. Other than that, there's at least three dozen Caterpillar crawler loader models. For example, the Caterpillar 963 which is built to withstand challenges across all fields. The track shoe, the quick coupler exchange and its agility just to mention a few features, support its adaptability. In addition to that, its performance is to reckon with. This is due to its series bucket option which increases area cover by 20%. Its engine also plays an invaluable role of effective power delivery and fast response and more importantly utilizes fuel efficiently with a reduced consumption rate of 10% compared to the previous model. The Caterpillar 963 crawler loader also puts into perspective the operator's comfort and safety. The cab has a touchscreen dash display and remarkable vision of the terrain. Some of these features are unique to the 963-crawler loader but the other models are equally sophisticated and similarly equipped with personalized features. We transport all the Caterpillar crawler loader models to any part of the country and internationally.
Heavy Haulers Transports All Caterpillar Crawler Loaders Including:
Common CATERPILLAR Compactors We Transport!
Caterpillar compactors are made to simply deliver in performance, maximize on profit while at the same time make it a joyous experience for the operator. The Caterpillar compactor models include some of the most recognized machines of this nature. For example, the Caterpillar 815K compactor is highly reliable. It has power efficiency derived from various inputs. For instance, the advanced productivity electronic control system as it also adds on to the operator's comfort. This machine is pocket friendly and environmentally recommended. It takes in lesser fuel amounts and at the same time reduces drastically on emissions. The 815K compactor use is greatly optimized. Its travel speed releases the much-needed forces of functionality. Manipulation pressure, vibration and impact. This Caterpillar compactor also puts in great utilization of technology. Its rolling resistance is measured by a machine Drive Power which simultaneously enhances its correlation with soil stiffness. With all these exquisite touches, the Caterpillar 815K compactor safety is at peak. It's fitted with ladders, railings and non-slip surfaces, rearview cameras, low sound levels for the interior and much more.Heavy Haulers, we've grown to understand each of the Caterpillar compactor models which makes it easy for us to transport them.
Heavy Haulers Transports All Caterpillar Compactors Including:
Common Caterpillar Articulated Dump Trucks and Dump Trucks We Transport!
Since 1985, Caterpillar is known as one of the best articulated dump trucks manufacturers. Caterpillar articulated dump trucks design is of the best in the world. The Caterpillar articulated dump trucks are made to maximize productivity. The Caterpillar 745 for example, has a world class spacious cab design which makes it easy to operate, more comfortable, quieter and improved visibility. It's equipped with new controls, fuel saving ECO mode and transmission protection features. At Heavy Haulers, we transport all Caterpillar articulated dump trucks across the country and beyond. Caterpillar articulated dump trucks are safe, highly productive and efficient. Caterpillar articulated dump trucks are low maintenance and have a stability assist machine roll-over warning system. Heavy Haulers offers transport for all types of articulated dump trucks manufactured by Caterpillar.
Heavy Haulers Transports All Caterpillar Articulated Dump Trucks and Dump Trucks Including:
Common Caterpillar Forklifts We Transport!
Caterpillar is one of the leading forklift manufacturers in the world. With more than 80 years of experience in making material handling equipment, Caterpillar has been able to make efficient, safe and highly productive forklifts. Heavy Haulers offers transport for all electric, diesel, LP gas powered forklifts to every part of the country and beyond. Caterpillar diesel forklifts are known for their high endurance, power and ability to handle heavy loads. Caterpillar electric forklifts are quiet and very environmentally friendly. They have longer shift cycles which makes them more efficient and are easy to maintain. Just like the electric forklifts, the gas powered Caterpillar forklifts are environment friendly. However, they don't require recharging in between shifts. Choosing any Caterpillar forklifts guarantees safety, high productivity, low maintenance and comfort. They are easy to use and highly reliable. Heavy Haulers offers affordable transport for Caterpillar forklifts.
Heavy Haulers Can Transport all Types of Caterpillar Forklifts Including:
Common Caterpillar Mobile Excavators We Transport!
Caterpillar excavators are made to perform in some of the toughest terrains. They've been modified to use less fuel, easy to service and offer more versatility. They are equipped with Eco mode and auto engine speed control which lowers the fuel usage while still offering you high productivity. The Caterpillar 313 GC hydraulic excavator for example has power modes that reduce fuel consumption by 10 percent and 25 percent less maintenance cost. Caterpillar mobile excavators have flexible machine configurations which makes you customize them to fit your job environment needs. Heavy Haulers offers transport for all excavator models manufactured by Caterpillar. The Caterpillar excavators offer operator comfort and safety. Their ergonomically designed cabs have minimum controls which are conveniently located making it easy to operate. Caterpillar has upgraded their excavators making them quiet and more reliable. The Caterpillar mini excavators are compact to help you work in tight areas and versatile because they are compatible with a lot of attachments. We transport all models of Caterpillar hydraulic, mobile, mini and midi excavators safely and on time.
Heavy Haulers Can Transport all Types of Caterpillar Mobile Excavators Including:
Common Caterpillar Mobile Graders We Transport!
Caterpillar motor graders were launched in July 1938. However, their first launch was initially known as Caterpillar Diesel No. 12 Auto Patrol. This later changed to the Caterpillar motor graders that we know of today. The current Caterpillar motor graders are more fuel efficient and easy to maintain. Their world class cabs are designed to give the operator maximum comfort to promote productivity. Caterpillar has equipped their latest motor graders with factor integrated options to help grade for every operation. Caterpillar motor graders are workhorses which offer you maximum productivity even in tough environments. They are known for their safety, reliability and maximum efficiency. The Caterpillar 140 (12M3) AWD for example, has the latest emissions control technology and unparalleled visibility. Their pedigree ensures there's high grading performance and durability. Heavy Haulers offers Caterpillar motor graders transport using state of the art trailers
Heavy Haulers Can Transport all Types of Caterpillar Mobile Graders Including:
Common Caterpillar Skidders We Transport!
Caterpillar skidders are highly productive at a low maintenance cost. Their power, strength and maneuverability offer you high efficiency and reliability. Their cabs have been modified to offer the operator comfort and safety. The Caterpillar D series skidders for example offers more control and speed due to their six speed transmission, independent front and rear differential locks and lock-up torque. They offer fast multifunctioning where you can activate grapple, arch and boom, steer and back up all at the same time. Heavy Haulers offer transport for every skidder manufactured by Caterpillar.
Heavy Haulers Can Transport all Types of Caterpillar Skidders Including:
Common Caterpillar Telesopic Forklifts We Transport!
Caterpillar telescopic forklifts are manufactured to offer top performance, reliability and durability with low operating cost. Caterpillar telescopic forklifts cabs are designed to be quieter and offer the operator comfort to work for long hours and safety. The TL642D for example is engineered to handle any task while still offering speed, stability, power and maneuverability in every use. They offer exceptional visibility and can be easily serviced. Caterpillar telescopic forklifts are low maintenance and highly efficient. Using the latest technology, Caterpillar has re-engineered their telescopic forklifts to be highly productive at low maintenance. The Caterpillar telescopic forklifts are made for success. Regardless of the size or weight of your Caterpillar telescopic forklift, Heavy Haulers will transport it to the destination of your choice safely and on time.
Heavy Haulers Can Transport all Types of Caterpillar Telesopic Forklifts Including:
Common Caterpillar Wheel Dozers We Transport!
Caterpillar wheel dozers are designed for demanding work. They are versatile and offer high productivity and mobility. They are a good choice when it comes to clean up, surface mining, stock piles, road maintenance, reclamation. They are highly suitable for a job environment that requires back and forth travel between several sites. The Caterpillar wheel dozers are durable with optimized performance. They are efficient and require low maintenance. The Caterpillar 814 wheel dozer for example has been an industry leader for more than 70 years. Heavy Haulers transport all models of Caterpillar wheel dozers.
Heavy Haulers Can Transport all Types of Caterpillar Wheel Dozers Including: