Shipping Caterpillar Construction Equipment
Call Our company Heavy Haulers for all Caterpillar equipment shipping services locally or cross country at (800) 908-6206! Trust Heavy Haulers to ship your Caterpillar construction equipment. Caterpillar is the largest construction machine manufacturer in the world. In 1906, company founder Benjamin Holt sold the first steam-powered tractor crawler in 1906. Holt supplied the machines to the U.S. Army during World War I. He merged his company with competitor Best Tractor in 1925, renaming the new company Caterpillar.

During World War II, the company's products found fame with the Seabees. Rapid expansion occurred post-war, and the company became a world leader. Caterpillar has sold more than $30 billion of equipment each year since 2004.
Common Caterpillar Equipment We Transport Frequently:
• Feller bunchers
• Track loaders
See More Of Our Recent Caterpillar Shipments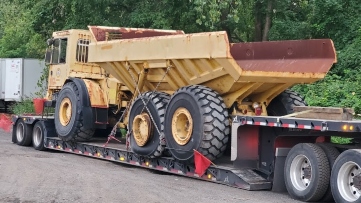 Transporting a Caterpillar D400 Dump Truck
Shipping From: Point Lookout, NY

Transporting To: Adams, NY

Specs: 1996 Caterpillar D400 dump vehicle; 35L x 10W x 10.6H; 52000lbs

Transport Specialist: Andrew R.
(954) 475-6443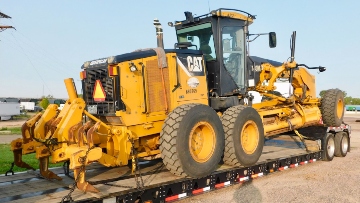 Caterpillar 140M Motor Grader transported from Colorado to Pennsylvania
Shipping From: Colorado Springs, CO

Transporting To: Allentown, PA

Specs: 1984 CAT 140M motor grader; 29L x 8.1W x 10.9H; 44000lbs

Transport Specialist: Hal F.
(772) 227-1564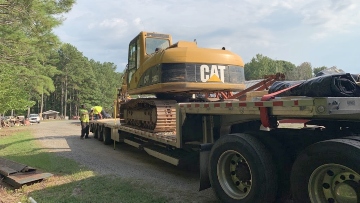 Hauling a Caterpillar 315C Excavator
Shipping From: Oxford, NC

Transporting To: Walnut Hill, IL

Specs: Caterpillar 315C excavator; 28L x 8.5W x 9.5H; 36200lbs

Transport Specialist: Jay H.
(561) 562-4968
Caterpillar D6K2 Dozer Transported On an RGN Trailer from Hazlehurst, GA
This 30,574 pound Caterpillar D6K2 Dozer was hauled on an RGN Trailer by Jay Hays from Heavy Haulers after he had arranged for the oversize transport permits and insurance. The 9.8 ft. high and 11.4 ft. wide dozer was loaded simplistically due to the detachable gooseneck trailer and the load was secured with chain tie-downs. Jay Hays and the heavy hauler crew made sure the 18 ft. long was flagged and driven to Howell, Michigan at a gradual speed.
Transport Specialist: Jay Hays
(561) 562-4968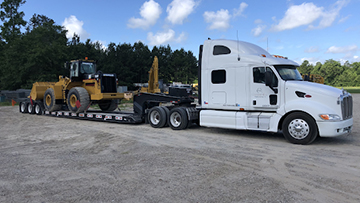 Caterpillar 938F Wheel Loader Transported Intrastate In Texas
Mike Phillips from Heavy Haulers picked up this 30,000 pound Caterpillar 938F Wheel Loader for intrastate shipping from Midlothian to Abilene in Texas. The 9 ft. wide wheel loader needed permits for oversize loads and the flagged load was tied down with chains for the 181-mile haul. Mike and his team took the I-20 for the delivery of the 24 ft. long and 11 ft. high Caterpillar 938F Wheel Loader.
Transport Specialist: Mike Phillips
(754) 203-8914
Caterpillar 982M Wheel Loader Shipped On an RGN Trailer to Carrizo Springs, TX
Nick H. handled the entire process of shipping this 80,000 pound Caterpillar 982M Wheel Loader from Poteet to Carrizo springs in Texas on an RGN trailer. After a load valuation, Nick procured permits for the 12 ft. wide and 36 ft. long wheel loader which was loaded and tied down with chains, with the bucket supported by the rear trailer deck axle. The 13 ft. high Caterpillar 982M Wheel Loader was delivered after an interstate haul that involved escort vehicles from Heavy Haulers.
Transport Specialist: Nick H. (772) 238-2766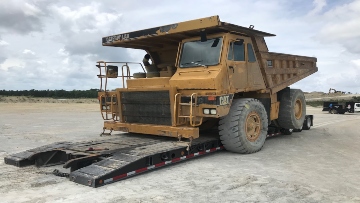 Transporting a Caterpillar 769C Articulated Dump Truck
This Caterpillar 769C Articulated Dump truck measured 27 ft. in length, is 13 ft. wide and is 12 ft. 4 in. tall high and weighed 68,000 lbs. Brian G. at Heavy Haulers had the driver straddle the trailer to make this Caterpillar 769C fit within legal height! The total journey of this oversized transport was 400 miles and she arrived without a scratch and ahead of schedule. Call Brian G. today to get your oversized machinery quoted: (754) 203-9267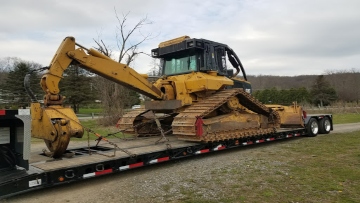 Hauling a Caterpillar Track Dozer on an RGN Trailer
Some transport orders require permits to legally transport the heavy machinery. Our transportation specialists will make sure your next haul is handled legally and with care. Whether your shipment requires over height permits, over width permits, overweight permits or all three, Heavy Haulers will confirm and handle all the details. Call your personal specialist, Brian G., to schedule your next oversized transport today: (754) 203-9267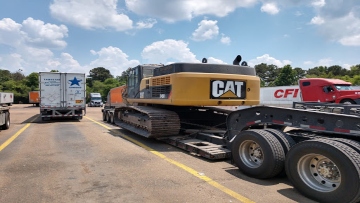 Caterpillar 345D Excavator Shipped on an RGN Trailer
Heavy Haulers recently transported this Caterpillar 345D Excavator for one of our loyal clients. Tale of the Tape: Length: 39 ft. Width:11 ft 4 in. Height: 12 feet 3 in. Weight:110,000 lbs. Make: Caterpillar Model: 345D Origin: Lubbock, TX Destination: Merrillville, IN - 1,180 Mile Journey. This big bird has a value of $200,000! This transport did require permits for surpassing width and weight limits and we take care of the details. Brian G. was able to save his client $800 on this transport. Heavy Haulers serves the United States, Mexico and Canada. Contact Brian G. directly to schedule your next transport: (754) 203-9267
HEAVY HAULERS CAN TRANSPORT ALL TYPES OF CATERPILLAR Crawler Tractor INCLUDING:
Heavy Haulers Can Transport all Types of Caterpillar Wheel Loader Including:
Heavy Haulers Can Transport all Types of Caterpillar Rock Truck Including:
Heavy Haulers Can Transport all Types of Caterpillar Crawler Loader Including:
Heavy Haulers Can Transport all Types of Caterpillar Compactor Including: