Transport JLG Construction Equipment
Call Our company Heavy Haulers for all JLG equipment shipping services locally or cross country at (800) 908-6206! JLG Industries, Inc., an Oshkosh Corporation company, is an American designer, manufacturer, and marketer of access equipment (aerial work platforms and telehandlers). The company's products extend beyond its own well-known brand of AWPs and telehandlers to SkyTrak and Lull telehandlers; TRIPLE-L trailers, LiftPod, and a growing line of JLG vertical and mobile stock picking lifts for material handling applications.

JLG was founded as a small equipment manufacturing company in 1969. Since their acquisition by Oshkosh in 2006, they've improved their leading edge, specializtion in their lines of heavy equipment, focusing on industrial, commercial, institutional and construction markets.
Common JLG Equipment We Transport Frequently:
• Engine Powered Boom Lifts
• Articulating Boom Lifts
• Telescopic Boom Lifts
• Electric & Hybrid Boom Lifts/li>
• Compact Crawler Booms
• Articulating Boom Lifts
• Telescopic Boom Lifts
• Toucan Mast Boom Lifts
• Low-Level Access
• Non-Powered EcoLifts
• Push Around Mast Lift
• Personal Portable Lifts
• Vertical Lifts
• Push Around Vertical Mast Lifts
• Driveable Vertical Mast Lifts
• Stock Pickers
• Push Around Stock Pickers
• Driveable Stock Pickers
• Electric Scissor Lifts
• Engine Powered Scissor Lifts
• Towable Boom Lifts
• Tow-Pro
Common Equipment Heavy Haulers Transports
Trust Heavy Haulers to transport any brand of equipment you own. Most of our drivers are experienced heavy-machinery operators who can safely maneuver your loads aboard our trailers. Some of the brands we have shipped include:
Our Recent JLG Shipments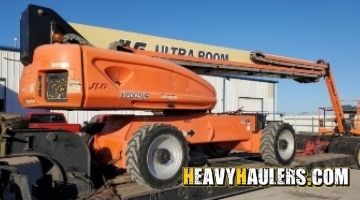 Transporting a JLG 1200SJP Telescopic Boom Lift
Shipping From: Fort Worth, TX

Transporting To: Moore, OK

Specs: 1 JLG 1200SJP telescopic boom lift; 34L x 8W x 10H; 40,000lbs

Transport Specialist: Chad C.
(754) 704-0244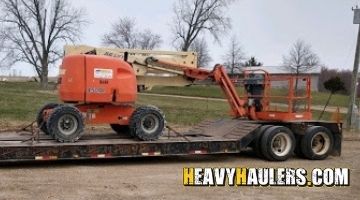 JLG 450AJ Boom Lift Transport
Shipping From: Indianapolis, IN

Transporting To: Memphis, TN

Specs: 1 JLG 450AJ boom lift; 21.6L x 6.8W x 7.6H; 16,000lbs

Transport Specialist: Roger C.
(754) 203-9287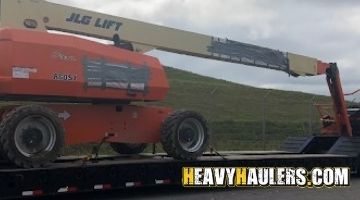 JLG 1850SJ Boom Lift Shipped from Jacksonville, FL to East Bethany, NY
This 60,000-pound JLG 1850SJ Boom Lift was hauled from Jacksonville, Florida to East Bethany, New York by Milos Visnjic of Heavy Haulers. The 48ft. long boom lift was loaded onto an RGN trailer that made provision for its 10 ft. width. With 8.2 ft. width dimensions, the JLG 1850SJ Boom Lift was tied down with chains and the permits were handed to the driver for the 1,063-mile cross country haul.
Transport Specialist: Milos V.
(754) 203-9257
Common JLG Boom Lifts We Transport!
The make of the JLG boom lifts has over the years experienced remodeling with each touch adding on to the machine's efficiency. For instance, in 1994 the boom lifts were fitted with the best battery performance across the industry. The JLG boom lifts are not only suited to engage seamlessly with the particular tasks before the user, but also do so in an environmentally friendly manner. This is in regard to the 60-foot electric boom lift, introduced first in 2000. As of 2014, JLG introduced the largest self-propelled boom lift, 18850SJ, globally. Heavy Haulers has much more detailed understanding of all the variant boom lifts enabling us to deliver with ease.
Heavy Haulers Transports All JLG Boom Lifts, Including:
Common JLG Scissor Lifts We Transport!
The first scissor lift by JLG was introduced in 1976. Ever since, the JLG scissor lifts production has been consistent with the 100,000th mark coming off in Bedford, PA in 2001. This was after the JLG manufactures had set a plant majoring on scissor lifts to satisfy the market in 1997. In 1981 there was the inducement of the oscillating axles to improve on maneuverability. When it comes to shipping both the electric and engine powered scissor lifts, Heavy Haulers has the right equipment and knowledge.
Heavy Haulers Ships All JLG Scissor Lifts, Including:
Common JLG Telescopic Forklifts We Transport!
The productive JLG telescopic forklift started being manufactured after JLG had acquired a leading manufacturer of telehandlers in the year 1999, the Gradall. The JLG telescopic forklift are common as they are known to save on time and expense. This applies due to their major advantage in the sense that they have the ability to reach on loads high on trailers and not only remove them but also unload them on a rooftop. So far as Heavy Haulers we have had interaction with all the JLG Telescopic Forklift models and through the process perfected our state-of-the-art in shipping all of them.
Heavy Haulers Transports All JLG Telescopic Forklifts, Including: