Transport JLG Construction Equipment
Call Our company Heavy Haulers for all JLG equipment shipping services locally or cross country at (800) 908-6206! JLG Industries, Inc., an Oshkosh Corporation company, is an American designer, manufacturer, and marketer of access equipment (aerial work platforms and telehandlers). The company's products extend beyond its own well-known brand of AWPs and telehandlers to SkyTrak and Lull telehandlers; TRIPLE-L trailers, LiftPod, and a growing line of JLG vertical and mobile stock picking lifts for material handling applications.

JLG was founded as a small equipment manufacturing company in 1969. Since their acquisition by Oshkosh in 2006, they've improved their leading edge, specializtion in their lines of heavy equipment, focusing on industrial, commercial, institutional and construction markets.
Common JLG Equipment We Transport Frequently:
• Engine Powered Boom Lifts
• Articulating Boom Lifts
• Telescopic Boom Lifts
• Electric & Hybrid Boom Lifts/li>
• Compact Crawler Booms
• Articulating Boom Lifts
• Telescopic Boom Lifts
• Toucan Mast Boom Lifts

• Low-Level Access
• Non-Powered EcoLifts
• Push Around Mast Lift
• Personal Portable Lifts
• Vertical Lifts
• Push Around Vertical Mast Lifts
• Driveable Vertical Mast Lifts
• Stock Pickers

• Push Around Stock Pickers
• Driveable Stock Pickers
• Electric Scissor Lifts
• Engine Powered Scissor Lifts
• Towable Boom Lifts
• Tow-Pro
Speak with a Member of Our Logistics Team Now!
(800) 908-6206
Our Recent JLG Shipments
JLG 1850SJ Boom Lift Shipped from Jacksonville, FL to East Bethany, NY
This 60,000-pound JLG 1850SJ Boom Lift was hauled from Jacksonville, Florida to East Bethany, New York by Milos Visnjic of Heavy Haulers. The 48ft. long boom lift was loaded onto an RGN trailer that made provision for its 10 ft. width. With 8.2 ft. width dimensions, the JLG 1850SJ Boom Lift was tied down with chains and the permits were handed to the driver for the 1,063-mile cross country haul.
Transport Specialist: Milos Visnjic
(754) 203-9257
JLG 1850SJ Boom Lift Hauled With Our Team
Shipping From: East Bethany, NY 14054

Transporting To: Jacksonville, FL 32226

Specs: JLG 1850SJ Boom Lift; 48L X 8.2W X 10H; 60,000 lbs

Transport Specialist: Milos Visnjic
(754) 203-9257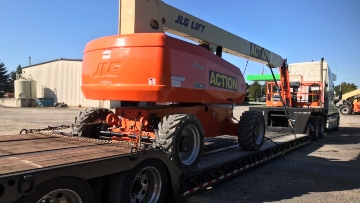 JLG Boom Lift Transported From New York
Shipping From: East Bethany, NY 14054

Transporting To: Jacksonville, FL 32226

Specs: JLG 1850SJ Boom Lift; 48L X 8.2W X 10H; 60,000 lbs

Transport Specialist: Milos Visnjic
(754) 203-9257