Transporting Hitachi Construction Equipment
Call Our company Heavy Haulers for all Hitachi equipment shipping services locally or cross country at (800) 908-6206! Trust Heavy Haulers to ship your Hitachi construction equipment. Hitachi Construction manufactures excavators and haulers. The company used to build bulldozers. Founded as an electric-motor repair shop in 1910, Hitachi went public in 1949. Hitachi America debuted in 1951.


In 2002, Hitachi formed a partnership with John Deere to produce excavators. The venture's excavators are built in the U.S. and Brazil. Hitachi Construction is owned by Hitachi Group, a division of Hitachi. Hitachi is part of Mizuho Financial Group, the third-largest bank holding company in Japan. Hitachi Group has more than 30,000 employees.
Common Hitachi Equipment We Transport Frequently:
Recent Hitachi Equipment Moves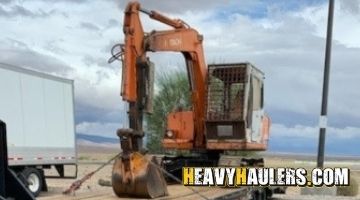 Shipping a Hitachi EX60-1 Excavator from AZ to CA
Origin: Golden Valley, AZ
Destination: Compton, CA
Specs: 1 Hitachi EX60-1 excavator; 20L x 7.4W x 8.5H; 14,000lbs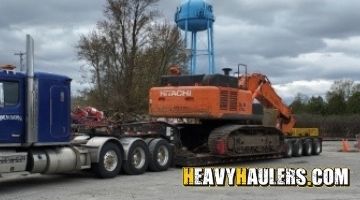 Hitachi ZX 470LC-5G Excavator Transport
Origin: Fort Edward, NY
Destination: Tonawa, NY
Specs: 1 Hitachi ZX 470LC-5G with bucket and thumb; 40L x 12W x 11H; 117,000lbs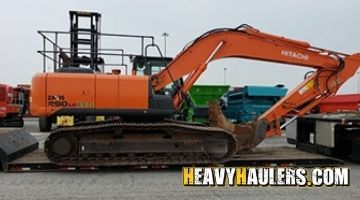 Hitachi ZX290 Excavator Shipped On an RGN Trailer to Altoona, PA from Baltimore, MD
This 64,000 pound Hitachi ZX290 Excavator was transported on an RGN Trailer by Milos Visnjic of Heavy Haulers from Baltimore, Maryland to Altoona, Pennsylvania. The 34.9 ft. long and 10.10 ft. high excavator required permits for the 188-mile haul after being loaded and secured with chains. Escort vehicles were deployed by Milos for the 11.3 ft. wide Hitachi ZX290 Excavator to navigate problematic areas of the journey.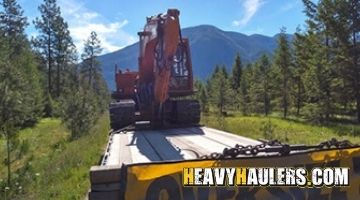 Hitachi UHO 63 Excavator Transported On a Hotshot Trailer from Port Orchard, WA
Milos Visnjic from Heavy Haulers picked up this 27,000 pound Hitachi UHO 63 Excavator and hauled it on a Hotshot Trailer to troy in Montana. The 9 ft. high and 25 ft. long excavator was loaded onto a hotshot trailer while Milos arranged for over-width permits. Once loaded, the 8ft. wide Hitachi UHO 63 Excavator was tied down and flagged for shipping through 455 miles of the I-90 E.
Common Hitachi Wheel Loaders We Transport!
Hitachi wheel loaders ultimate goal is to increase productivity and reduce on cost. For instance, ZW180-6 Hitachi wheel loader has exceptional versatility. It effectively fits operations in waste handling, road construction, snow removal, infrastructure and agriculture. Its simultaneous movement of the lift arm and bucket ensures digging operations are equally easy. Its quick power switch shoots up the engine output when more power is needed while the ride control feature offers effortless rides across all terrains. Hitachi wheel loaders have increased visibility due to their muffle and air intake repositioning. For easy transportation of all their models, Heavy Haulers has you covered.
Heavy Haulers Transports All Hitachi Wheel Loaders, Including:
Common Hitachi Rock Trucks We Transport!
Hitachi rock trucks are designed to offer efficiency, productivity and safety. The EX3500AC-3 for example can withstand the harshest conditions. It has a remarkable travel performance. Its pitch control system minimizes bouncing while traversing on uneven grounds. The skid control system suppresses the likeliness of slipping on slippery grounds by use of changes in wheel motor torque, left to right. This machine is also equipped with an advanced Hitachi AC Drive System which provides quick and smooth operations. It also has features for the user's comfort such as a spacious cab. Heavy Haulers, we ship all Hitachi rock truck models easily.
Heavy Haulers Ships All Hitachi Rock Trucks, Including:
Common Hitachi Crawler Tractors We Transport!
Hitachi merged with John Deere to form Deere-Hitachi Construction Machinery Corporation in 1988. Hitachi crawler tractors are therefore made with utmost precision. The various Hitachi crawler tractor models exhibit advanced technologies and undisputed reliability. The machines are similarly very durable. Shipping any of these models with us is a stress-free experience.
Heavy Haulers Transports All Hitachi Crawler Tractors, Including:
Common Hitachi Crawler Cranes and Articulated Dump trucks We Transport!
Heavy Haulers Ships All Hitachi Crawler Cranes and Articulated Dump trucks, Including:
Common Hitachi Hydraulic Excavators We Transport!
Hitachi has been manufacturing excavators since 1965. The Hitachi hydraulic excavators are highly productive and efficient. They have excellent operability while offering the operator safety. They are equipped with solution linkage assist which performs semi-automated control of the boom, arm and bucket depending on the machine's position. Hitachi ICT enables the hydraulic excavators to perform efficiently without over-digging the surface. Hitachi hydraulic excavators maintain the quality of work despite the labor shortages. Hitachi hybrid hydraulic excavators use low fuel which makes them easy to maintain and help in reducing environmental impact. The latest Hitachi hydraulic excavators have reduced vibrations and noise inside the cab which reduces the work stress. The visibility from the cab is great for more accuracy and precision. Heavy Haulers offer transport for every model of hydraulic excavator manufactured by Hitachi.
Heavy Haulers Transports All Hitachi Hydraulic Excavators, Including:
Common Hitachi Midi Excavators and Mini Excavators We Transport
Hitachi mini excavators are a good option for anyone working in tight spaces. They are easy to operate, reliable, highly productive, efficient and comfortable. They are suitable for road ways, waterworks and home construction. Hitachi mini excavators attachments can be changed to adapt the worksites such as livestock farming, agriculture and forestry, snow removal and demolition. Hitachi electric mini excavators are environment friendly and easy to maintain. Heavy Haulers offers transport for mini excavators manufactured by Hitachi.
Heavy Haulers Ships All Hitachi Midi Excavators and Mini Excavators, Including:
Common Hitachi Mobile Excavators We Transport!
Heavy Haulers Transports All Hitachi Mobile Excavators, Including: