Transporting Hitachi Construction Equipment
Call Our company Heavy Haulers for all Hitachi equipment shipping services locally or cross country at (800) 908-6206! Trust Heavy Haulers to ship your Hitachi construction equipment. Hitachi Construction manufactures excavators and haulers. The company used to build bulldozers. Founded as an electric-motor repair shop in 1910, Hitachi went public in 1949. Hitachi America debuted in 1951.


In 2002, Hitachi formed a partnership with John Deere to produce excavators. The venture's excavators are built in the U.S. and Brazil. Hitachi Construction is owned by Hitachi Group, a division of Hitachi. Hitachi is part of Mizuho Financial Group, the third-largest bank holding company in Japan. Hitachi Group has more than 30,000 employees.
Common Hitachi Equipment We Transport Frequently:
Recent Hitachi Equipment Moves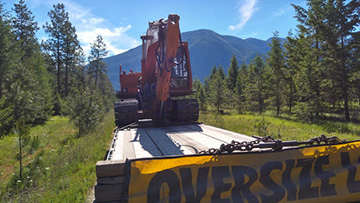 Hitachi UHO 63 Excavator Transported On a Hotshot Trailer from Port Orchard, WA
Milos Visnjic from Heavy Haulers picked up this 27,000 pound Hitachi UHO 63 Excavator and hauled it on a Hotshot Trailer to troy in Montana. The 9 ft. high and 25 ft. long excavator was loaded onto a hotshot trailer while Milos arranged for over-width permits. Once loaded, the 8ft. wide Hitachi UHO 63 Excavator was tied down and flagged for shipping through 455 miles of the I-90 E.
Transport Specialist: Milos Visnjic
(754) 203-9257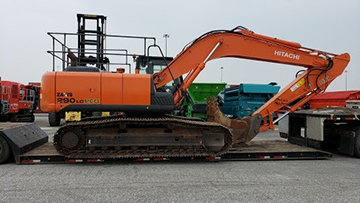 Hitachi ZX290 Excavator Shipped On an RGN Trailer to Altoona, PA from Baltimore, MD
This 64,000 pound Hitachi ZX290 Excavator was transported on an RGN Trailer by Milos Visnjic of Heavy Haulers from Baltimore, Maryland to Altoona, Pennsylvania. The 34.9 ft. long and 10.10 ft. high excavator required permits for the 188-mile haul after being loaded and secured with chains. Escort vehicles were deployed by Milos for the 11.3 ft. wide Hitachi ZX290 Excavator to navigate problematic areas of the journey.
Transport Specialist: Milos Visnjic
(754) 203-9257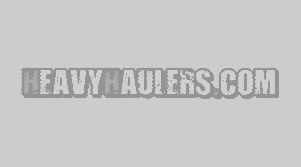 WHAT ARE YOU WAITING FOR?
Have a load to be moved? Move with Heavy Haulers and get you and your company featured right here! We love sharing our moves and don't mind putting your name on it!