Shipping Volvo Construction Equipment
Call Our company Heavy Haulers for all Volvo equipment shipping services locally or cross country at (800) 908-6206! Trust Heavy Haulers to ship your Volvo construction equipment. Volvo Construction Equipment is an international manufacturer of heavy construction equipment. The company was founded by a blacksmith in Sweden in 1832. In 1932 it merged with another Swedish company to become Bolinder-Munktell, specializing in tractor manufacturing. Volvo bought Bolinder-Munktell in 1950.


In 1954, the company produced its first wheel loader. It introduced the world's first articulated truck in 1966. After becoming part of a joint venture, Bolinder-Munktell returned to full Volvo ownership in 1995 when it was renamed Volvo Construction Equipment. In 2007, the company added to its construction line by purchasing Ingersoll-Rand's road construction equipment division. Nearly 15,000 people work for Volvo Construction Equipment.
Common Volvo Equipment We Transport Frequently:
Common Equipment Heavy Haulers Transports
Trust Heavy Haulers to transport any brand of equipment you own. Most of our drivers are experienced heavy-machinery operators who can safely maneuver your loads aboard our trailers. Some of the brands we have shipped include:
Shipping a Volvo EC460BLC Excavator on an RGN Trailer
Shipping From: Kent, OH

Transporting To: South Chicago Heights, IL

Specs: 2005 Volvo EC460BLC Excavator; 40L x 12W x 12.4H; 100,000lbs

Transport Specialist: J.J. Jones
(407) 337-2969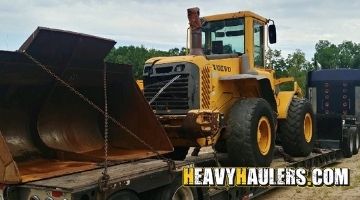 Volvo L60E Wheel Loader Transport
Shipping From: Hazlehurst, GA

Transporting To: Sugarcreek, GA

Specs: Volvo L60E wheel loader; 29L x 8.2W x 10.6H; 27,000lbs

Transport Specialist: Brian G.
(754) 203-9267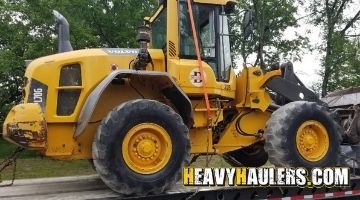 Volvo Equipment Transport: L70G Wheel Loader
Shipping From: Commerce, TX

Transporting To: Sugarcreek, OH

Specs: 1 Volvo L70G wheel loader; 28L x 8W x 10.6H; 27,000lbs

Transport Specialist: Brian G.
(754) 203-9267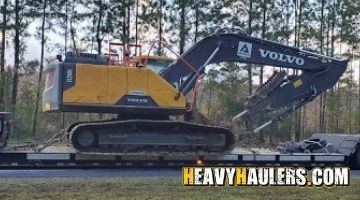 Transporting a Volvo EC250EL Excavator from SC to LA
Shipping From: Georgetown, SC

Transporting To: Minden, LA

Specs: 1 Volvo EC250EL excavator; 34L x 11.6W x 11.4H; 60,000lbs

Transport Specialist: Luke F.
(772) 227-1564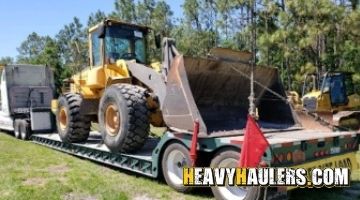 Volvo L120E Wheel Laoder from Florida to Ohio
Just like this 40K+ pound wheel loader, Heavy Haulers is ready for anything you throw at it. And from sunny Kissimmee, FL to cool Sugarcreek, OH, Heavy Haulers was ready with the perfect rig for the job for this oversized load. Our experience in the business helps you get back to your business without skipping a beat. If you have a big boy toy to haul make sure Heavy Haulers is who you call. Contact Brian Hatfield directly for your wide load quote
Transport Specialist: Brian H.
(754) 203-8979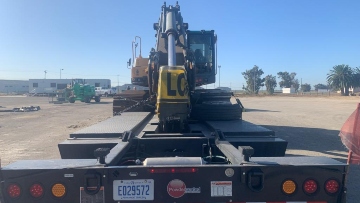 Shipping a 2007 Volvo EC360 to Seal Beach, CA from Nags Head, NC
Specialist Sam from Heavy Haulers shipped this 100,000 pound Volvo EC360 Hauled on an RGN trailer from Nags Head, North Carolina to Seal Beach California. He valuated the 37 ft. long oversize excavator with backhoe shovel load for transport that accommodated its 12 ft. height and 11.8 ft. width with permits and insurance. The load was secured with heavy-duty chain riggings and the 2007 Volvo EC360 was flagged for comprehensive and safe shipping.
Transport Specialist: Sam D.
(561) 931-6741