Shipping Volvo Construction Equipment
Call Our company Heavy Haulers for all Volvo equipment shipping services locally or cross country at (800) 908-6206! Trust Heavy Haulers to ship your Volvo construction equipment. Volvo Construction Equipment is an international manufacturer of heavy construction equipment. The company was founded by a blacksmith in Sweden in 1832. In 1932 it merged with another Swedish company to become Bolinder-Munktell, specializing in tractor manufacturing. Volvo bought Bolinder-Munktell in 1950.


In 1954, the company produced its first wheel loader. It introduced the world's first articulated truck in 1966. After becoming part of a joint venture, Bolinder-Munktell returned to full Volvo ownership in 1995 when it was renamed Volvo Construction Equipment. In 2007, the company added to its construction line by purchasing Ingersoll-Rand's road construction equipment division. Nearly 15,000 people work for Volvo Construction Equipment.
Common Volvo Equipment We Transport Frequently:
Speak with a Member of Our Logistics Team Now!
(800) 908-6206
Recent Volvo Shipments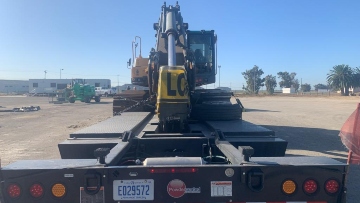 Shipping a 2007 Volvo EC360 to California
Shipping From: Nags Head, NC 279590

Transporting To: Seal Beach, CA 90740

Specs: 2007 Volvo EC360; 37L X 11.8W X 12H; 100,000lbs

Transport Specialist: Sam
(561) 931-6741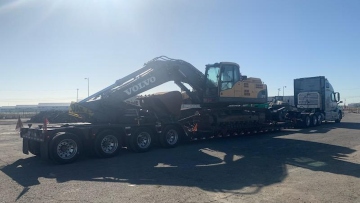 Hauling a 2007 Volvo EC360 Across the Country
Shipping From: Nags Head, NC 279590

Transporting To: Seal Beach, CA 90740

Specs: 2007 Volvo EC360; 37L X 11.8W X 12H; 100,000lbs

Transport Specialist: Sam
(561) 931-6741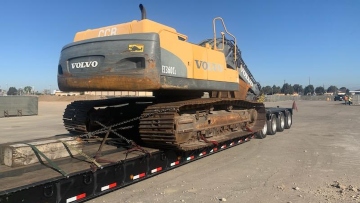 Transporting a Volvo EC360 out of North Carolina
Shipping From: Nags Head, NC 279590

Transporting To: Seal Beach, CA 90740

Specs: 2007 Volvo EC360; 37L X 11.8W X 12H; 100,000lbs

Transport Specialist: Sam
(561) 931-6741