Oshkosh Equipment Shipping Services
Call Our company Heavy Haulers for all Oshkosh equipment shipping services locally or cross country at (800) 908-6206! Oshkosh is an American industrial company that designs and builds specialty construction and transport trucks, military vehicles, piecemeal truck bodies, airport fire suppression equipment, and different types of access equipment. The company is based in Oshkosh, Wisconsin, and is organized in four primary business groups: access equipment, defense, fire and emergency, and commercial. While Oshkosh services a wide variety of niche needs, Heavy Haulers specializes in transporting their access equipment and commercial heavy equipment.

They were founded in 1917 as the Wisconsin Duplex Auto Company, created to build a severe-duty four-wheel-drive truck. As the company grew, they developed specialized equipment, such as concrete haulers, all-terrain vehicles and transporters, and other machinery needed for the military. Their heavy equipment line expanded into the commercial sector, using technologies that made Oshkosh a leader in military equipment.
Common Oshkosh Equipment We Transport Frequently:
• Front Loaders
• Rear Loaders
• Side Loaders
• Standard concrete mixers
• Revolution concrete mixers
• Bridgemaster mixers

• SMS slider mixer system
• Front-discharge mixer
• Truck mounted cranes
• Mechanic trucks
• Lube trucks

• Tire trucks
• Air compressors
• Portable compactors
• Communication vehicles
• CNG trucks
Our Recent Oshkosh Shipments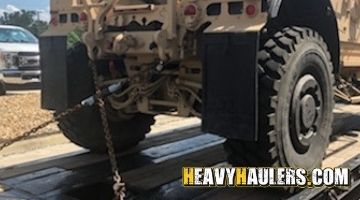 Transporting an Oshkosh M-ATV Military Truck to Arizona from Texas
The hauling of this 29,000 pound Oshkosh M-ATV Military Truck from new Boston, Texas to Avondale in Arizona was completed by Hal Foster from Heavy Haulers. A military vehicle and equipment transport specialist, Hal Foster loaded the 20.1 ft. tall Oshkosh M-ATV truck onto a Heavy Haulers double drop trailer that accommodated its 9.6 ft. height. Once loaded and prepped, the 8.5 ft. wide M-ATV was shipped 1237 miles on the I-20 W and I-10 W for a conclusive cross-state delivery.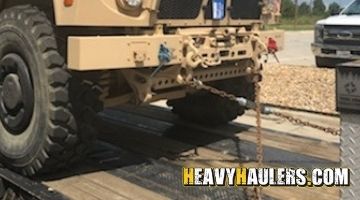 29,000 lbs Oshkosh M-ATV Military Vehicle hauled to Arizona
Origin: New Boston, TX 75570
Destination: Avondale, AZ 85323
Specs: Oshkosh M-ATV; 20.1L X 8.5W X 9.6H; 29,000lbs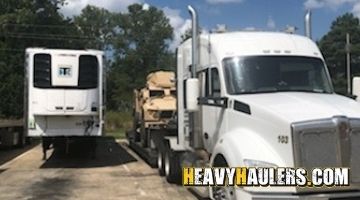 Oshkosh M-ATV loaded for transport from Texas
Origin: New Boston, TX 75570
Destination: Avondale, AZ 85323
Specs: Oshkosh M-ATV; 20.1L X 8.5W X 9.6H; 29,000lbs