Great Hydraulic Lift Transport with Heavy haulers
A hydraulic lift facilitates heavy lifting without requiring much effort from the operator. However, transporting this massive machine from one site to another or from the manufacturer to the site can be quite challenging. That is why at Heavy Haulers, we offer you professional hauling services to facilitate a smooth and safe hauling of your hydraulic lift. We are equipped with premium towing equipment and a team of highly qualified, professional, and experienced drivers. We understand that most of our clients operate on strict deadlines. Therefore, we assure you of timely delivery of your hydraulic lifts, which goes a long way in elevating your reputation.
Our weight and leverage experts work alongside crane operators during loading to ensure that the load is firmly hoisted for safe transportation. Whether you need your hydraulic lift transported to any state in the US or across the border into Canada or Mexico, we are up to the task. Call now! (800) 908-6206
Contact Our Expert Shipping Specialist's
(800) 908-6206
Unmatched Hydraulic Towing Services with Heavy Haulers
At Heavy Haulers, you are more than a client to us-you are our business partner. Therefore, offering you the ultimate customer satisfaction through incredible hauling services is our top priority. We pay attention to your needs and wants and offer shipping services that align with your expectations. Furthermore, we will inquire about the nature of your hydraulic lift, including its size, shape, and hauling distance. This way, we are able to select the most suitable trailer for efficient hauling services. Our drivers have a vast knowledge of the quickest routes and offer hauling services at reasonable costs without overlooking quality.
A hydraulic lift is a heavy-weight elevator that utilizes fluid power to function. Hydraulic lifts have a wide range of applications, including raising automobiles and shipping them. Besides, this type of heavy machinery can be found at the mining, construction, and waste removal sites. Let's get started! (800) 908-6206
How to Ship Your Hydraulic Lift with Heavy Haulers
Shipping a hydraulic lift with Heavy Haulers is a straightforward process. All you need to do is contact us today to get us started on planning your hydraulic lifts shipping process. Numerous logistics professionals at your disposal will guide you through and set you up with premium quality hauling services. We will help you acquire the relevant permits required by the federal or local government to ship your cargo. There is no job too complicated for Heavy Haulers. We are armed with all the necessary equipment to facilitate the safe loading, shipping, and delivery of your hydraulic lift. Let's get started! (800) 908-6206
HEAVYHAULERS.COM
START YOUR SHIPMENT TODAY!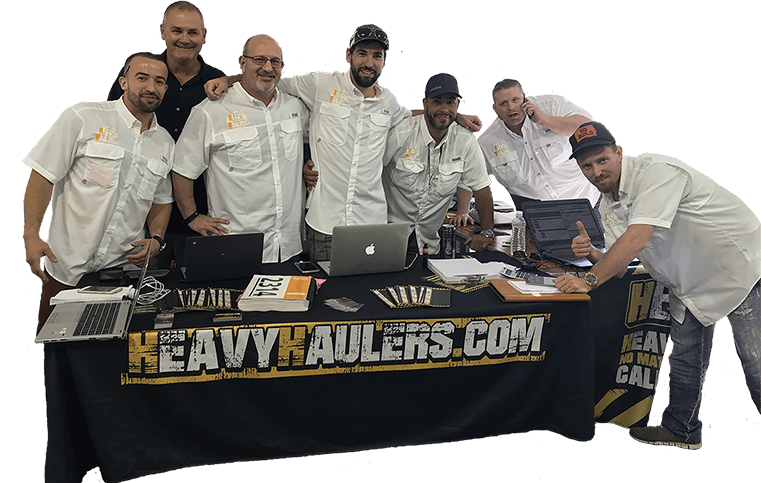 We Are Ready To Help You Haul Your Equipment!
Heavy Haulers Ships Across All 50 States
Alabama - Alaska - Arizona - Arkansas - California - Colorado - Connecticut - Delaware - Florida - Georgia - Hawaii - Idaho - Illinois - Indiana - Iowa - Kansas - Kentucky - Louisiana - Maine - Maryland - Massachusetts - Michigan - Minnesota - Mississippi - Missouri - Montana - Nebraska - Nevada - New Hampshire - New Jersey - New Mexico - New York - North Carolina - North Dakota - Ohio - Oklahoma - Oregon - Pennsylvania - Rhode Island - South Carolina - South Dakota - Tennessee - Texas - Utah - Vermont - Virginia - Washington - West Virginia - Wisconsin - Wyoming
Looking For Transport
With a Specific Trailer?

Max Weight: 150,000+ lbs. | Main Deck Length 29 ft.
| Well Width 8.5 ft. | Legal Height Limit 11.6 ft.

Max Weight: 48,000 lbs. | Max Length 53 ft.
| Max Width 8.5 ft. | Max Height 8.5 ft.
Max Weight: 48,000 lbs. Max Length 53 ft. |
Max Width 8.5 ft. | Max Height 11 ft.
Max Weight: 45,000 lbs. | Max Length 29 ft.
| Max Width 8.5 ft. | Max Height 11.5 ft.
Heavy Haulers Pilot Car Services
Are you looking for a reliable pilot car
for your transport?
Get Started
See what you need?
Call us for a FREE Shipping Estimate at (800) 908-6206