Providing Efficient Rock Wheel Hauling Services
When you want to ship a valuable and pricy piece of equipment, such as a rock wheel, you need to be quite specific about the shipping company you partner with. The logistics company must have the necessary equipment and rigs and comprehensive insurance to guarantee quality and safe freight transport. Heavy Haulers checks every box when you need to haul oversized cargo, bulk freight, and superloads. We are passionate about heavy equipment, and offering efficient shipping is one of our top priorities. We'll plan the consignment well in advance and be at the pick-up area in time to ensure we meet our hauling deadline.
At Heavy Haulers, we understand that safe and smooth rock wheel shipping starts by choosing the right driver for the job. We carefully select the trucking drivers we assign to any freight hauling. Our team comprises only licensed and industry seasoned drivers who understand the DOT rules and the northern routes they've plied for many years. Moreover, they're insured, and we can guarantee that they are committed to ensuring that your load arrives in the desired location safely and in one piece. Call now! (800) 908-6206
Contact Our Expert Shipping Specialist's
(800) 908-6206
Custom Rock Wheel Transport Services
A rock loader is a kind of excavation equipment with a large digging wheel with teeth used to dig trenches in hard surfaces where a standard trench digger wouldn't work efficiently. Heavy Haulers can offer safe piloted shipping services if you need escort vehicle solutions. We ensure that our pilot vehicles and equipment services are updated according to the latest DOT rules and regulations in every state. They are trained and experienced in piloting shipments, and they can deploy dependable and effective pilot car services. Our pilot services are well steeped in securing and safety protocols to ensure that the cargo travels seamlessly to the desired receiving area.
Heavy Haulers is at the forefront of providing client-focused solutions. We want you to have a hassle-free and memorable experience when you choose our hauling solutions. You need not worry or speculate about the location of your in-transit load. Instead, you can contact our client helpdesk from 7 am to 5 pm ET, and you will receive a timely response about your cargo's whereabouts. We also invest in researching more business-driven shipping solutions to ensure we anticipate your hauling needs and provide services of value. We are a thought-leader, creating heavy-cargo transport solutions that our competitors emulate. Let's get started! (800) 908-6206
Common Models and Brands of Rock Wheel Trenchers We Ship
Heavy Haulers can transport your rock wheel, regardless of the brand and model. They include:
● Ditch Witch Rock Wheels

● SIMEX Rock Wheels

● Tesmec Rock Wheels

● Gamzen Rock Wheels
● Rockzone Rock Wheels

● Tesmec Rock Wheels

● Bobcat Rock Wheels
How to Ship a Rock Wheel with Heavy Haulers
Shipping a rock wheel with Heavy Haulers is easy. We will check the cargo's dimensions (width, height, and length) to determine the type of trailer we use for transport. Rock wheel measure over 8.6 ft. in height and require ramps for loading. Therefore, we will deploy ramps and load the cargo on a step-deck trailer. We will then couple it with a capable cab, and an experienced driver will then transport it to your intended destination. Let's get started! (800) 908-6206
Heavy Haulers Ships Across All 50 States
Alabama - Alaska - Arizona - Arkansas - California - Colorado - Connecticut - Delaware - Florida - Georgia - Hawaii - Idaho - Illinois - Indiana - Iowa - Kansas - Kentucky - Louisiana - Maine - Maryland - Massachusetts - Michigan - Minnesota - Mississippi - Missouri - Montana - Nebraska - Nevada - New Hampshire - New Jersey - New Mexico - New York - North Carolina - North Dakota - Ohio - Oklahoma - Oregon - Pennsylvania - Rhode Island - South Carolina - South Dakota - Tennessee - Texas - Utah - Vermont - Virginia - Washington - West Virginia - Wisconsin - Wyoming
Looking For Transport
With a Specific Trailer?

Max Weight: 150,000+ lbs. | Main Deck Length 29 ft.
| Well Width 8.5 ft. | Legal Height Limit 11.6 ft.

Max Weight: 48,000 lbs. | Max Length 53 ft.
| Max Width 8.5 ft. | Max Height 8.5 ft.
Max Weight: 48,000 lbs. Max Length 53 ft. |
Max Width 8.5 ft. | Max Height 11 ft.
Max Weight: 45,000 lbs. | Max Length 29 ft.
| Max Width 8.5 ft. | Max Height 11.5 ft.
Heavy Haulers Pilot Car Services
Are you looking for a reliable pilot car
for your transport?
Get Started
HEAVYHAULERS.COM
START YOUR SHIPMENT TODAY!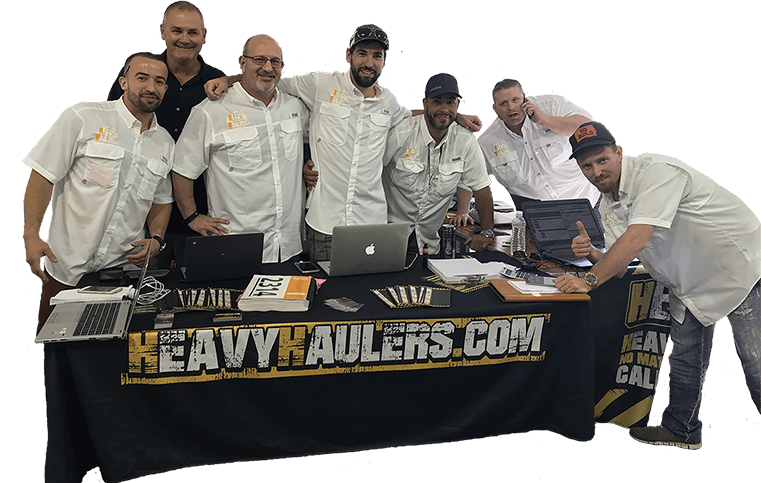 We Are Ready To Help You Haul Your Equipment!