Heavy Haulers Provides Mobile Medical Vehicle Transport in all 50 States
Rely on Heavy Haulers to ship your mobile medical vehicles anywhere in the US We can also ship to Canada or Mexico as well. Getting your mobile medical vehicle safely to its final destination is our priority. Shipping a range of mobile medical clinics is a hassle-free experience with Heavy Haulers mobile clinic trucking services as we provide a seamless door-to-door service.
Whether you're hauling your mammography clinic upstate as part of a statewide medical initiative in California or you're looking to provide medical support to at-risk communities in Mexico, Heavy Haulers are here for you. We can safely haul your vehicle, so it is ready for your arrival at your next set of clinic appointments. We understand that getting your mobile medical vehicle shipped on time is essential not only for your businesses but for the overall health of communities that have little access to healthcare.
Contact Our Expert Shipping Specialist's
(800) 908-6206
If you want to know how we can safely transport a mobile medical vehicle, including mobile Xrays, pet/CT scanners, and MRI machines, then a member of our experienced logistics team can assist. They can answer all questions that you might have regarding how our heavy haul shipping works, and you can also get a shipping quote. (800) 908-6206
Using Heavy Haulers for Mobile Medical Vehicle Shipping
Due to the often expensive medical equipment involved, and the unintended consequences that poorly shipped medical vehicles can have on communities, shipping medical vehicle transport safely means hiring the right team to do the job. Our experienced logistics team supports a vast network of seasoned drivers who are comfortable with loading, unloading and hauling an enormous range of expensive equipment. Our decade of nationwide transport experience provides us with a great platform to produce an excellent shipping experience.
We make your medical vehicle shipping process as seamless as possible; our insured door-to-door shipping and expedited shipping service ensure that when it comes the time to securely transport a mobile health clinic at short notice, we're ready to provide quick, comprehensive service. When it comes to shipping, it doesn't matter to us if it's a large 48' multipurpose clinic or a small x-ray lab, as we have a large fleet of a variety of trucks and trailers. Our extensive fleet includes removable goosenecks, step deck trailers, enclosed transport, and open transportation, so we definitely have something suitable for transporting your medical vehicle transport.
Heavy Haulers combines years of experience with a comprehensive shipping service. We work out the logistics, including the cheapest route, best rest stops, and most suitable transport method, and we're always happy to discuss your requirements to come up with tailor made services that meet your budget. Call now! (800) 908-6206
How to Ship Common Mobile Medical Vehicles
All you have to do is choose Heavy Haulers to ship your MRI, x-ray, radiology, and multipurpose medical vehicles to get access to a vast fleet of long-haul transportation services. Most mobile medical vehicles, such as X Ray clinics, can travel aboard a flatbed trailer as height and weight aren't usually an issue; we can often safely drive mobile vehicle vehicles onto removable gooseneck trailers. For peace of mind, we can also offer customizable enclosed shipping services if you're worried about theft, vandalism of your vehicle, or long-term exposure to the elements.
MRI machine transport typically houses the scanner and a control room. In some cases, you may also have a built-in patient changing room included on a 48' semi-trailer. These units are essential for smaller medical facilities that can't afford full-time MRI access, and they can be connected to existing medical services.
Mobile Pet/CT Scan machines can provide fast, detailed scans with 16-64 slices to help medical staff offer a fast, accurate diagnosis. Mobile CT machines offer hospitals, imaging centers, clinics, and vets with flexible and precise imaging solutions, especially in the wake of natural disasters or during renovations.
Let's say you want to reduce the barriers to breast cancer screening faced by many women across the US, Mexico, and Canada. A mobile mammography vehicle is a crucial element of establishing a flexible and affordable outreach program. They help to reduce a patient backlog in smaller medical facilities and at-risk communities.
Mobile medical vehicles can transport essential x-ray equipment to multiple locations. Large X-ray vehicles can contain X-ray rooms with screening equipment, X-ray checking rooms, examination rooms, and technical rooms. Appropriate X-ray equipment and mobile infrastructure are a great way to provide short-term Xray needs to multiple communities.
Fully equipped mobile ultrasound vehicles are perfect for smaller clinics, community outreach, and medical facilities undergoing renovations. Going mobile is the future for many medical organizations who want to be able to provide ultrasound screenings at short notice, and mobile ultrasound clinics are the quickest way to reach patients who may be in crisis.
Mobile multipurpose medical clinics come in a variety of sizes, depending on their primary purpose. Whether you're providing mobile vet services, a mobile hospital, or a mobile health clinic, a multipurpose van offers the flexibility to provide a full range of services, making them an excellent choice for outpatient clinics.
Mobile Radiology Clinics
While more extensive medical facilities and hospitals have a range of facilities onsite, mobile radiology clinics are much smaller, more flexible, and have the capability of reaching people who live far from the nearest hospital. Digital X-ray facilities are infinitely more maneuverable, and spaces inside vans are often customizable, making them great for bringing a range of radiology services into communities.
Mobile MRI Machine
A mobile MRI machine vehicle is a self-contained trailer that offers medical services. The machine comes with a fully equipped control, scanner, and patients changing room. This vehicle is built using a semi-trailer, which can be connected directly to a hospital and hauled between multiple locations.
See what you need?
Call us for a FREE Shipping Estimate at (800) 908-6206
HEAVYHAULERS.COM
START YOUR SHIPMENT TODAY!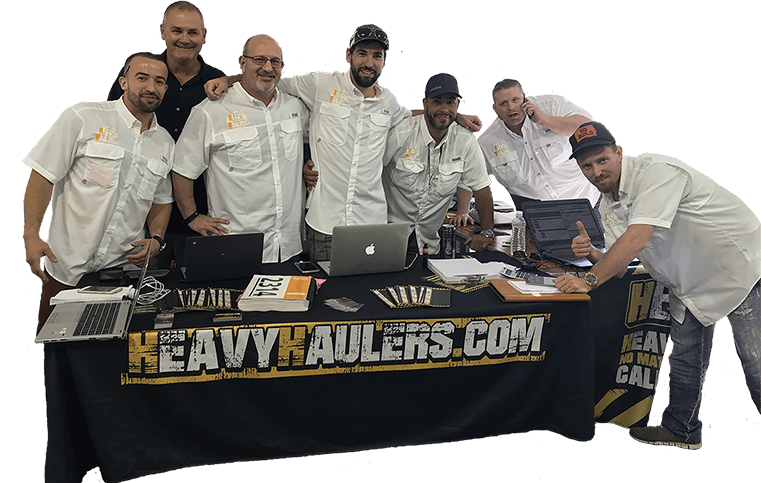 We Are Ready To Help You Haul Your Equipment!
See what you need?
Call us for a FREE Shipping Estimate at (800) 908-6206
Looking For Transport
With a Specific Trailer?

Max Weight: 150,000+ lbs. | Main Deck Length 29 ft.
| Well Width 8.5 ft. | Legal Height Limit 11.6 ft.

Max Weight: 48,000 lbs. | Max Length 53 ft.
| Max Width 8.5 ft. | Max Height 8.5 ft.
Max Weight: 48,000 lbs. Max Length 53 ft. |
Max Width 8.5 ft. | Max Height 11 ft.
Max Weight: 45,000 lbs. | Max Length 29 ft.
| Max Width 8.5 ft. | Max Height 11.5 ft.
Heavy Haulers Ships Across All 50 States
Alabama - Alaska - Arizona - Arkansas - California - Colorado - Connecticut - Delaware - Florida - Georgia - Hawaii - Idaho - Illinois - Indiana - Iowa - Kansas - Kentucky - Louisiana - Maine - Maryland - Massachusetts - Michigan - Minnesota - Mississippi - Missouri - Montana - Nebraska - Nevada - New Hampshire - New Jersey - New Mexico - New York - North Carolina - North Dakota - Ohio - Oklahoma - Oregon - Pennsylvania - Rhode Island - South Carolina - South Dakota - Tennessee - Texas - Utah - Vermont - Virginia - Washington - West Virginia - Wisconsin - Wyoming
Heavy Haulers Pilot Car Services
Are you looking for a reliable pilot car
for your transport?
Get Started
u