Shipping Crankshaft Miller Machines Domestically and Internationally
Purchasing the equipment necessary for crankshaft production is only part of the battle when setting up a new production plant. Also, moving premises can be challenging to organize, as most machinery needed is bulky and difficult for the average person to transport. At Heavy Haulers, we know all about the legal restrictions and permit requirements for oversized crankshaft miller haulage. We've got a nationwide fleet of heavy equipment haulers just waiting to help you transfer your crankshaft miller machine to its next location.
We handle the paperwork, and obtain the necessary permits for crankshaft miller delivery, and offer a seamless door-to-door crankshaft miller transport service. Whether your equipment is new or used, we guarantee our crankshaft miller shipping service will treat it with respect. Every shipment we prepare for transport meets all legal requirements, and we make sure every crankshaft miller machine we transport is appropriately secured, safely moved, and fully-insured during every step of its journey. Let's get started! (800) 908-6206
Contact Our Expert Shipping Specialist's
(800) 908-6206
Trustworthy Crankshaft Miller Delivery Experts
Trust Heavy Haulers to ship any brand of crankshaft miller that you own. Our staff are experienced heavy-machinery operators in addition to experienced long-haul drivers, so we'll make sure you get an expert operator who can safely maneuver your crankshaft miller aboard our trailers. Some of the brands we've shipped across the United States include Heller, Komatsu, and G.F.M.
Crankshaft miller machines are highly productive, reliable, crankshaft-making machines that form part of the production line at many automotive production plants in North America. Crankshafts are integral components used in a variety of engines, from motorbikes, small power generators, and automobile engines, as well as in trucks construction machinery, and even machine vessels. We understand the ability to ship a crankshaft miller quickly can help you to avoid holdups on your production line. That's why, in addition to standard crankshaft milling hauling services, we provide an expedited crankshaft miller delivery option. Call for a free shipping estimate! (800) 908-6206
Common Types of Crankshaft Millers Machines We Transport
• External Crankshaft Miller
• Internal Crankshaft Miller
• Crankshaft Miller PM200FH
• G.F.M. FKS 15/2
• Heller R.F.K.

• Heller D.R.Z.
• Heller MCC15
• Heller R.F.N.
• Komatsu G.P.M. Series
• Komatsu GPR Series
• Komatsu G.P.T. Series
How to Ship a Crankshaft Miller
Crankshaft miller machine transport requires a suitable trailer, hauler, loading, and securing equipment. At Heavy Haulers, we can help you to ship a crankshaft miller and accessories, including crankshaft measuring machines and crankshaft balance measurers. Choose Heavy Haulers to transport your oversized crankshaft miller equipment, and we will provide everything on-site to assist in the safe transportation of your machine. Securing machinery with cables is recommended to avoid movement during travel that may damage your equipment. We have a wide variety of suitable trailers to haul a crankshaft miller for you, from flatbed trailers to extended R.G.N. trailers. Call our representatives to get a quote or book an appropriate crankshaft miller transport service today!
Common Trailer Types Available from Heavy Haulers
Heavy Haulers specializes in hauling heavy loads such as construction equipment, oil field rigging and Super Loads. We are wideload experts! We offer an extensive range of trailer choices, including:
Max Weight: 48,000 lbs. | Max Length 53 ft. | Max Width 8.5 ft. | Max Height 11 ft.




Max Weight: 45,000 lbs. | Max Length 29 ft. | Max Width 8.5 ft. | Max Height 11.5 ft.
Max Weight: 150,000+ lbs. | Main Deck Length 29 ft. | Well Width 8.5 ft. | Legal Height Limit 11.6 ft.




Max Weight: 48,000 lbs. | Max Length 53 ft. | Max Width 8.5 ft. | Max Height 8.5 ft.
See what you need?
Call us for a FREE Shipping Estimate at (800) 908-6206
HEAVYHAULERS.COM
START YOUR SHIPMENT TODAY!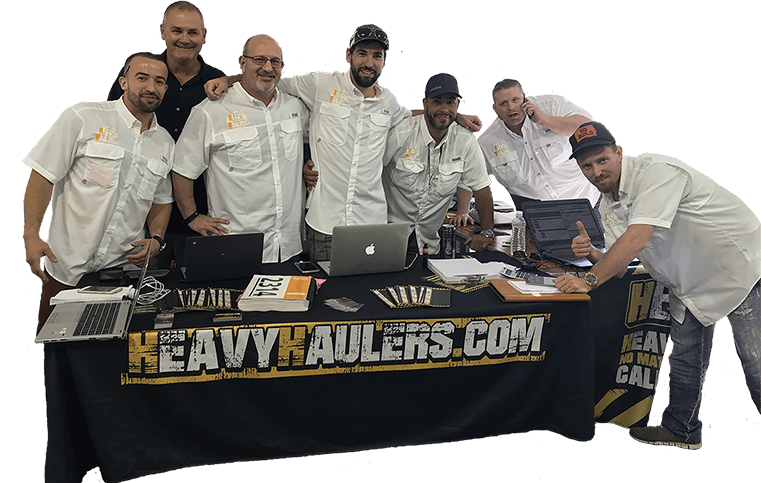 We Are Ready To Help You Haul Your Equipment!
See what you need?
Call us for a FREE Shipping Estimate at (800) 908-6206