Innovative Meter Provers Shipping Services with Heavy Haulers
With our years of experience, we have established Heavy Haulers as an industry leader in the transport and logistics niche. We provide highly efficient and innovative transport services that are customized to suit your budget needs. What's more, we operate a broadly diversified and modern bulk fleet including tractors and carriers with the necessary configuration, lifting capacity and design to handle heavy cargo such as meter provers.
At Heavy Haulers, we provide large cargo transport from and to anywhere across North America to Canada, and Mexico. Thanks to our sound technical know-how and incredible ability to package, we handle all types of heavy equipment. Our trustworthy performance and top-tier flexibility guaranteed by our vast fleet make us the most compelling option for global companies, privately-owned and local businesses that wish to move meter provers. Let's get started! (800) 908-6206
Contact Our Expert Shipping Specialist's
(800) 908-6206
Domestic and International Meter Provers Towing
Are you looking for ways to ship your meter prover? Are you searching for the most cost-effective option of shipping your meter prover overseas? Look no further, towing any number of meter provers is a breeze for our seasoned transport experts. Dismantling all forms of meter prover to fit in a 40'inch Open Top or 40-inch HC or 45-inch saves you money and enables you to haul it to various destinations. If you intend to ship your meter prover efficiently and safely, Heavy Haulers will tend to your needs. We can also ship your meter provers via a break-bulk service or on flat racks, depending on your destination.
Meter prover tests a gas meter's effectiveness. It has precalculated volume values of air that are necessary when comparing the value of a gas meter. Meter provers are also used when repairing gas meters. We understand transporting meter drivers should be done right the first time since they are necessary for your field of work; we pay close attention to every aspect to ensure we offer a tailored service. Call now and get a meter proving shipping estimate! (800) 908-6206
Common Meter Provers Heavy Hauler's Ships
• Compact Provers
• Bi-Directional Pipe Provers
See what you need?
Call us for a FREE Shipping Estimate at (800) 908-6206
How to Ship a Meter Prover with Heavy Haulers
With over ten years of heavy equipment hauling, we have the necessary gear to ensure your package arrives safely. Our drivers are licensed and certified to handle the transport of heavy equipment, and we assign duties to our personnel before loading equipment on deck. We'll also remove any dirt, debris or on the trailer decks to provide adequate traction when moving the equipment up the ramp.Heavy Haulers will also select an even surface to install the ramp and conduct large equipment loading. Our heavy equipment towing charges depend on various factors such as shipping distance and transport type. We have specialized vehicles with GPS trackers for close and detailed tracking of your meter prover from the starting point to the final destination, anytime and anywhere. Heavy Haulers are also supported by a large fleet of professional contract carriers. Call now! (800) 908-6206
Heavy Haulers Ships Across All 50 States
Alabama - Alaska - Arizona - Arkansas - California - Colorado - Connecticut - Delaware - Florida - Georgia - Hawaii - Idaho - Illinois - Indiana - Iowa - Kansas - Kentucky - Louisiana - Maine - Maryland - Massachusetts - Michigan - Minnesota - Mississippi - Missouri - Montana - Nebraska - Nevada - New Hampshire - New Jersey - New Mexico - New York - North Carolina - North Dakota - Ohio - Oklahoma - Oregon - Pennsylvania - Rhode Island - South Carolina - South Dakota - Tennessee - Texas - Utah - Vermont - Virginia - Washington - West Virginia - Wisconsin - Wyoming
Looking For Transport
With a Specific Trailer?

Max Weight: 150,000+ lbs. | Main Deck Length 29 ft.
| Well Width 8.5 ft. | Legal Height Limit 11.6 ft.

Max Weight: 48,000 lbs. | Max Length 53 ft.
| Max Width 8.5 ft. | Max Height 8.5 ft.
Max Weight: 48,000 lbs. Max Length 53 ft. |
Max Width 8.5 ft. | Max Height 11 ft.
Max Weight: 45,000 lbs. | Max Length 29 ft.
| Max Width 8.5 ft. | Max Height 11.5 ft.
Heavy Haulers Pilot Car Services
Are you looking for a reliable pilot car
for your transport?
Get Started
See what you need?
Call us for a FREE Shipping Estimate at (800) 908-6206
HEAVYHAULERS.COM
START YOUR SHIPMENT TODAY!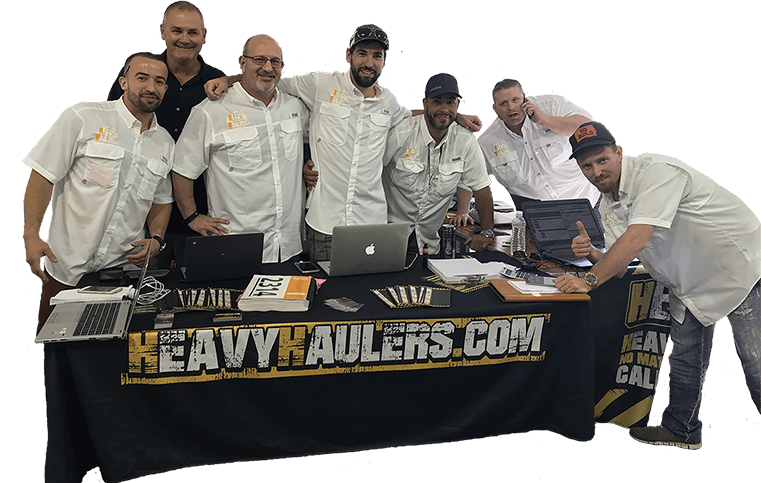 We Are Ready To Help You Haul Your Equipment!
See what you need?
Call us for a FREE Shipping Estimate at (800) 908-6206