Top-Notch Communication Tower Shipping Services
Communication towers are very tall structures that facilitate the efficiency of telecommunication and broadcasting. Sometimes, you might be required to transport these towers to the most interior region, which might pose a challenge. Choosing a professional logistics company such as Heavy Haulers for shipping guarantees you peace of mind as you handle other activities. At Heavy Haulers, we are not intimidated by the size or the weight of your load.
Heavy Haulers have invested in fleets of state-of-the-art towing equipment, with adequate capacity to handle all kinds of loads. They are also professionally maintained and serviced to avoid any cases of breaking down as we ship your communication tower. Even better, our drivers are sufficiently trained and experienced. To that, they are vastly knowledgeable of the best routes to navigate and haul your load without derail. Call now! (800) 908-6206
Contact Our Expert Shipping Specialist's
(800) 908-6206
Professional Communication Tower Transport
When your shipping needs are handled by a professional, such as Heavy Haulers, you should expect nothing short of perfection. At Heavy Haulers, we are on time right from the pickup and loading to shipping and delivery of your communication tower. Do you need your communication tower towed locally to any state of America? Or do you want us to ship it internationally to Canada or Mexico? Whichever the case, let Heavy Haulers ship it for you. You can never go wrong with the towing pros.
A communication tower transmits cellular signals, including television, radio, cellular phones, and wireless internet. Their primary purpose is to strengthen network capacity and coverage, especially in areas, towns, and cities experiencing network hitches. Communication towers are the tallest human-made structures and have been rising in popularity in the past decades. Call now! (800) 908-6206
Common Types of Communication Towers Heavy Haulers Ships
There are numerous types of communication towers to choose from, depending on your project's specific needs. They include:
● Guyed Towers
● Lattice Towers
● Monopole Towers
● Self-Supporting Towers
● Camouflage Towers
● Mobile Cell Towers
How to Ship Your Communication Tower with Heavy Haulers
In most cases, communication towers need installation in the most remote towns and locations, making their towing a nerve-wracking process. However, trusting a company as experienced and knowledgeable as Heavy Haulers will make it smooth and straightforward. Once you get in touch with us, we will offer you the most professional advice and guidelines to transport your communication tower hassle-free. We will also guide you through the various requirements for the successful shipping of your towers across various locations and countries. Moreover, our team of experts will help you with the paperwork to acquire the authorizations required for a successful shipping process. At Heavy Haulers, we will haul your communication tower with convenience and affordability. Let's transport your communication tower now! (800) 908-6206
Looking For Transport
With a Specific Trailer?

Max Weight: 150,000+ lbs. | Main Deck Length 29 ft.
| Well Width 8.5 ft. | Legal Height Limit 11.6 ft.

Max Weight: 48,000 lbs. | Max Length 53 ft.
| Max Width 8.5 ft. | Max Height 8.5 ft.
Max Weight: 48,000 lbs. Max Length 53 ft. |
Max Width 8.5 ft. | Max Height 11 ft.
Max Weight: 45,000 lbs. | Max Length 29 ft.
| Max Width 8.5 ft. | Max Height 11.5 ft.
HEAVYHAULERS.COM
START YOUR SHIPMENT TODAY!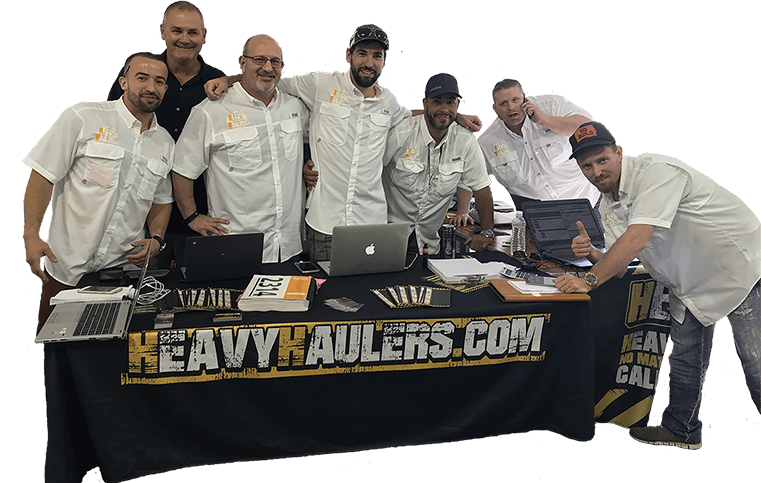 We Are Ready To Help You Haul Your Equipment!
Common Equipment Heavy Haulers Transports
Trust Heavy Haulers to transport any brand of equipment you own. Most of our drivers are experienced heavy-machinery operators who can safely maneuver your loads aboard our trailers. Some of the brands we have shipped include:
See what you need?
Call us for a FREE Shipping Estimate at (800) 908-6206