Top-Quality Yankee Dryer Shipping Services with Heavy Haulers
Moving a Yankee dryer is a process that warrants specialized towing services. A typical MG cylinder, as the machinery is also called, can feature a diameter and width of virtually six meters and eight meters, respectively. Heavy Haulers offers excellent Yankee dryer hauling services throughout the US and its neighbors. We deal with the shipment of oversized and overweight cargo over long distances to the intended delivery area, whether it is located 100 miles or thousands of miles away.
Trust us to tow the cylinder safely. We are an authority shipping company with the financial power to handle any administrative issues and transportation permits to make sure the haul runs smoothly. We have a large inventory of heavy-duty towing trucks and trailers that can efficiently ship the Yankee dryer on both Interstate highways and busy city motorways.
Contact Our Expert Shipping Specialist's
(800) 908-6206
Yankee Dryer Shipping Services You Can Trust at Heavy Haulers
A leading freight and shipping company, Heavy Haulers has been providing unbeatable heavy-equipment moving services for more than ten years. We have invested in every necessary equipment needed for the safe and timely transportation of a Yankee dryer. We have experienced logistics staff who understand everything that needs to be done to ship the load. They are also knowledgeable about heavy equipment delivery matters. They will provide answers to any issues you have. On top of that, we invest in industry-seasoned, heavy trucking drivers who've transported oversized equipment through a plethora of northern routes. Thus, they have the knack of driving on different types of roads and under any weather conditions.
A Yankee dryer is a cast-iron cylinder used in the tissue-making industry. It's a pressure vessel whose purpose is to press and dry the pulp/sheet before it's turned to tissue paper. Heavy Haulers promises to match the load with the appropriate truck and trailer to make sure it is transported efficiently and delivered within the preset time. Call us now for a free shipping estimate! (800) 908-6206
Common Types of Yankee Dryers Heavy Haulers Ship
Paper and tissue manufacturers can choose between two kinds of Yankee drums, depending on the results they want to achieve. They include:
• Smooth/Plain Bore Yankee Dryers

• Grooved/Ribbed Yankee Dryers
How to Ship a Yankee Dryer with Heavy Haulers
A Yankee dryer is quite huge and heavy. It might be as large as 6 m (outside diameter) and can be as heavy as 180 to 200 tons. Such heavy machinery may require a special trailer and handling equipment designed for oversized or very heavy equipment. You may also need special permits for overweight cargo. Step deck or double drop trailer may be sufficient for transporting Yankee dryer. You need to consult with Heavy Hauler's specialists for technical advice and special considerations. We have functioning cargo-handling equipment that can hoist the load and place it on a trailer. We have leverage and weight experts who can aptly place and position the load on the chosen trailer. Because Yankee drums are oversized and wide loads, we will deploy pilot cars to prepare the travel path as well as police escort to make sure it passes through every road-check. Call now! (800) 908-6206
Common Trailer Types Available from Heavy Haulers
Heavy Haulers specializes in hauling heavy loads such as construction equipment, oil field rigging and Super Loads. We are wideload experts! We offer an extensive range of trailer choices, including:
Max Weight: 48,000 lbs. | Max Length 53 ft. | Max Width 8.5 ft. | Max Height 11 ft.




Max Weight: 45,000 lbs. | Max Length 29 ft. | Max Width 8.5 ft. | Max Height 11.5 ft.
Max Weight: 150,000+ lbs. | Main Deck Length 29 ft. | Well Width 8.5 ft. | Legal Height Limit 11.6 ft.




Max Weight: 48,000 lbs. | Max Length 53 ft. | Max Width 8.5 ft. | Max Height 8.5 ft.
See what you need?
Call us for a FREE Shipping Estimate at (800) 908-6206
HEAVYHAULERS.COM
START YOUR SHIPMENT TODAY!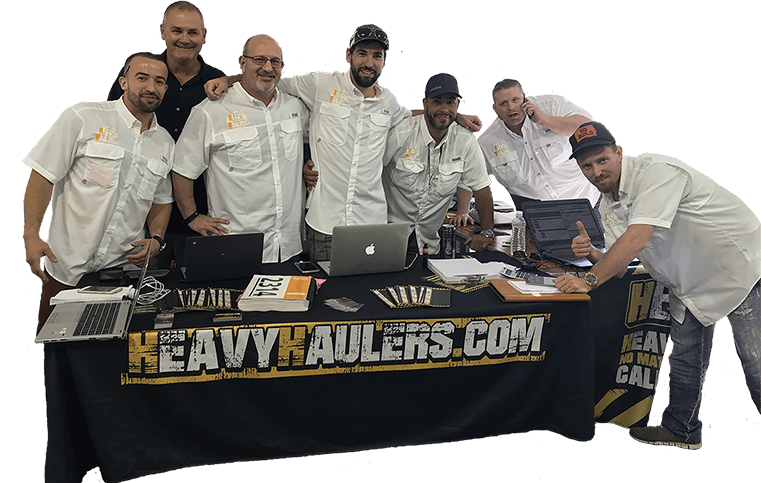 We Are Ready To Help You Haul Your Equipment!
See what you need?
Call us for a FREE Shipping Estimate at (800) 908-6206