Quality Paving Stone Machine Shipping
Whether you are a homeowner of a paving contractor, time is of the essence when it comes to paving works. To ensure that your projects go smoothly, Heavy Haulers promises to deliver your paving materials on time. We are specialized in shipping rubberized bitumen, concrete, and stone.
We are dedicated to offering client-centric solutions that save you time and money. Our logistics specialists are passionate about providing cost-effective and efficient long-distance freight shipping. We have invested in a professional team of insured drivers who know how to keep time. They will be at the pick-up area in time to ensure the cargo gets to its destination at the time we agreed. (800) 908-6206
Contact Our Expert Shipping Specialist's
(800) 908-6206
Insured and Licensed for Quality Paver Transport
Unlike other shipping companies in the US, we don't merely claim to provide trustworthy and satisfactory shipping services. Still, we back them up by comprehensive insurance, licensure, and workers' compensations scheme. Therefore, we can guarantee that your shipment will be safeguarded and secured from the origin site to your intended destination.
A paving stone machine, also known as a paver, produces paving stone for various projects such as landscape. Because we know paving stone machines are essential to your business, Heavy Haulers makes sure to ship them with the utmost professionalism. We deliver your pavers on time, so you can get back to work. Call now! (800) 908-6206
How to Haul Paving Stone Machines with Heavy Haulers
Heavy Haulers transports paving stone machines with the best solutions in the business. Based on the size, weight, and location, we provide the best truck, driver, and trailer to get it moving. We take every detail into account, so you can be confident in our shipping services. Whether you're hauling a paver across the country, or shipping it overseas, we're here to handle it with care. Call now! (800) 908-6206
Concrete Pavers
Concrete pavers are formed by combining cement and aggregate stone or gravel. It is a paving structure formed by a vibration process meant to mix two materials that have different densities. Color can be added to the mix to add an attractive character to it, before being molded into various shapes and sizes.
Paver Stones
Also referred to as "paving stones," paver stones are hard paving materials used in the construction of flat pavements. They are available in different sized and interlocking shapes that eliminate the need to use grout. Common examples include cobblestone, travertine, and bluestone.
Rubber Pavers
As the name suggests, these pavers are made of rubber, making them highly slip-resistant and low maintenance. Other advantages of rubber pavers are that they are affordable, environmentally-friendly, and a long-lasting option. They provide an ideal paving option for the patio, pool decks, and other water-prone pavements.
Looking For Transport
With a Specific Trailer?

Max Weight: 150,000+ lbs. | Main Deck Length 29 ft.
| Well Width 8.5 ft. | Legal Height Limit 11.6 ft.

Max Weight: 48,000 lbs. | Max Length 53 ft.
| Max Width 8.5 ft. | Max Height 8.5 ft.
Max Weight: 48,000 lbs. Max Length 53 ft. |
Max Width 8.5 ft. | Max Height 11 ft.
Max Weight: 45,000 lbs. | Max Length 29 ft.
| Max Width 8.5 ft. | Max Height 11.5 ft.
HEAVYHAULERS.COM
START YOUR SHIPMENT TODAY!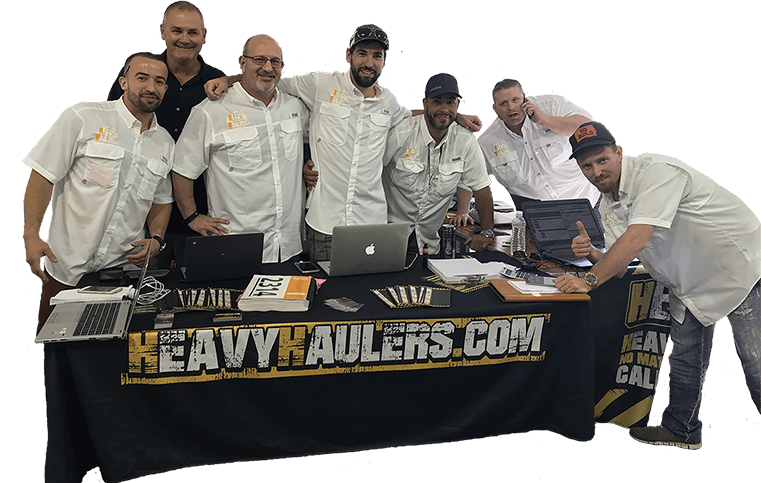 We Are Ready To Help You Haul Your Equipment!
Common Equipment Heavy Haulers Transports
Trust Heavy Haulers to transport any brand of equipment you own. Most of our drivers are experienced heavy-machinery operators who can safely maneuver your loads aboard our trailers. Some of the brands we have shipped include:
See what you need?
Call us for a FREE Shipping Estimate at (800) 908-6206