Domestic and International Surface Grinder Transport
Any manufacturer understands the importance of achieving excellence in surface grinding. While selecting and purchasing the right surface grinder are critical for that, having the piece of machinery transported safely to your factory is equally essential. Heavy Haulers is your trustworthy companion, providing stand-alone surface grinder shipping services to a variety of industrialists across the US. Take advantage of our 10-year industry experience and experience shipment services at another level.
We've continued to bolster our logistics systems over the years. We research and test emerging trends in the industry to ensure that we provide nothing but consumer-oriented shipping services. We match that with quality transportation solutions that combine super-power trucks and trailer systems of all types. With that said, you can be sure that Heavy Haulers will safely haul a surface grinder, regardless of its design, weight, size, and delivery location.
Contact Our Expert Shipping Specialist's
(800) 908-6206
Transporting a Surface Grinder with You in Mind with Heavy Haulers
Making our customers happy is what we aim. We have different branches in every state, giving you access to Heavy Haulers' tip-top right in your locality. Our company representatives are equipped with the appropriate technological systems, tools, and equipment to ensure we handle the piece of equipment with the utmost care before it gets on the road. It does not matter whether you have special requests or needs. Our flexibility in service rendering makes us able to customize our freight solutions to meet your expectations. Furthermore, we will work diligently to achieve a reasonable price without selling any lowball offers.
A surface grinder is a piece of machinery used to give a flat workpiece precision evenness. Surface grinding is an abrasive process that uses a rotating, rugged wheel that scrapes off metallic and other particles from a surface. At Heavy Haulers, we promise to tow the equipment and deliver it in one piece to make your manufacturing pursuits a success.
Common Types of Surface Grinders with Heavy Haulers
The available surface grinders in the market differ from one another in design, rigidity, and construction. Depending on the application, manufacturers can choose from one of the following types.
• Horizontal Spindle/Reciprocating Grinders
• Vertical Spindle/Reciprocating Grinders

• Horizontal Spindle/Rotary Grinders
• Vertical Spindle/Rotary Grinders
How to Ship a Surface Grinder with Heavy Haulers
For most heavy equipment hauling needs, a simple flatbed trailer should be adequate to do the job. Flatbeds are more popular as they come in different sizes and capacities. They are also versatile, and loading/unloading cargo on a flatbed is relatively easy. However, before choosing a flatbed for your surface grinder delivery, consult with a professional transporter and confirm that the available truck is powerful enough to handle the weight of the surface grinder. You can get your surface grinder shipped by us by following simple steps. You only need to pick a phone and answer a few questions regarding the shipment. You are also free to articulate any special requirements or requests you have, and we will most definitely address them. Heavy Haulers maintains clear communication channels with our clients, helping you to track the load while in transit. Our agent will work with you from dispatch to delivery. Call now! (800) 908-6206
Heavy Haulers Ships Across All 50 States
Alabama - Alaska - Arizona - Arkansas - California - Colorado - Connecticut - Delaware - Florida - Georgia - Hawaii - Idaho - Illinois - Indiana - Iowa - Kansas - Kentucky - Louisiana - Maine - Maryland - Massachusetts - Michigan - Minnesota - Mississippi - Missouri - Montana - Nebraska - Nevada - New Hampshire - New Jersey - New Mexico - New York - North Carolina - North Dakota - Ohio - Oklahoma - Oregon - Pennsylvania - Rhode Island - South Carolina - South Dakota - Tennessee - Texas - Utah - Vermont - Virginia - Washington - West Virginia - Wisconsin - Wyoming
Looking For Transport
With a Specific Trailer?

Max Weight: 150,000+ lbs. | Main Deck Length 29 ft.
| Well Width 8.5 ft. | Legal Height Limit 11.6 ft.

Max Weight: 48,000 lbs. | Max Length 53 ft.
| Max Width 8.5 ft. | Max Height 8.5 ft.
Max Weight: 48,000 lbs. Max Length 53 ft. |
Max Width 8.5 ft. | Max Height 11 ft.
Max Weight: 45,000 lbs. | Max Length 29 ft.
| Max Width 8.5 ft. | Max Height 11.5 ft.
Heavy Haulers Pilot Car Services
Are you looking for a reliable pilot car
for your transport?
Get Started
See what you need?
Call us for a FREE Shipping Estimate at (800) 908-6206
HEAVYHAULERS.COM
START YOUR SHIPMENT TODAY!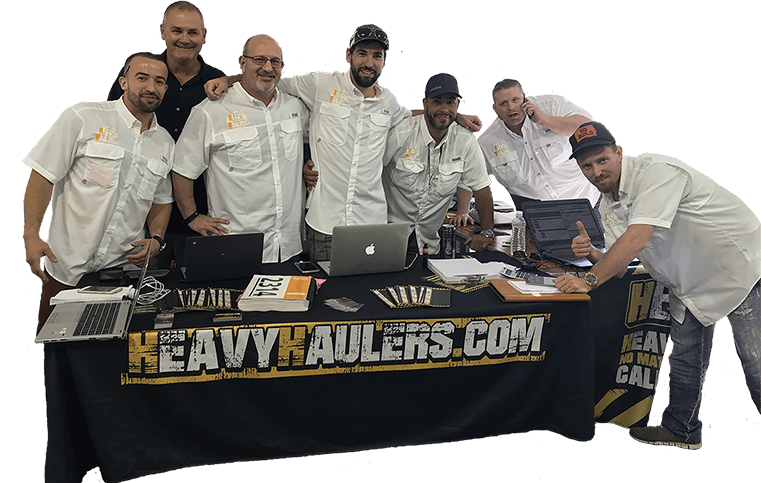 We Are Ready To Help You Haul Your Equipment!
See what you need?
Call us for a FREE Shipping Estimate at (800) 908-6206