Get Optical Sorting Machine Shipping Services That Meet All Your Needs
Heavy Haulers is willing to ship your optical shipping machine upon your request. We have a reliable team of logistics and dispatch situated in all parts of North America, Canada, and Mexico. We will ensure that we come up with a comprehensive moving plan for your optical sorting machine regardless of the heavy equipment's size, or brand. Heavy Haulers will also offer the much-needed insurance to ensure that your optical sorting machine is covered during transit.
Fortunately, Heavy Haulers operates daily, and you can contact us on any day you want us to ship your optical sorting machine. It makes us not only flexible but also reliable. The shipping will happen as per the agreed schedule, and you can contact us for cargo tracking services while we make our way to the destination. Let's get started! (800) 908-6206.
Contact Our Expert Shipping Specialist's
(800) 908-6206
The Best Optical Sorting Machine Transport
An optical sorting machine is heavy equipment that is used in the process of sorting various solid products using lasers or cameras. Different optical sorting machines are equipped with varied types of sensors and software to accurately identify the size, color, shape, chemical as well as structural properties of the objects being sorted. Optical sorting machines are used in many industries, which include food, pharmaceutical, and nutraceutical.
Heavy Haulers comes with highly-skilled experts to handle your optical sorting machine properly during shipping, and deliver the equipment undamaged. Our ten years of experience have enabled us to gather all the necessary resources to satisfy your varied needs, including trucks, trailers, and tools to carefully load and transport your cargo at a pocket-friendly rate. Whatever you need, we'll find the shipping solution. Call today! (800) 908-6206.
Common Types of Optical Sorting Machines Heavy Haulers Ships
● Picvisa Machine Vision Systems, S.L Optical Sorting Machines,
● R J Herbert Engineering Limited Optical Sorting Machines,
● Hefei Baite Optoelectronic Technology Co. Ltd Optical Sorting Machines,
How to Ship an Optical Sorting Machine with Heavy Haulers
Heavy Haulers will make sure that the shipping of your optical sorting machine goes smoothly. Our operators will prepare the heavy equipment and ensure that all the components are in great condition before the trip starts. Additionally, we shall load it into one of our quality trucks and secure it well so that it doesn't keep sliding while in transit. To avoid any delays that could be led by clashes with the authorities, we will adhere to all the traffic rules and regulations in your state. Our logistics experts are also going to secure insurance, and all the permits needed to be on the road with your heavy piece of machinery. Call now for a free shipping estimate! (800) 908-6206.
Looking For Transport
With a Specific Trailer?

Max Weight: 150,000+ lbs. | Main Deck Length 29 ft.
| Well Width 8.5 ft. | Legal Height Limit 11.6 ft.

Max Weight: 48,000 lbs. | Max Length 53 ft.
| Max Width 8.5 ft. | Max Height 8.5 ft.
Max Weight: 48,000 lbs. Max Length 53 ft. |
Max Width 8.5 ft. | Max Height 11 ft.
Max Weight: 45,000 lbs. | Max Length 29 ft.
| Max Width 8.5 ft. | Max Height 11.5 ft.
HEAVYHAULERS.COM
START YOUR SHIPMENT TODAY!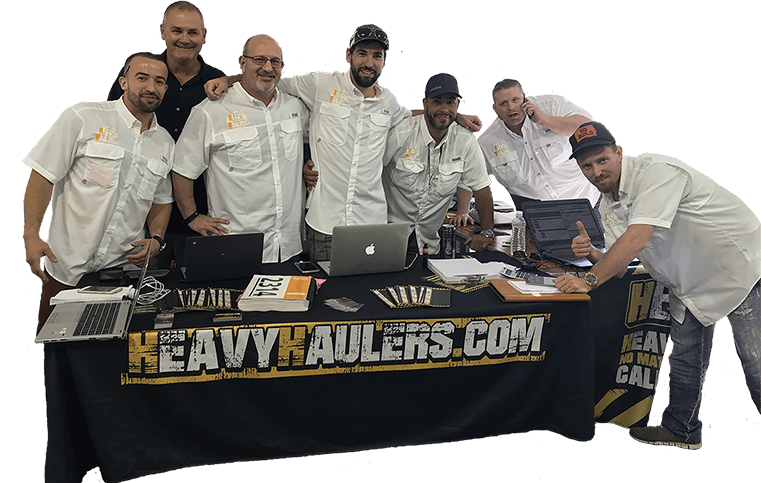 We Are Ready To Help You Haul Your Equipment!
Common Equipment Heavy Haulers Transports
Trust Heavy Haulers to transport any brand of equipment you own. Most of our drivers are experienced heavy-machinery operators who can safely maneuver your loads aboard our trailers. Some of the brands we have shipped include:
See what you need?
Call us for a FREE Shipping Estimate at (800) 908-6206