Your Go-To Local and International Belt Dryer Shipping Company
Heavy Haulers is the company you should rely on when you need to haul your belt dryer locally or to another location in Mexico, Canada and the entire North America. For maximum efficiency, Heavy Haulers has operators in all the states, and we are always prepared to serve you. As soon as you get in touch with us, we will discuss your needs, and make an efficient plan to move your belt dryer across your small, local town, or to another state upon your request.
Heavy Haulers understands why it is essential to protect your cargo during shipping. It is why we go out of our way to get reliable insurance coverage to help you bear any losses in the event that your belt dryer is damaged during transit. Our customer service agents are available on our website's live chat facility, and you can talk to us when you need more details about our belt dryer moving services. Call now! (800) 908-6206.
Contact Our Expert Shipping Specialist's
(800) 908-6206
Quick and Easy Belt Dryer Transport Services with Heavy Haulers
A belt dryer is a type of apparatus that comes in handy when one needs to continually dry and cool pellets, wood chips, pastes, panels and molded compounds using flue gas, inert gas or air. When it comes to using a belt dryer, there are two ventilation options. The air using to dry the products can either flow over or through the wood chips, or pellets. A belt dryer is used in a variety of industries, including anaerobic digestate, pelleting, pharmaceutical industry, as well as plastic and biomass industries.
When you want to move your belt dryer, consider hiring Heavy Haulers. Being maximally efficient when shipping your belt dryer is always our top goal. Our professionals, who have undergone many years of training, will create an effective hauling plan, considering factors like your deadline, and the safest methods to transport your shipment. Call for a free shipping estimate! (800) 908-6206.
Common Types of Belt Dryers Heavy Haulers Ships
● Multi-Stage Dryer
● Multi-Level Dryer
How to Ship a Belt Dryer with Heavy Haulers
Heavy Haulers can comfortably haul your belt dryer, no matter its type, size or brand. We have different specialized trucks, and we will match your cargo with the best one to guarantee safe and punctual delivery. On top of that, we will get all the necessary equipment necessary to secure your load to the truck for smooth shipping.
When shipping your belt dryer, Heavy Haulers also plans the ideal routes to use; avoiding roadblocks and rough terrains at all costs. Besides, we adhere to all the traffic rules in your state to ensure that there will be no delays due to collisions with your area's local authorities. Let's get started! (800) 908-6206
Looking For Transport
With a Specific Trailer?

Max Weight: 150,000+ lbs. | Main Deck Length 29 ft.
| Well Width 8.5 ft. | Legal Height Limit 11.6 ft.

Max Weight: 48,000 lbs. | Max Length 53 ft.
| Max Width 8.5 ft. | Max Height 8.5 ft.
Max Weight: 48,000 lbs. Max Length 53 ft. |
Max Width 8.5 ft. | Max Height 11 ft.
Max Weight: 45,000 lbs. | Max Length 29 ft.
| Max Width 8.5 ft. | Max Height 11.5 ft.
HEAVYHAULERS.COM
START YOUR SHIPMENT TODAY!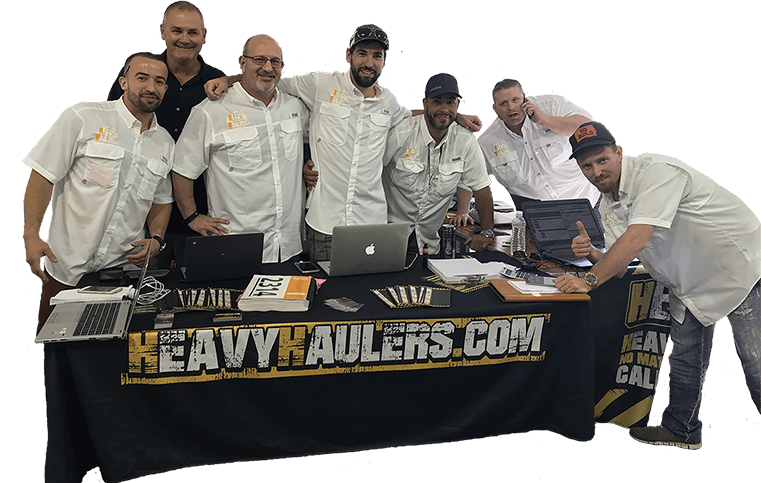 We Are Ready To Help You Haul Your Equipment!
Common Equipment Heavy Haulers Transports
Trust Heavy Haulers to transport any brand of equipment you own. Most of our drivers are experienced heavy-machinery operators who can safely maneuver your loads aboard our trailers. Some of the brands we have shipped include:
See what you need?
Call us for a FREE Shipping Estimate at (800) 908-6206