Reliable Residential Cargo Lift Transport
Heavy Haulers offers cost-efficient, reliable transport of industrial, commercial, and residential heavy, oversize, and overload equipment. We are highly-rated professionals in arranging, on-time shipping of large machinery and equipment. We have multiple reliable truckers with standard insurance coverage, proven capability, and advanced transportation safety practices. With us, you will get access to the market's most contemporary fleets of heavy hauling machinery such as step-deck, double-drop, flatbed, multi-axle, dolly system, boundary beam frame and SPMT (self-propelled Modular transport),
We give responsive consideration to all transit details like customs, project management, permitting, and arranging escort vehicles. Heavy Haulers also provides door-to-door towing across Mexico, Canada, and the U.S., Our logicians, will liaise with your team to deliver comprehensive shipment plans from pick-up to delivery. We also provide emergency shipping for mission-critical assets and equipment. Call now! (800) 908-6206
Contact Our Expert Shipping Specialist's
(800) 908-6206
National and International Residential Cargo Lift Shipping
We handle the international shipment of heavy equipment such as concrete mixers, dump trucks, excavators, motor graders, residential cargo lifts, scrapers, water trucks, and much more. We perform heavy hauling from all inland origins in the U.S to any nearby port. We'll arrange inland towing with insured, experienced drivers and include all heavy machinery shipping quotes such as the cost of escorts and permits. We can transport residential cargo lifts from any U.S port, including Baltimore, Charleston, Savannah, Houston, Long Beach, Tacoma, New York, Seattle, Charleston, and Oakland.
One of the easiest and affordable shipping methods for your residential cargo lifts is using the roll-on/roll-off service. Ro/Ro shipping services will charge you based on the size of your unit. Detaching and sending your cargo lifts overseas is also another cost-effective option. Detaching residential cargo lifts to fit a 40-inch Open Top or 40-inch HC saves you money and enables you to ship the unit to various destinations across the planet. Another option for shipping a residential cargo lift is loading it on the flat rack or using a breakbulk service. Let's get started! (800) 908-6206
Common Types of Residential Cargo Lifts We Ship
Residential cargo lifts are equipment for lifting goods vertically in a secure manner. There are various types of residential lifts:
● Small Items Lifts
● Kitchen Lifts
● Service Lifts
● Storage Lifts
How to Ship Residential Cargo Lifts with Heavy Haulers
We provide heavy machinery transport to patrons within the continental U.S and beyond. Our vast network of professional carriers enables us to satisfy various customer requirements. We have the technical know-how and expertise required to provide top-tier logistics services that meet your residential cargo lifts' moving needs.
Our specialized vehicles have GPS monitors that update you about your cargo lifts' location details and destination arrival. We assign roles to our personnel, such as spotters, to offer hand signals and drivers taking the cargo to the deck. We'll inspect our vehicles to ensure they have the appropriate loading capacities and clean the trailer for good traction when loading and off-loading. Let's get started! (800) 908-6206
HEAVYHAULERS.COM
START YOUR SHIPMENT TODAY!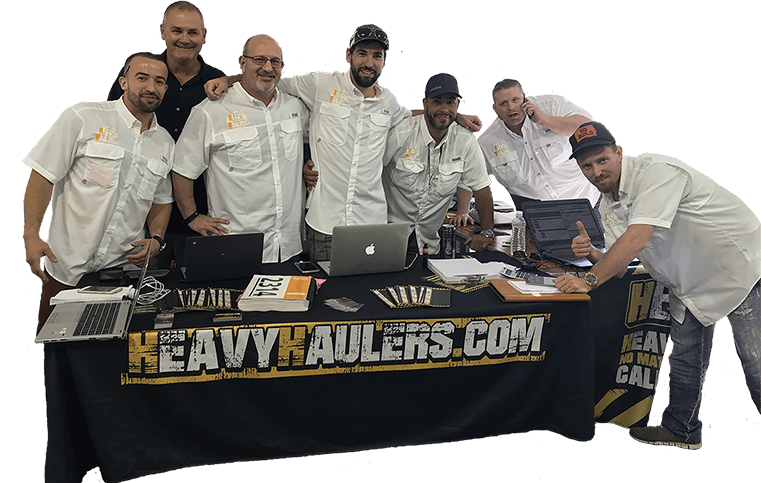 We Are Ready To Help You Haul Your Equipment!
Heavy Haulers Ships Across All 50 States
Alabama - Alaska - Arizona - Arkansas - California - Colorado - Connecticut - Delaware - Florida - Georgia - Hawaii - Idaho - Illinois - Indiana - Iowa - Kansas - Kentucky - Louisiana - Maine - Maryland - Massachusetts - Michigan - Minnesota - Mississippi - Missouri - Montana - Nebraska - Nevada - New Hampshire - New Jersey - New Mexico - New York - North Carolina - North Dakota - Ohio - Oklahoma - Oregon - Pennsylvania - Rhode Island - South Carolina - South Dakota - Tennessee - Texas - Utah - Vermont - Virginia - Washington - West Virginia - Wisconsin - Wyoming
Looking For Transport
With a Specific Trailer?

Max Weight: 150,000+ lbs. | Main Deck Length 29 ft.
| Well Width 8.5 ft. | Legal Height Limit 11.6 ft.

Max Weight: 48,000 lbs. | Max Length 53 ft.
| Max Width 8.5 ft. | Max Height 8.5 ft.
Max Weight: 48,000 lbs. Max Length 53 ft. |
Max Width 8.5 ft. | Max Height 11 ft.
Max Weight: 45,000 lbs. | Max Length 29 ft.
| Max Width 8.5 ft. | Max Height 11.5 ft.
Heavy Haulers Pilot Car Services
Are you looking for a reliable pilot car
for your transport?
Get Started
See what you need?
Call us for a FREE Shipping Estimate at (800) 908-6206