Your Trusted Partner for Shipping an Industrial Press Brake
Industrial-grade press brake machines come in all sizes and designs. While the relatively smaller types weigh about 6 tons, other oversized metal-press rigs have a mass of up to 300 tons. Moving the equipment may pose a challenge if you lack the power machines and trailers to handle heavy equipment like an industrial press brake. Heavy Hauler, established in 2006, is here to help you ship an industrial press brake to whichever delivery location. We are specialized in moving heavy equipment across the country and to other international destinations like Canada, Mexico, and beyond.
At Heavy Haulers, we value you and your equipment. That is the reason it is our mission to transport the cargo securely and safely. We promise to pick up the press brake machine, load it carefully on a capable trailer and have it towed to the intended receiving area on time. Call us for a free shipping estimate! (800) 908-6206
Contact Our Expert Shipping Specialist's
(800) 908-6206
Unbeatable Industrial Press Brake Hauling Services at Heavy Haulers
Once you get in touch with one of our professional logistics agents, you will be greeted warmly and asked questions regarding the specifications of the shipment. They are knowledgeable and experienced individuals who will clarify any matters of concern you may have. It doesn't matter whether you've exported the machinery, we will arrange for safe warehousing services as it awaits haulage. Additionally, we can arrange for pilot cars and a police escort to accompany the load to its final drop-off point safely.
An industrial press brake machine is used for bending a sheet or plate material. Industrialists mostly use them to form predetermined curves and bends on the workpiece by clamping the sheet between a matching punch and die. The machine features mechanical, electrical, and hydraulic parts, as well as a CNC controller. Transporting press brake equipment means taking care of each of these components during loading, transportation, and offloading of the piece of machinery. Heavy Haulers provides excellent transport services and on time delivery. Call now and let's get started! (800) 908-6206
Common Types of Industrial Press Brakes Heavy Haulers Ship
Industrial-level press brake machines are categorized depending on the bending force of their working mechanism. The main types are:
● Mechanical Press Brakes
● Hydraulic Press Brakes
● Pneumatic Press Brakes
● Servo-Electric Press Brakes
How to Transport an Industrial Press Brake with Heavy Haulers
If you'd like to let us undertake the towing of your industrial press brake, we are just a phone call away. Our representatives will organize for safe loading using cranes. We have a long list of trailers, from 5-axle to 18-axle trailers and anything in between. Our trained drivers are experienced in towing under all sorts of roads and weather conditions. Therefore, you can rest assured that the long-haul, wheeled transport will be successfully done. Talk to one of our agents today on (800) 908-6206, and we will be more than glad to be of solution.
Common Trailer Types Available from Heavy Haulers
Heavy Haulers specializes in hauling heavy loads such as construction equipment, oil field rigging and Super Loads. We are wideload experts! We offer an extensive range of trailer choices, including:
Max Weight: 48,000 lbs. | Max Length 53 ft. | Max Width 8.5 ft. | Max Height 11 ft.




Max Weight: 45,000 lbs. | Max Length 29 ft. | Max Width 8.5 ft. | Max Height 11.5 ft.
Max Weight: 150,000+ lbs. | Main Deck Length 29 ft. | Well Width 8.5 ft. | Legal Height Limit 11.6 ft.




Max Weight: 48,000 lbs. | Max Length 53 ft. | Max Width 8.5 ft. | Max Height 8.5 ft.
See what you need?
Call us for a FREE Shipping Estimate at (800) 908-6206
HEAVYHAULERS.COM
START YOUR SHIPMENT TODAY!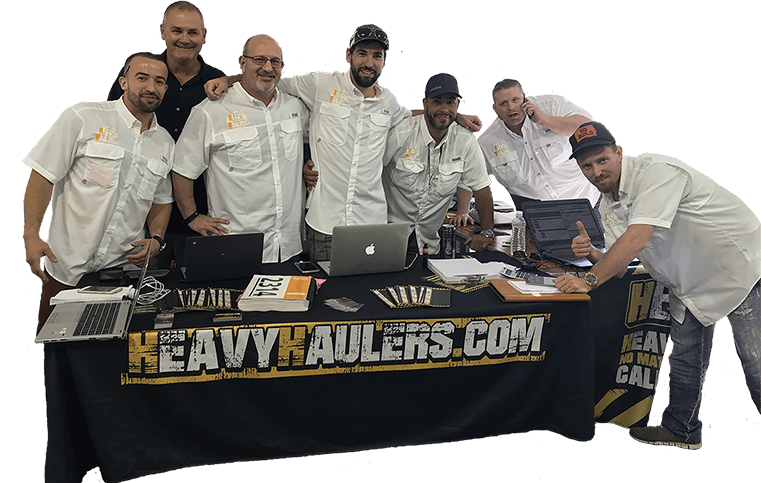 We Are Ready To Help You Haul Your Equipment!
See what you need?
Call us for a FREE Shipping Estimate at (800) 908-6206