Dryer Shipping Services You Can Rely On
Dryers feature all kinds of shapes and sizes. Domestic dryers feature relatively standard and minimalistic designs compared to their industrial counterparts. Shipping industrial-sized dryers require proper planning and use of project-specific rigs, equipment, and tools. Heavy Haulers is a nationally acclaimed heavy-cargo shipping company with over ten years of experience shipping oversized and over-dimensional loads, including toll gantries, thermochemical gas tanks, and concrete beams. Therefore, you can trust us to safely haul your dryer, whether it's a move within your city or a cross-country haulage covering thousands of miles.
Heavy Haulers understands that even with every system in place, everything crushes if there's a weak link to the chain. Thus, we'll carefully handle every step of the planning process to ensure that the shipment goes smoothly. That involves having reliable communications between our pilot crew and the transport driver, assessing road conditions, emergency response, and any utility line or bridges that might interfere with the haulage. Apart from maintaining clear communications, we also leverage the latest technology to automate part of our logistics services for efficient service delivery. Thus, you can trust to offer comprehensive and satisfactory dryer shipping solutions. Call now for a free dryer shipping quote! (800) 908-6206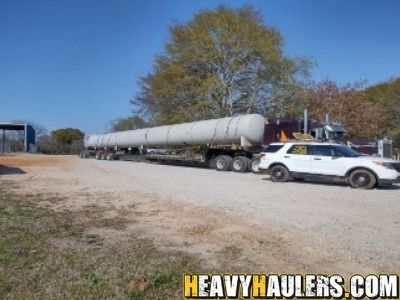 Contact Our Expert
Shipping Specialists
(800) 908-6206
Track Your Load with Our Transparent Dryer Hauling Solutions
An industrial dryer is used in processing bulk products that require a reduced level of moisture. They come in different sizes and models, depending on the nature of the product and the quantity that needs processing at a given time. Heavy Haulers offers you effective and efficient cargo tracking solutions to allow you to get timely updates on the location of your in-transit dryer. Through our GPS systems, we keep track of the load's progress on the road. We also maintain open communication channels, and you can contact our client helpdesk from 7 am to 4 pm to get feedback on the whereabouts of your load.
At Heavy Haulers, we know that your cargo's safety is highly hinged on the driver we choose to tow the load. That's why we only work with trained, certified, and experienced trucking drivers who are skilled in maneuvering sharp corners and tight spaces under bridges. They've also plied northern routes for years and can safely transport your dryer under any weather condition. Moreover, they are licensed trucking drivers. Therefore, they will transport your cargo, adjusting the speed whenever necessary to ensure your cargo is not damaged in any way while in transit. Call for a free transport quote today! (800) 908-6206
Common Types of Dryers We Ship
• Industrial Dryers
• Tray Dryers
• Rotary Dryers
• Tunnel Dryers
• Fluidized Bed Dryers
• Steam Tube Dryers
• Flash Dryers
• Pneumatic Dryers

• Roller/Cylinder/Drum Dryers
• Vacuum Dryers
• Bin Dryers
• Freeze Dryers
• Spray Dryers
• Belt Dryers
• Trough Dryers, etc.
How to Transport a Dryer with Heavy Haulers
Industrial dryers come in different sizes and lengths. The equipment consists of long, cylindrical parts, usually with a flat supporting base, consisting of rotating cogs that facilitate the rotational movement. We typically tow such cargoes on a flatbed trailer. Our weight and leverage professionals will supervise the loading process, which usually utilizes cranes. Once we position the load correctly, we'll couple the trailer with a power cab, and a licensed, insured, and seasoned driver will take over the transportation to your intended destination. Call now and let's get your dryer on the road! (800) 908-6206
Heavy Haulers Ships Across All 50 States
Alabama - Alaska - Arizona - Arkansas - California - Colorado - Connecticut - Delaware - Florida - Georgia - Hawaii - Idaho - Illinois - Indiana - Iowa - Kansas - Kentucky - Louisiana - Maine - Maryland - Massachusetts - Michigan - Minnesota - Mississippi - Missouri - Montana - Nebraska - Nevada - New Hampshire - New Jersey - New Mexico - New York - North Carolina - North Dakota - Ohio - Oklahoma - Oregon - Pennsylvania - Rhode Island - South Carolina - South Dakota - Tennessee - Texas - Utah - Vermont - Virginia - Washington - West Virginia - Wisconsin - Wyoming
Looking For Transport
With a Specific Trailer?

Max Weight: 150,000+ lbs. | Main Deck Length 29 ft.
| Well Width 8.5 ft. | Legal Height Limit 11.6 ft.

Max Weight: 48,000 lbs. | Max Length 53 ft.
| Max Width 8.5 ft. | Max Height 8.5 ft.
Max Weight: 48,000 lbs. Max Length 53 ft. |
Max Width 8.5 ft. | Max Height 11 ft.
Max Weight: 45,000 lbs. | Max Length 29 ft.
| Max Width 8.5 ft. | Max Height 11.5 ft.
Heavy Haulers Pilot Car Services
Are you looking for a reliable pilot car
for your transport?
Get Started
HEAVYHAULERS.COM
START YOUR SHIPMENT TODAY!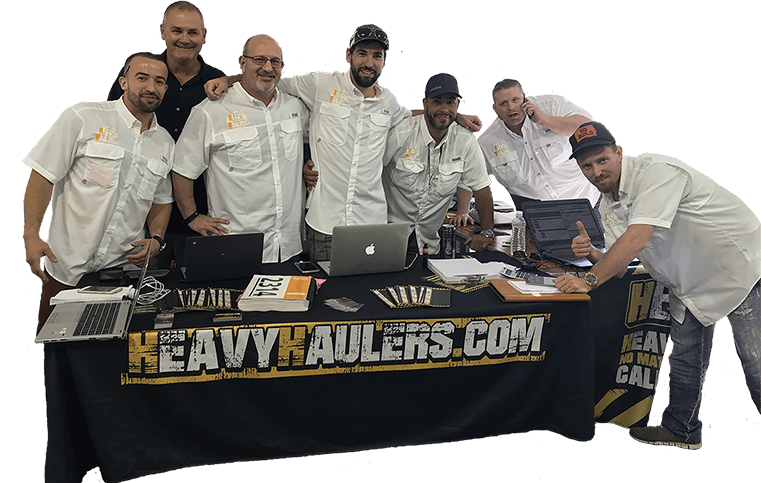 We Are Ready To Help You Haul Your Equipment!
See what you need?
Call us for a FREE Shipping Estimate at (800) 908-6206