Industrial Transformer On Time Delivery
Our transformer shipping organizers maintain close relations with haulers throughout the U.S. to provide efficient industrial transformer transport on a national scale. Through our industrial transformer transport shipping service, you can keep track of your shipment during every stage of its journey. We supply load tracking and GPS updates that can be configured as often as you need them so that you can plan effectively around your industrial transformer shipping requirement.
Whether you need us to haul one industrial transformer or several, we offer consistent, reliable industrial transformer shipping services across the entire United States. It doesn't matter to us if it's a 30-tonne transformer or if it weighs 300 tonnes, you can trust us to provide safe and secure transportation. Every transformer shipping service hauler that we assign to your shipment is fully insured and qualified to handle your industrial transformer hauling request. Call now! (800) 908-6206
Contact Our Expert Shipping Specialist's
(800) 908-6206
Custom Shipping Solutions for Your Industrial Transformer
Moving large transformers and generators does not have to mean a complex transformer hauling process. When you partner with the Heavy Haulers transformer shipping company, our professionals will take care of everything from route planning to transportation, including sourcing the correct trailer type, securing the load, and transporting your transformer where it needs to go. Due to their weight, cranes are often used to load and offload transformers onto specialized railway platforms, trucks, or trailers. If you don't have loading equipment onsite, we'll bring the resources to secure the load for you safely.
There are a variety of industrial transformer types used in electrical power systems for generation, distribution, utilization, or transmission of electrical current. Industrial transformers are used in multiple industrial settings to control the voltage supply to circuit motors, servo drivers, and other machinery. Industrial transformers are typically constructed from premium-grade materials, including terminal blocks and copper wiring wound in coils that transfer current between multiple circuits.
How to Ship an Industrial Transformer with Heavy Haulers
For us to haul an industrial transformer for you, you'll need to provide us with your shipping origin and destination, the transformer's size and weight, and the desired timescale. We'll assess your industrial transformer shipping requirements, and provide an accurate, comprehensive quote for our transformer shipping transport service. We'll supply specialized, enclosed carriers built to handle your industrial transformers size and weight, and door-to-door service. An industrial transformer can be shipped overland in rail cars or on truckbeds; we can coordinate industrial transformer shipments of every type. Call now for more information! (800) 908-6206
Common Trailer Types Available from Heavy Haulers
Heavy Haulers specializes in hauling heavy loads such as construction equipment, oil field rigging and Super Loads. We are wideload experts! We offer an extensive range of trailer choices, including:
Max Weight: 48,000 lbs. | Max Length 53 ft. | Max Width 8.5 ft. | Max Height 11 ft.




Max Weight: 45,000 lbs. | Max Length 29 ft. | Max Width 8.5 ft. | Max Height 11.5 ft.
Max Weight: 150,000+ lbs. | Main Deck Length 29 ft. | Well Width 8.5 ft. | Legal Height Limit 11.6 ft.




Max Weight: 48,000 lbs. | Max Length 53 ft. | Max Width 8.5 ft. | Max Height 8.5 ft.
HEAVYHAULERS.COM
START YOUR SHIPMENT TODAY!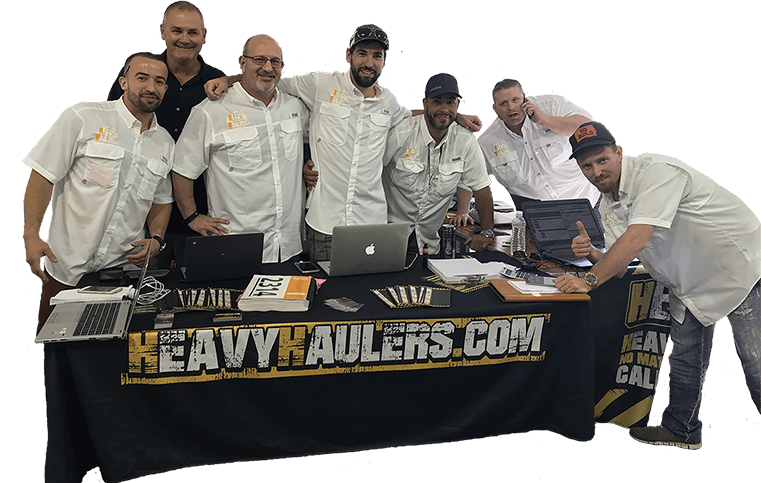 We Are Ready To Help You Haul Your Equipment!