Heavy Haulers' Injection Mold Machine Shipping Services
Sourcing the right flatbeds and specialized trailers, planning the safest and fastest route, and trying to coordinate injection mold machine hauling by yourself is a thing of the past with Heavy Haulers. We can handle every aspect of injection mold machine shipping, from initial estimates, route planning, and scheduling, to safe transit and unloading at the end destination. For additional peace of mind, we provide load tracking so that when you use our injection mold machine shipping services, you can track your machine's progress and plan accordingly.
Heavy Haulers injection mold machine transport is available on flatbeds, RGNs, and other types of trailers, especially suited to heavy-duty, oversized transport. We don't just provide the trucks and vans when you book our injection mold machine transport service. We connect you with local, experienced drivers who are backed by a knowledgeable office team that can document your injection mold machine shipping service request correctly, as well as handle any legal requirements associated with injection mold machine shipping.
Contact Our Expert Shipping Specialist's
(800) 908-6206
Efficient Injection Mold Machine Shipping Transport
We've spent years honing our team's skills to handle all types of injection mold machine transport requests. We know that deadlines are important, and we'll stick to ours so that you can stick to yours. We can help you to avoid costly downtime in your business and organize the safe shipping of a variety of injection mold machines. Whether you're loaning your device to someone across the city, looking to haul a new injection mold machine across the country, or shipping a used injection mold machine to its new owner, you'll get the same quick delivery options.
Injection mold machines, also known as injection presses, are used for manufacturing a wide variety of plastic products using the injection mold process. These machines consist of two main parts, the injection unit, and the clamp unit. Powered by hydraulic, mechanical, or electric means, each injection mold unit is comprised of a screw motor drive, reciprocating screw, and barrel, plus heaters, thermocouple, and a ring plunger. Due to the number of moving parts and oversized dimensions, it's crucial to find an injection mold machine transport company you can trust to deliver your machine. We've got years of experience providing injection mold machine shipping transport services and an excellent reputation to boot.
Common Types of Injection Mold Machine:
● Hydraulic Injection Mold Machine
● Mechanical Injection Mold Machine
● Electric Injection Mold Machine
● Low-pressure Injection Mold Machine
● Multi-material Injection Mold Machine
● Hybrid Injection Mold Machine
How to Ship an Injection Mold Machine
Shipping an injection mold machine requires careful planning and the correct equipment to load and transport the machine safely. To make sure this process goes as smoothly as possible, you'll need to choose an injection mold machine shipping company with an excellent reputation, vast transport fleet, and professional haulers. Contact us for a quote, and we'll swiftly assess your injection mold machine haulage requirements. You can utilize the Heavy Haulers oversized injection mold machine shipping network to ship anywhere inside and outside of the US. Call now for a free shipping quote! (800) 908-6206
Common Trailer Types Available from Heavy Haulers
Heavy Haulers specializes in hauling heavy loads such as construction equipment, oil field rigging and Super Loads. We are wideload experts! We offer an extensive range of trailer choices, including:
Max Weight: 48,000 lbs. | Max Length 53 ft. | Max Width 8.5 ft. | Max Height 11 ft.




Max Weight: 45,000 lbs. | Max Length 29 ft. | Max Width 8.5 ft. | Max Height 11.5 ft.
Max Weight: 150,000+ lbs. | Main Deck Length 29 ft. | Well Width 8.5 ft. | Legal Height Limit 11.6 ft.




Max Weight: 48,000 lbs. | Max Length 53 ft. | Max Width 8.5 ft. | Max Height 8.5 ft.
HEAVYHAULERS.COM
START YOUR SHIPMENT TODAY!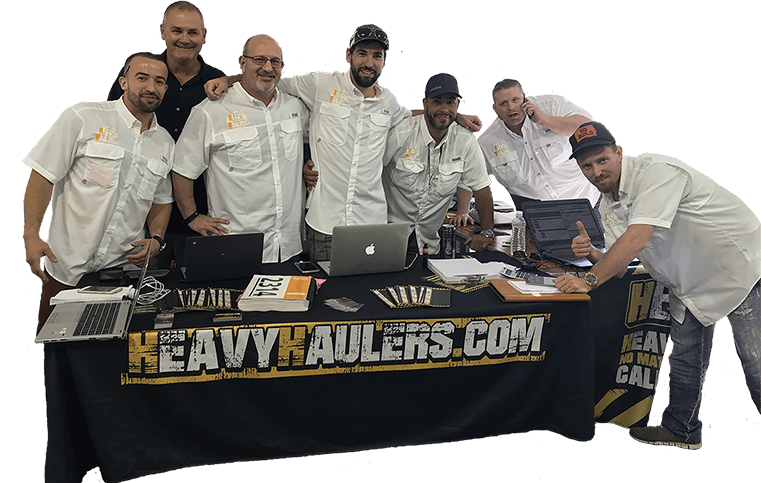 We Are Ready To Help You Haul Your Equipment!