Heavy Haulers Transports All Stamping Press Machines
If you choose Heavy Haulers to haul a stamping press for you, you can rest assured we're able to undertake stamping press hauling across the entire United States. Our specialized stamping press shipping services cover the transport of all types of stamping presses, from small mechanical models to large hydraulic presses. Our haulers are fully insured, qualified, and certified to handle the shipment of stamping presses safely and securely.
In the cases where customized heavy-haul transportation is required for your stamping press, we'll map suitable routes for your shipment, obtain any necessary permits, and handle all of your stamping press transport service requirements. We'll transport any stamping press door-to-door, and if loading assistance is required, bring the proper equipment for the job, such as cranes, fork trucks, and lifts. No matter the size of your stamping press, the Heavy Haulers stamping press transport service is here for you. Call and let's get started! (800) 908-6206
Contact Our Expert Shipping Specialist's
(800) 908-6206
Coordinating Stamping Press Shipping Nationwide and Internationally
In today's economy, the movement of stamping presses is on the rise. Not only may presses be moved around a plant to create a more efficient layout, but they can also require transporting across town, across the state, and out of the country. Having someone with stamping press haulage experience is crucial to speed up the overall shipment delivery times, allowing your operation to get back up and running swiftly after a move. We have been proudly coordinating stamping press transport services for more than a decade. Our experience as a stamping press transport company has led us to transport stamping presses across state borders, as well as into Mexico, handling customs borders, weigh stations, and permits as required.
The three most common types of stamping press we transport including mechanical, mechanical servo, and hydraulic presses. Stamping presses are typically linked to an automatic feeder that sends sheet metal through the stamp press, to be formed, drawn, trimmed, blanked, or pierced with a die. We can transport stamp press accessories such as feeders too.
Common Types of Stamping Press We Transport
● Bliss C-110
● CNC Factory Cyclone
● Double Crank Press
● Gap Frame Stamping Press
● Hydraulic Press
● Mechanical Press
● Nishinbo CNC Turret
● mPlus Corp MPST Series
● Platarg 912 Transfer Press
● Servo Mechanical Press
● South Bend OBI Press
● Trumpf Punch Press
● Turret Punch Press
How to Ship a Stamping Press
To safely transport a stamping press, the press must be in a specific operation position. Power and air connections should be unhooked, plus components and accessories that need to be transported alongside the press should be loosened for the riggers. To obtain accurate transport costs for hauling a stamping press, we require the weight and dimensions of your equipment. Many presses are too oversized and too overweight for standard 5-axle truck and trailer combination, so we'll match you with a specialized trailer. Contact us for a stamping press shipping service quote for us to get started on your transport project. (800) 908-6206
Common Trailer Types Available from Heavy Haulers
Heavy Haulers specializes in hauling heavy loads such as construction equipment, oil field rigging and Super Loads. We are wideload experts! We offer an extensive range of trailer choices, including:
Max Weight: 48,000 lbs. | Max Length 53 ft. | Max Width 8.5 ft. | Max Height 11 ft.




Max Weight: 45,000 lbs. | Max Length 29 ft. | Max Width 8.5 ft. | Max Height 11.5 ft.
Max Weight: 150,000+ lbs. | Main Deck Length 29 ft. | Well Width 8.5 ft. | Legal Height Limit 11.6 ft.




Max Weight: 48,000 lbs. | Max Length 53 ft. | Max Width 8.5 ft. | Max Height 8.5 ft.
HEAVYHAULERS.COM
START YOUR SHIPMENT TODAY!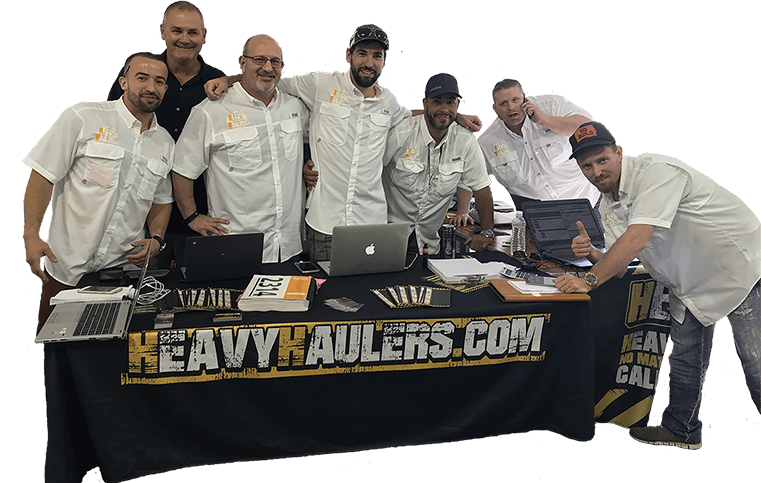 We Are Ready To Help You Haul Your Equipment!