Consumer-Centric Concrete Block Machine Transport
There is more to the procurement process of a concrete block machine than only finalizing the purchase. The next hurdle is transporting the piece of heavy equipment to the specific operation site. Business owners who are involved in the production of paving blocks and curbstones understand the importance of safe and secure shipping of the machine. Look no further than Heavy Haulers for superior concrete black machine transport. We are a trustworthy shipping company that specializes in transporting any heavy equipment, whether it is a relatively partial load or industrial-grade cargo.
Heavy Haulers thrives on transparency when handling concrete block machine transports so you can have peace of mind during the entire shipment process. That is why our skilled logistics experts will walk you through the process, explaining any queries you may have about how we handle concrete block machine shipments. We provide top notch concrete block machine shipping solutions. Call now! (800) 908-6206
Contact Our Expert Shipping Specialist's
(800) 908-6206
Concrete Block Machine Shipping Done with Safety in Mind
Concrete block machines, also known as laying machines, are used to produce concrete blocks using hydraulic systems. Once they create the blocks, they lay them on the floor. They feature wheeled bases used to move them to the next place where they lay the next set of concrete blocks. Heavy Haulers can transport the piece of equipment to your site safely and in time.
At Heavy Haulers, we are dedicated to creating safe conditions, both for our on-site crew and the cargo scheduled for transportation. Our representatives are trained to identify health hazards and risks that lurk during cargo pick-ups and develop the necessary measures to alleviate them. Furthermore, we use project-specific tools and machinery to handle the equipment. Our logistics professionals will work together with our weight and leverage specialists to load, position, and secure the cargo on the trailer. This safety-first approach ensures that the shipment reaches your desired delivery area in the same conditions as we picked it up. Let's get started! (800) 908-6206
Types of Concrete Block Machines Heavy Haulers Ships
Technological advancements and innovative solutions in the block making industry has led to a large selection of concrete block machines. The common examples include the following:
● Laying Block Machines
● Solid Block Making Machines
● Moveable Concrete Block Machines
● Concrete Hollow Block Machines
● Hydraulic Concrete Block Machines
● Stationary solid Block Machines
How to Transport a Concrete Block Machine with Heavy Haulers
A concrete block machine will be transported in a standard shipping container that safeguards it from inclement weather and potential damages. Since the equipment has wheels, we'll load it using a ramp with a level off, and secure it in the container before shipment. Once loaded and secured, the cargo is shipped by a seasoned driver who understands what to do to deliver the cargo safely. Heavy Haulers is here to provide the best experience when shipping your concrete block machine. Let's get going! (800) 908-6206
Looking For Transport
With a Specific Trailer?

Max Weight: 150,000+ lbs. | Main Deck Length 29 ft.
| Well Width 8.5 ft. | Legal Height Limit 11.6 ft.

Max Weight: 48,000 lbs. | Max Length 53 ft.
| Max Width 8.5 ft. | Max Height 8.5 ft.
Max Weight: 48,000 lbs. Max Length 53 ft. |
Max Width 8.5 ft. | Max Height 11 ft.
Max Weight: 45,000 lbs. | Max Length 29 ft.
| Max Width 8.5 ft. | Max Height 11.5 ft.
HEAVYHAULERS.COM
START YOUR SHIPMENT TODAY!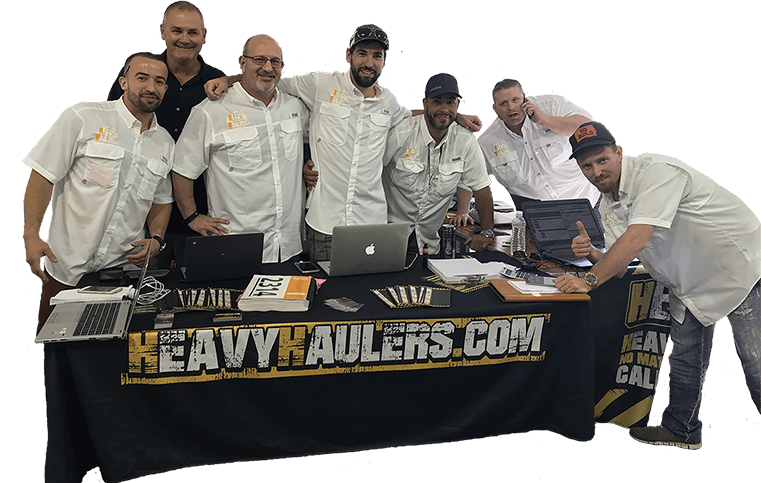 We Are Ready To Help You Haul Your Equipment!
Common Equipment Heavy Haulers Transports
Trust Heavy Haulers to transport any brand of equipment you own. Most of our drivers are experienced heavy-machinery operators who can safely maneuver your loads aboard our trailers. Some of the brands we have shipped include:
See what you need?
Call us for a FREE Shipping Estimate at (800) 908-6206