Quality Doffing Cylinder Shipping with Heavy Haulers
Heavy Haulers is a licensed and insured shipping company with years of fantastic reputation for providing top-notch hauling services. Hire us to move your doffing cylinders and watch our transport experts meet and exceed your every need and expectations. If you want us to deliver the doffing cylinder to your home or business premises, our capable professionals are always up for it.
Heavy Haulers has a live chat facility available on our website. When you need the answer to a question that has been boggling your mind, reach out to us. With our vast knowledge regarding the transport of doffing cylinders, we will give you satisfactory information. Also, you can always call us at (800) 908-6206.
Contact Our Expert Shipping Specialist's
(800) 908-6206
Domestic and International Doffing Cylinder Transport with Heavy Haulers
A doffing cylinder is also referred to as a doffer or doffing roller. A doffing cylinder is used in various textile mills for separating fiber from the card's main cylinder. The latter usually comes with either one or two doffers whose purpose is to comb and take out the fiber. Doffing cylinders come in handy when one is using a cotton picker in a farm or using any heavy piece of equipment that can comfortably handle fiber. The doffing cylinders that were used in early times are not the same ones being used today. Modern doffing cylinders have a better, more classic design.
Shipping different pieces of heavy machinery is Heavy Hauler's specialty. We have been providing both local and global doffing cylinder transport services for over ten years. We are licensed to operate in all the states in North America, Mexico, as well as Canada. Once you hire us, we will get all the necessary documents to allow for the fast and stress-free hauling of your doffing cylinders.
Common Types of Doffing Cylinders Heavy Haulers Moves
● All Models Industrial Doffing Cylinders,
● Single Acting Cylinders,
● Hydraulic Cylinders,
● Differential Column Cylinders,
● Telescopic cylinders,
● Severe Duty Cylinders,
● Double Acting Cylinders,
How to Transport Your Doffing Cylinders with Heavy Haulers
Get in touch with Heavy Haulers when you need to ship your doffing cylinders anywhere in the nation. We are always committed to meet your deadline while offering nothing short of quality services. For this reason, we take our time to come up with an efficient hauling plan that considers your interests and strives to gratify all your needs.
Again, Heavy Haulers will give you a free and pocket-friendly quote estimate upfront. Our affordable charges are dependent on the dimensions and number of your doffing cylinders, as well as the distance that our excellent drivers will travel to reach the destination.
Looking For Transport
With a Specific Trailer?

Max Weight: 150,000+ lbs. | Main Deck Length 29 ft.
| Well Width 8.5 ft. | Legal Height Limit 11.6 ft.

Max Weight: 48,000 lbs. | Max Length 53 ft.
| Max Width 8.5 ft. | Max Height 8.5 ft.
Max Weight: 48,000 lbs. Max Length 53 ft. |
Max Width 8.5 ft. | Max Height 11 ft.
Max Weight: 45,000 lbs. | Max Length 29 ft.
| Max Width 8.5 ft. | Max Height 11.5 ft.
HEAVYHAULERS.COM
START YOUR SHIPMENT TODAY!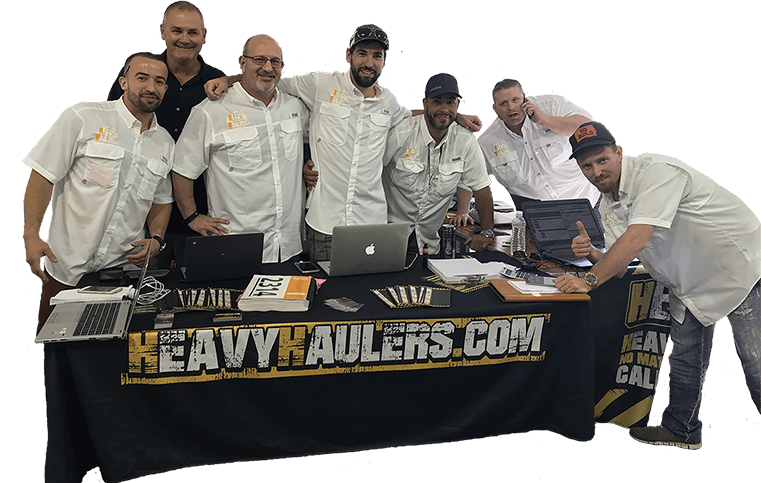 We Are Ready To Help You Haul Your Equipment!
Common Equipment Heavy Haulers Transports
Trust Heavy Haulers to transport any brand of equipment you own. Most of our drivers are experienced heavy-machinery operators who can safely maneuver your loads aboard our trailers. Some of the brands we have shipped include:
See what you need?
Call us for a FREE Shipping Estimate at (800) 908-6206