Industrial Deaerator Equipment Transport with Heavy Haulers
If you're looking to haul a deaerator anywhere in the United States, you've come to the right delivery team. We have a nationwide division of heavy equipment haulage specialists that can deliver a deaerator to any destination of your choice. Our deaerator shipping service will put you in contact with a professional hauler who can safely navigate the intricacies of deaerator haulage so that you can get your deaerator equipment to where you need it most.
Our deaerator shipping services can ship equipment from most major manufacturers, including Fryma, Meyer, Cleaver-Brooks, Cornell, Walker, and Quality deaerators. Due to their large size, many sellers will request customer pick up, especially for larger horizontal deaerators that can measure up to 67ft in length. Luckily you can trust Heavy Haulers to coordinate the pickup for you, as we have a wide variety of trucks and trailers suitable for oversized deaerator transport. We have a range of extendable trailers, including drop deck trailers, RGN trailers, and step deck trailers, ideal for undertaking deaerator equipment transport services. Call now! (800) 908-6206
Contact Our Expert Shipping Specialist's
(800) 908-6206
Safe Haulage of Deaerators of All Types and Sizes!
Haulage of deaerators and deaerator tanks often requires the expertise of a professional deaerator delivery team. We're a heavy equipment delivery company with over a decade of experience safely handling heavy equipment of all types, from deaerators to water tanks, steam-generating boilers, and more. When you choose to work with us to meet your deaerator transport needs, you won't just get access to our appropriately sized trailers. You'll get access to fully licensed, insured, and qualified deaerator shipping experts that will provide safe deaerator shipping.
Removing oxygen and other dissolved gases from liquids is an essential part of processing in many thermal power plants, as well as within the pharmaceutical, chemical, cosmetic, and food production industries. Deaerators can remove excess gases from food, personal care products, cosmetics, and more, to increase the accuracy of dosage during the filling process, increase shelf life of many items, and help to prevent discoloration, smell or taste changes. Many industrial deaerators are designed to remove oxygen down to 7 ppb or less. Due to their essential function in many industrial applications, it's crucial for us to undertake deaerator equipment transport safely.
Common Types of Deaerator:
● Spray-and-Tray Deaerators
● Spray-Type Deaerators
● Vacuum Deaerators
● Rotating Disk Deaerators
● Horizontal Deaerators
How to Ship a Deaerator
Deaerators typically require multi-axle trailers capable of supporting their heavy weight and distributing the load effectively. Securing the equipment is a task for the expert at Heavy Haulers. When we arrive on-site, we'll bring everything that we need to securely load and transport your deaerator onto one of our specialized trailers. Our logistics experts will complete the necessary permits for travel and coordinate the best route for your shipment, without you needing to lift a finger. Contact us now! (800) 908-6206
Common Trailer Types Available from Heavy Haulers
Heavy Haulers specializes in hauling heavy loads such as construction equipment, oil field rigging and Super Loads. We are wideload experts! We offer an extensive range of trailer choices, including:
Max Weight: 48,000 lbs. | Max Length 53 ft. | Max Width 8.5 ft. | Max Height 11 ft.




Max Weight: 45,000 lbs. | Max Length 29 ft. | Max Width 8.5 ft. | Max Height 11.5 ft.
Max Weight: 150,000+ lbs. | Main Deck Length 29 ft. | Well Width 8.5 ft. | Legal Height Limit 11.6 ft.




Max Weight: 48,000 lbs. | Max Length 53 ft. | Max Width 8.5 ft. | Max Height 8.5 ft.
See what you need?
Call us for a FREE Shipping Estimate at (800) 908-6206
HEAVYHAULERS.COM
START YOUR SHIPMENT TODAY!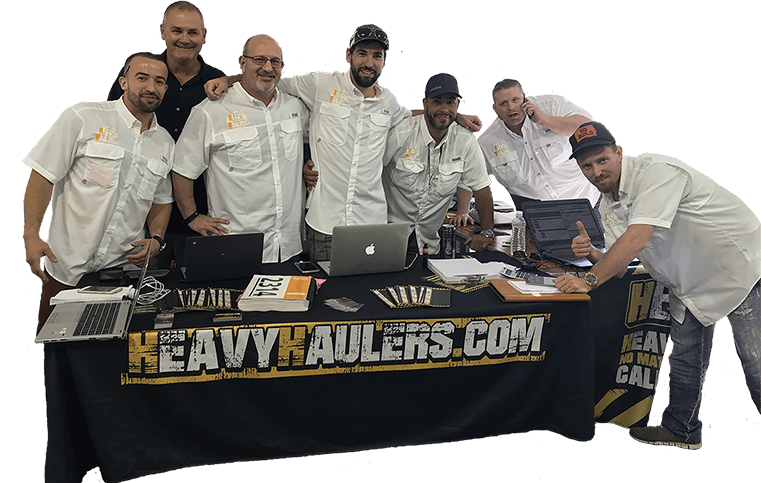 We Are Ready To Help You Haul Your Equipment!
See what you need?
Call us for a FREE Shipping Estimate at (800) 908-6206