Quality Forging Equipment Transport and On Time Delivery
A reliable shipping service which is suitable for industrial forging machinery has our carriers offering same-day loading and twenty-four-hour availability. We maintain a regime of door to door deliveries for forging machinery and equipment which is fast and affordable. Call Heavy Haulers today, and we'll utilize weight specialized cargo transports deployed by our modern forging equipment and machinery handling logistics systems. (800) 908-6206
Our large structure trailers at Heavy Haulers are operated by expert crews who are thoroughly trained, licensed and insured to complete secure deliveries of forging equipment. We are the North American leaders in forging equipment transport, with an expanded network of over the last ten years. Our extensive industrial forging machinery and equipment shipping and handling experience enable us to guarantee simplified, hassle-free secure deliveries.
Contact Our Expert Shipping Specialist's
(800) 908-6206
Forging machinery and equipment dimensions such as weight, height, and length are easily matched to our size accommodating capacity trailers that perform uncomplicated shipping. Consignments of forging machinery and equipment are moved as expediently as possible due to route plans that incorporate all aspects of the journey. Have your forging machinery and equipment relegated to a safety awarded transporting company with accreditations from transport boards in all states including Hawaii and Alaska.
Heavy Haulers insures your forging equipment during transit to give you peace of mind, and you can track your load's progress to anticipate delivery. Service representatives are on call to answer any queries and perform free valuations for forging equipment that may involve onsite machinery or route inspections.
Common Forging Equipment and Machinery Heavy Haulers Transports
• Hydraulic Die Clamp for Grip Slide Timing with Mag Feeders
• Radial Axial Ring Rolling Mill
• Grip Opening Upsetter
• Hot Bearing Race Expansion Line with Induction Heating
• Upsetter for Die Opening
• Aluminum 3-Roll Rim Ring Roller
• Forging Tool and Die Space with Inspection Discharge
• Cold Ring Roller with Hi-Speed Precision
• Upsetters with Magazine Feeder

• Rim/Ring Former with Adjustable Support Rolls
• Ajax Upset Forging Machine
• Custom Precise Contour and Profile Cold Ring Mill
• Forge With Grip Opening, Gathering and Holding
• Eumuco Upsetter with Grip Opening and Air Clutch
• Hi-Duty ATF Upsetter with Auto Tong Feed
• Upsetter with Pillar Induction Heater
• Forge/Grip Tons for Engine Turbine Blades
• Fully Auto Forging Line with Newelco Induction Heater
Common 3D Printing Machines Heavy Haulers Transports
Forging Hammers
Industrial forging hammers are used during metal forging processes to deliver operational force to the stock pieces in the various techniques of forging. Forging hammers are part of the drop forging machine presses that use forging dies on metalwork and are classified as board drop hammers, belt drop hammers and power drop hammers.
Forging Upsetters
Forging upsetters provide the ability to provide forging processes in closed die swaging, extruding and upsetting, which can be forward, backward or a combination for economical press forging. Industrial metal forging upsetters come in vertical and horizontal varieties that either incorporate split protrusion dies or forms entire billets of full-length steel bar handling.
Ring Roller
Hot rolling processes that increase ring diameters employ a ring roller consisting of the idler and driven rolls to press machined metal rings. Ring rollers roll material into larger diameter rings for a circumferential grain structure that offers the stability properties needed in materials for railway wheels, gears, turbines, pressure kettles, and aerospace engineering.
See what you need?
Call us for a FREE Shipping Estimate at (800) 908-6206
Common Trailer Types Available from Heavy Haulers
Heavy Haulers specializes in hauling heavy loads such as construction equipment, oil field rigging and Super Loads. We are wideload experts! We offer an extensive range of trailer choices, including:
Max Weight: 48,000 lbs. | Max Length 53 ft. | Max Width 8.5 ft. | Max Height 11 ft.




Max Weight: 45,000 lbs. | Max Length 29 ft. | Max Width 8.5 ft. | Max Height 11.5 ft.
Max Weight: 150,000+ lbs. | Main Deck Length 29 ft. | Well Width 8.5 ft. | Legal Height Limit 11.6 ft.




Max Weight: 48,000 lbs. | Max Length 53 ft. | Max Width 8.5 ft. | Max Height 8.5 ft.
HEAVYHAULERS.COM
START YOUR SHIPMENT TODAY!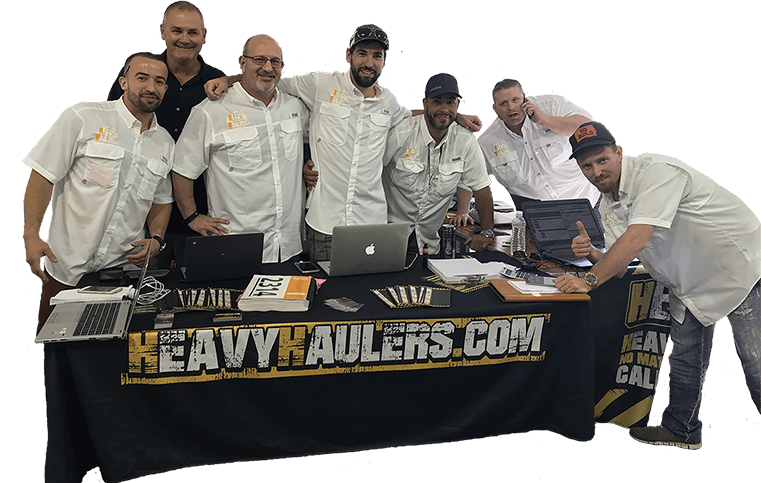 We Are Ready To Help You Haul Your Equipment!
See what you need?
Call us for a FREE Shipping Estimate at (800) 908-6206