Complete Inspection Machine Shipping Services
Our extensive machinery teams offer services that make us the leaders in inspection machine transport. A Heavy Haulers system of dispatch and logistics keeps all aspects moving in complete synchrony to wherever your inspections machines are being moved. We cover all manner of inspection machine shipping services and continue to provide quality customer service.
GPS, digital signatures, and photo capture are just some of the processes that make our transport for inspection machine service stand out. We have progressive logistics systems developed from over a decade in the oversize trucking sector, and we haul industrial inspections machines in their indivisible capacities on flat deck or dry van trailers. Call now! (800) 908-6206
Contact Our Expert Shipping Specialist's
(800) 908-6206
Inspection Machines that Heavy Haulers Transports and Their Uses
Inspection machines include manual, electronic, and mechanical systems that inspect packages, products, or components to precise specifications. An inspection machine probes the color, mass, size, or foreign bodies within pre-set parameters in products, rejecting any that do not conform. Industrial Inspection machines include check weighs, barcode scanners, metal detectors, x-rays, and CT scanners. To analyze for defects rejects, geometric dimensions, and tolerance in production, 3D coordinate measuring machines are used as inspectors on an industrial scale.
Common Inspection Machine Models Heavy Haulers Transports
• Seidenader L650 Oblong Tablet Inspection Unit
• General Inspection Gi-360T Ammunition
• Pressco Vision System Inspection Station
• Eisai EIS596 Vial Inspection Unit
• Safeline T20 Xray Inspection Unit
• Magnaflux KAR-3 Portable Magnetic Particle
• Lansmont 95/115 Shock Test Systems
• Zeiss ICM-405 Metallurgical Microscope
• Seidenader V90-AVSB-RL Inspection Unit
• Nikka Densok Pinhole Inspector

• Faro Titanium 3D Measuring System
• View Summit-600-QVI Optical Measuring Machine
• MW Technologies RB200 Inspection Belt
• Custom 132448T Laser Inspection Machine
• Loma X5-500 Space Saver 304 X-Ray Inspection System
• Lab Precision AD-500 Drop Tester
• Rigaku Industrial Wavelength ZSX-Primus-II
• Virtek Laserqc-1200 Laser Inspection System
• Scantech X-Ray HF2-3500 Sheet Thickness Scanner
• Automate AM-D Bottle Inspection Unit
• MVP Machine Vision Ultra 850G Auto Optical Inspection
Common Inspection Machines Heavy Haulers Ships
Check Weighs
To reduce overfill and wastage, check weigh inspection systems support is highly recommended for automated product processing lines. They also perform the removal from the line of rejected overweight or underweight products and create alerts for the instant address of the issue.
Metal Detectors
Automated systems of metal detection inspect products for rogue metallic particles in dry, congested or frozen products, with the end of the line check for a variety of other products.
X-Ray Inspection Machines
For contaminants that can't be detected by a metal detector, x-ray machines check for stones, glass, rubber, and other foreign particles by evaluating product density. The detection of defects, measuring mass and identifying damaged products or inspecting seal integrity, is done by advanced inline quality check x-rays.
Barcode Scanners
To ensure that the correct barcodes appear on the product packaging, the barcode scanner is versatile at the production, distribution, and even retail stages of industrial products.
See what you need?
Call us for a FREE Shipping Estimate at (800) 908-6206
Common Trailer Types Available from Heavy Haulers
Heavy Haulers specializes in hauling heavy loads such as construction equipment, oil field rigging and Super Loads. We are wideload experts! We offer an extensive range of trailer choices, including:
Max Weight: 48,000 lbs. | Max Length 53 ft. | Max Width 8.5 ft. | Max Height 11 ft.




Max Weight: 45,000 lbs. | Max Length 29 ft. | Max Width 8.5 ft. | Max Height 11.5 ft.
Max Weight: 150,000+ lbs. | Main Deck Length 29 ft. | Well Width 8.5 ft. | Legal Height Limit 11.6 ft.




Max Weight: 48,000 lbs. | Max Length 53 ft. | Max Width 8.5 ft. | Max Height 8.5 ft.
HEAVYHAULERS.COM
START YOUR SHIPMENT TODAY!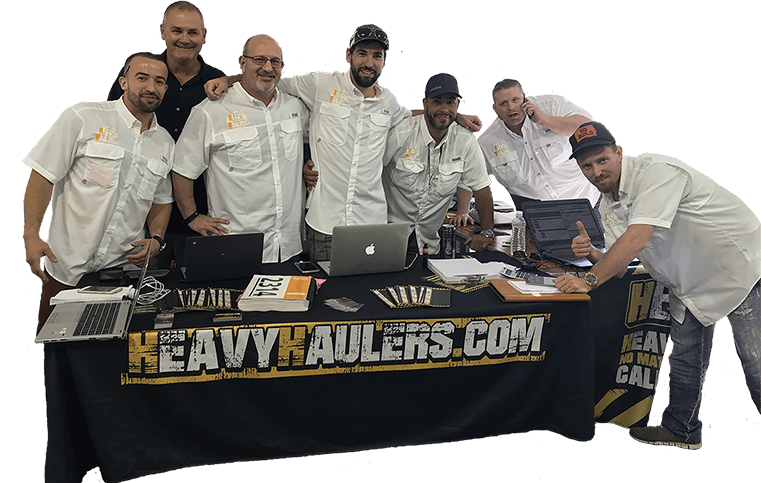 We Are Ready To Help You Haul Your Equipment!
See what you need?
Call us for a FREE Shipping Estimate at (800) 908-6206