Comprehensive Ironworker Machine Transport Offered by Heavy Haulers
Oversize machinery transport services at Heavy Haulers are accomplished in providing you with safe ironworker machine shipping. The Heavy Haulers low bed trailers that utilize multi axles have a large ton capacity that comfortably performs ironworker machine transport. Whether you require shipping services for numerous or one heavy ironworker machine load, Heavy Haulers are available.
Robust ironworker machine transport is undertaken by Heavy Haulers who deliver them safely at any destination within the US, Canada, and Mexico, including Alaska and Hawaii. A free shipping estimate for your ironworker machine transport is available when you call a member of our logistics team today. (800) 908-6206
Contact Our Expert Shipping Specialist's
(800) 908-6206
Ironworker Specifications and Mode of Operation
Ironworker machines that Heavy Haulers transports are used to shear punch and notch holes in plates of metal, specifically steel. Operating principles of ironworking machines are to employ hydraulic and mechanical system advantages to generate force for high-velocity carbon dies and steel cutting blades. Ironworker machines reduce man-hours needed to punch, form, or bend steel while they can be quickly retooled for single-person operations.
Common Models of Ironworker Machines Transported Include
• Peddinghaus 44-66H 44 Ton 15" Shear Dual Cylinder
• Durma IW55BTD Ironworker
• Mubea HIW-50 Hydraulic Ironworker
• Metal Muncher MM61E18 49 Ton Ironworker
• Peddinghaus Peddiworker 550 Hydraulic Ironworker
• Geka Hydracrop 55/A Ironworker
• Hill-Acme 4A 58 Ton Punches Dies Ironworker
• Buffalo ½ Mechanical Ironworker
• Scotchman 5014-ET 50 Ton 3-Station Revolving Turret
• Edwards Jaws IV 50 Ton Ironworker

• Uni-Hydro Pro-56 Hyd Ironworker
• Scotchman DO-135/220-24M Ironworker
• Piranha PIII Hydraulic Ironworker
• Iron Crafter 41-41 Hydraulic Ironworker
• Voortman V550-4 Flat And Angle Punching Shearing Machine
• Kingsland Shark 50 Ironworker
• Marvel Spartan IW66DX 66 Ton Ironworker
• Buffalo 675H Hydraulic Ironworker
• JMT IW110/180BTD 121 Ton Dual Station Ironworker
Common Types of Ironworker Machines Heavy Haulers Ships
Single Operator
Requires only one operator and are prevalent in smaller machining shops, affording space as opposed to dual operated units.
Dual Operator
These ironworker machines are capable of accommodating more than one operator and have multi-functions to increase production efficiency and capacity. By adding a second pump and cylinder, the ironmonger can be upgraded to handle dual operations with one cylinder running the punching arm while the other performs other tooling operations.
Hydraulic Arm Ironworkers
Hydraulic arm ironworker machines are powered by AC electric motors and are more versatile, weighing in tens of tons to handle heavy-duty strength steel by generating high velocities.
Mechanical Ironworkers
These are faster and more utilized in low-temperature production while cutting large profile steel plates.
See what you need?
Call us for a FREE Shipping Estimate at (800) 908-6206
Common Trailer Types Available from Heavy Haulers
Heavy Haulers specializes in hauling heavy loads such as construction equipment, oil field rigging and Super Loads. We are wideload experts! We offer an extensive range of trailer choices, including:
Max Weight: 48,000 lbs. | Max Length 53 ft. | Max Width 8.5 ft. | Max Height 11 ft.




Max Weight: 45,000 lbs. | Max Length 29 ft. | Max Width 8.5 ft. | Max Height 11.5 ft.
Max Weight: 150,000+ lbs. | Main Deck Length 29 ft. | Well Width 8.5 ft. | Legal Height Limit 11.6 ft.




Max Weight: 48,000 lbs. | Max Length 53 ft. | Max Width 8.5 ft. | Max Height 8.5 ft.
HEAVYHAULERS.COM
START YOUR SHIPMENT TODAY!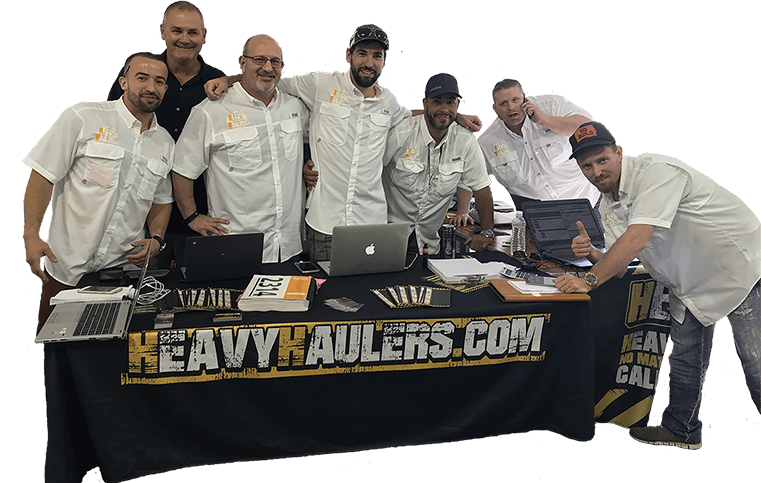 We Are Ready To Help You Haul Your Equipment!
See what you need?
Call us for a FREE Shipping Estimate at (800) 908-6206